Put down the juice and try the latest health tonic on the foodie scene
Try one of these three Indian-inspired health tonics by Mira Manek including Cardamom Chia Shake, Indian Lime and a Fennel Cooler
This post may contain affiliate links. Learn more
We've choked down green juices, purple juices… and even charcoal juices in the name of good health. But Mira Manek's healthy spiced coolers are a far more delicious way to rehydrate throughout scorching Indian summers.
Fennel Cooler
At home, we've always chewed on fennel seeds after a meal but I'd never really wondered why. It was just something we did, as many Indians do. But there is of course a purpose to every herb and spice in the Indian kitchen. Fennel helps to stimulate the digestion, reduce acid reflux and maintain fresh breath – the perfect thing to mellow all those strong Indian flavours. And fennel has a distinct flavour, which I absolutely love. Its cooling qualities make it the perfect thing for the hotter months. And fennel powder in a drink – well there's nothing quite like it in the summer. So refreshing and healthy you'll be asking for seconds.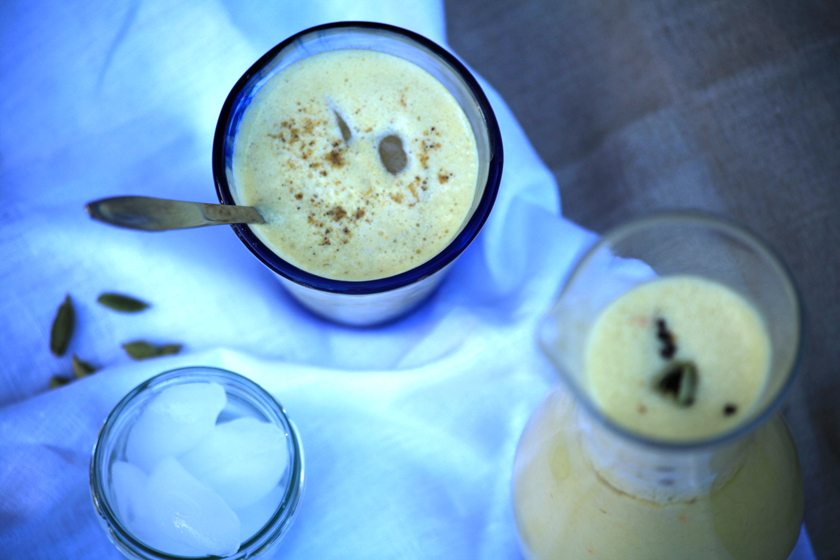 Makes two glasses
» 600ml water
» 1 heaped teaspoon fennel powder
» ¼ teaspoon cardamom
» A few strands saffron (optional)
» 5 teaspoons agave
Boil all the ingredients together, then let the mixture cool down, leave in the fridge and add ice when serving.
Tip Lightly toast the saffron strands in a pan so that they can be left in the drink and swallowed.
Indian Lime
Drinking or eating something freshly made by a street vendor has its own winning flavour and charm. The experience simply cannot be replicated. I've often walked past the man making nimbu pani on the street in India – refreshing freshly mixed sweet lime water with their own tangy masala mix. But since it's made using local water rather than the bottled water we can drink, I've never indulged in this. The general rule is that anything cooked is fine. So I've come up with the perfect lemonade for the summer, but with a real punch, a hint of cumin, which adds a delicious zest to the drink. But rather than lemons, this drink is all about limes.
Makes two glasses
» 600ml water
» 1½ limes
» 3 tablespoons agave
» ½ teaspoon cumin powder
Mix all the ingredients together, add ice and serve.
Cardamom Chia
This smooth and creamy cardamom drink is an impressive dessert, to be savoured with a spoon or a small straw. Made with blended cashews and sweetened with dates, it is as nourishing as it is filling. The chia seeds offer a layer of texture along with a whole array of health benefits. And the touch of cardamom and saffron transform the taste entirely, lending intensity of flavour and delicious decadence.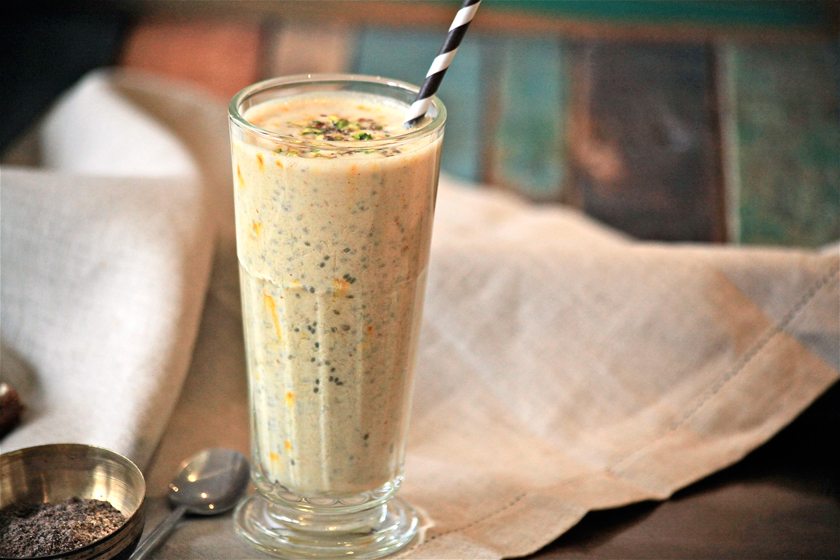 Makes four small glasses
» 70g cashews
» 350ml water
» 35g dates
» 8g chia
» 50ml water
» pinch saffron
» ½ teaspoon cardamom
» pistachios, for garnishing
Soak the cashews in 350ml water for 30 minutes or longer – you can even soak them overnight. Soak the chia seeds in 50ml water for similar time. If in a rush, soak chia in hot water, mix together thoroughly and they should be ready in a few minutes. Blend the cashews, water and dates in a high-speed blender. Pour this mixture into the chia seeds and keep stirring. Now add the cardamom and saffron and mix well. You can also place small amounts of the soaked chia seeds at the bottom of each glass and pour the cashew, date, cardamom and saffron mixture over it. Garnish with chopped pistachios and a sprinkle of cardamom.
Extracted from Green Daal Stories by Mira Manek
Read more: Get hygge with the ScandiKitchen's fika cake
---