Looking for the hottest places to eat in the world right now?
According to The World's 50 Best Restaurants awards 2019, the best restaurants in the UK are The Clove Club, which came in at 27th, and Lyle's at 33rd – both located in Shoreditch, London. Here are the ten best restaurants in the world, with France, Copenhagen and Spain coming out top…
1. Mirazur (Menton, France)
This year's winner has been making its way up the ranks since it first landed in the charts at number 35 back in 2009. Headed up by Argentine-born chef Mauro Colagreco, the restaurant has an idyllic seafront setting, housed in a 1930s building with sweeping views of the French Riviera. It's been a good year for Mirazur – as well as coveting the much-acclaimed accolade of best restaurant in the world, they earned a third Michelin star. The menu focuses on modern French cuisine with an Italian influence, with a strong focus on seasonal ingredients, many of which are sourced from the on-site three-tiered vegetable gardens.
2. Noma (Copenhagen, Denmark)
Often cited as one of the best-known restaurants in the world, Noma came in number two this year – although it has won four times in the past in its previous iteration. In 2017 it closed its doors, going on to re-open at a brand new location in Christiania with more space for experimentation and growing produce. Here they've taken things to the next level with a rooftop garden, fermentation labs, fish tanks and terranium. René Redzepi heads up the kitchen, with a menu focused on all things foraged, pickled, fermented and preserved.
3. Asador Etxebarri (Atxondo, Spain)
Despite being a globally acclaimed destination, we're told there are 'no airs and graces' at this Spanish restaurant, nestled deep in the Axtondo valley. Chef Victor Arguinzoniz is self-taught, and has only ever worked in his own kitchen. The restaurant is famous for its grills, upon which everything is cooked – even the desserts – creating a distinctive barbecue-style smokiness. Food is home-grown and seasonal, with famous dishes including homemade chorizo tartare, giant Palamos prawns and their legendary beef chop.
4. Gaggan (Bangkok, Thailand)
At Indian chef Gaggan Anand's eponymous restaurant, guests are presented with a list of 25 emojis rather than names, so each dish comes as a surprise. Diners will embark on a culinary journey through 'magic' mushrooms, Indian sushi and sea urchin ice cream, before being presented with a list of everything they've eaten. But if you want to try it out, you'd better be act fast. Despite its immense success, Anand plans to close Gaggan in 2020 and open a small restaurant in Japan alongside fellow chef Takeshi 'Goh' Fukuyama.
5. Geranium (Copenhagen, Denmark)
Copenhagen's only three Michelin-starred restaurant came in at fourth place. Found on the 8th floor of Parken Stadium, Geranium looks out over the Fælledparken (Common Gardens). Here Scandinavian ingredients in wild new ways: one dish, for instance, resembles razor clam shells, but is actually made from dough and coloured with squid ink. According to the guide, head chef Rasmus Kofoed 'turns food into art, with endless imagination.'
6. Central (Lima, Peru)
'Central takes diners on a journey through every altitude, from 20 metres below sea level to 4,100 metres above it,' the guide tells us. Located on the southern edge of Lima's Miraflores district, the big draw here is the colourful 17-course tasting menu, featuring well-known dishes like ceviche alongside more exotic fruits, vegetables and herbs that most customers will have never hear of. For three years it's been hailed as The Best Restaurant in Latin America, and head chef Virgilio Martínez – still in his 30s – was voted to win the Chefs' Choice Award this year.
7. Mugaritz (San Sebastian, Spain)
Each year, Portugese head chef Andoni Luis Aduriz closes Murgaritz for four months, during which time the team devises their next menu. One of the world's most experimental restaurants, food here is created not just for pleasure, but as a way of challenging and provoking diners. Meals involve more than 20 courses, and often involve gastronomic trickery – think edible stones and deconstructed desserts.
8. Arpège (Paris, France)
After buying the restaurant L'Archestrate from his mentor in 1986, Alain Senderens, chef-owner Alain Passard renamed it Arpège after his love for music. By 1996, the restaurant had earned three Michelin stars, which it has maintained ever since. Passard still cooks there almost every day, creating a vegetable-focused menu using ingredients from at his biodynamic farms in Sarthe, Eure and Manche. Produce arrives at the restaurant on a daily basis just in time for lunch service, with famous dishes including "hot-cold egg" made with warm poached yolk and sherry vinegard-infused whipped cream, chives and Canadian maple syrup.
9. Disfrutar (Barcelona, Spain)
At two Michelin-starred restaurant Disfrutar, it's all about paradoxes. You might be served liquid salad, crispy egg yolk or gazpacho in sandwich form – whatever lands on your plate, it's guaranteed to be both unique and surprising. Run by chef trio Oriol Castro, Mateu Casañas and Eduard Xatruch (all formerly at the legendary El Bulli), meals at Disfrutar can run for over 30 courses, described as a 'roller- coaster ride of a dining experience.
10. Maido (Lima, Peru)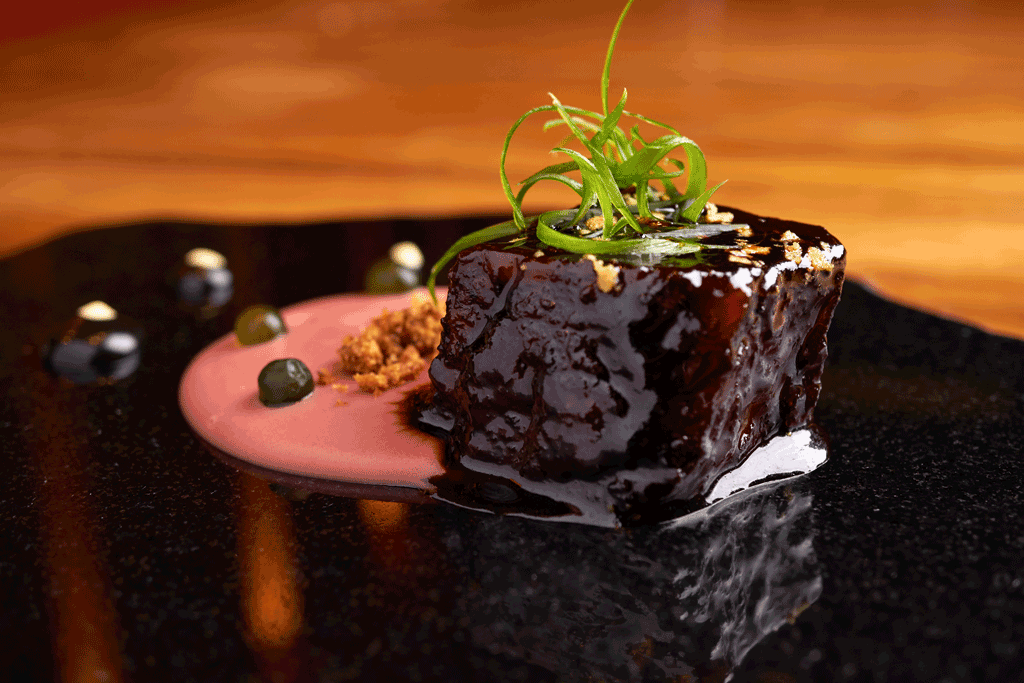 Another Peruvian winner is the flagship restaurant of Lima-born chef Mitsuharu 'Micha' Tsumura, who learnt his culinary expertise in Japan. Consequently, Maido – meaning 'welcome' in Japanese – offers a hybrid Japanese-Peruvian tasting menu, featuring colourful and inventive dishes like fish hotdogs, dim sum with squid, and sea urchin rice.
Best New Restaurants in London / Special Occasion Restaurants in London
---