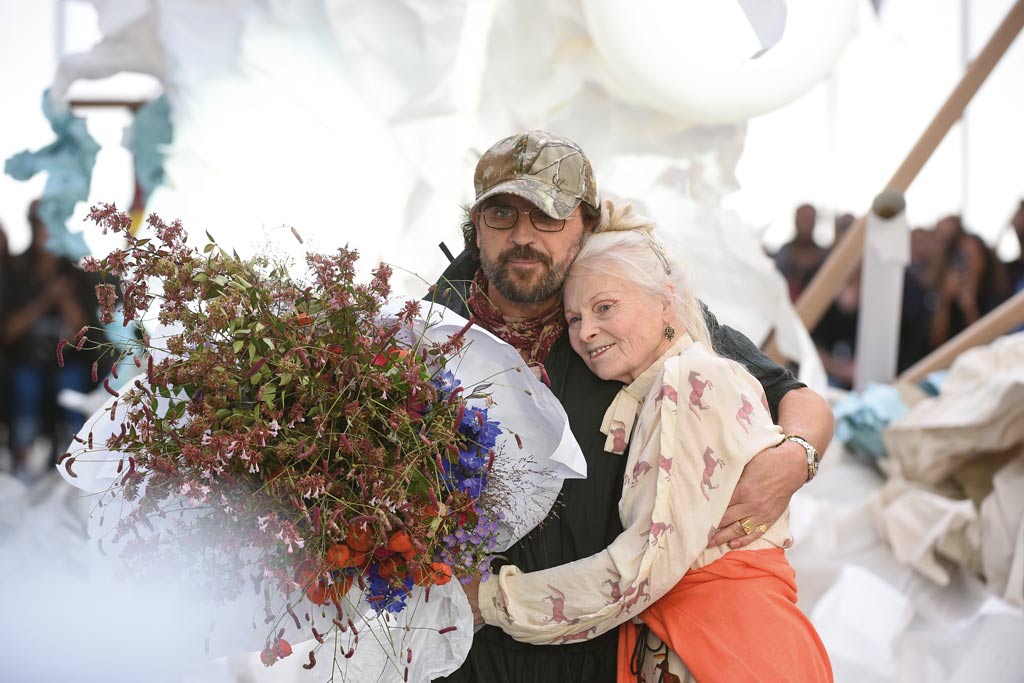 In Memory Of Vivienne Westwood
---
Exclusive interview with Vivienne Westwood creative director Andreas Kronthaler, and her granddaughter, Cora Corré
Dame Vivienne Westwood has died at the age of 81. The legendary designer was at the centre of the British fashion industry for five decades, making a name for herself in the 1970s with her irreverent designs and subversive attitude. 
A statement from her husband and partner Andreas Kronthaler said: "I will continue with Vivienne in my heart. We have been working until the end and she has given me plenty of things to get on with. Thank you darling."
29th December 2022.

Vivienne Westwood died today, peacefully and surrounded by her family, in Clapham, South London.

The world needs people like Vivienne to make a change for the better. pic.twitter.com/YQwVixYUrV

— Vivienne Westwood (@FollowWestwood) December 29, 2022
In 2020 Dame Vivienne designed the cover dress for our Great British Brands book, which was auctioned for charity. In memory of the late designer, we bring you our interview from that year with Andreas and her granddaughter, Cora Corré.
Read the article in full, below:
Vivienne Westwood's mantra – Buy Less, Dress Up! – is something we all need to get on board with. For this exclusive shoot, her creative director, design partner and husband, Andreas Kronthaler, and her granddaughter, Cora Corré, model the latest creations, and talk to Alice B-B about fashion, family and why we should be up for change…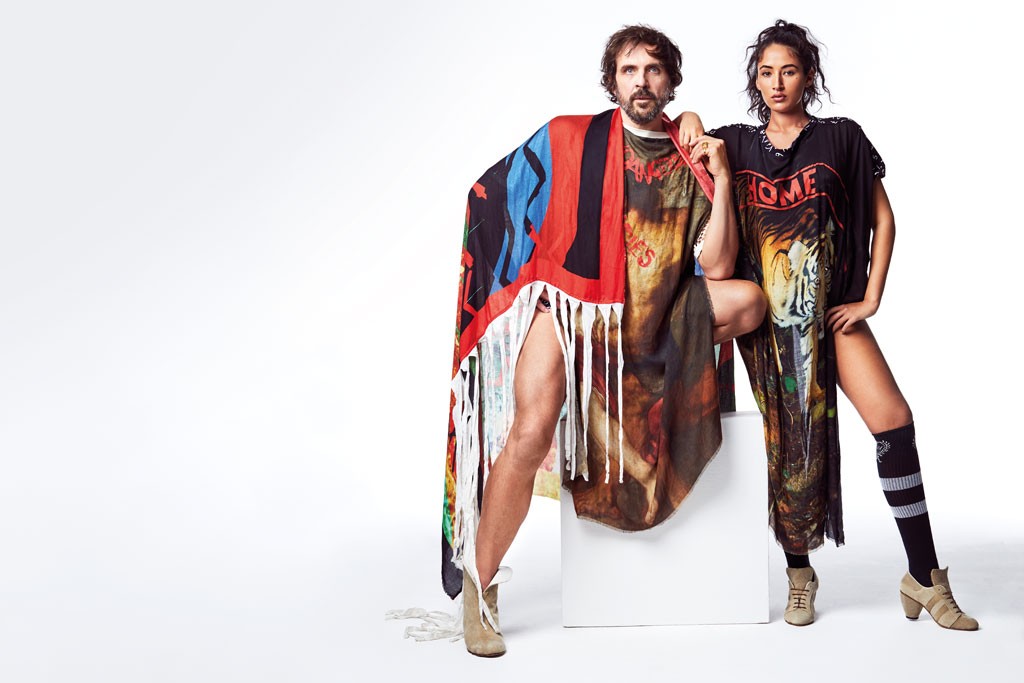 What does Vivienne Westwood being a Great British Brand mean to you?
Cora: I see it as iconic. Vivienne Westwood has longevity. It was as relevant politically during the '70s punk era as it is now when she's working on her activism. And I'm not just saying that because she's my grandma!
What's your earliest memory of Vivienne?
Cora: I was an only child so I was taken out everywhere and I always used to fall asleep under the table or on my mum and dad's laps. There's a photo of me and Vivienne in Paris under a blanket, snuggled up at a party after one of the shows.
Andreas: For every birthday we would make Cora a little couture dress – she wasn't very fond of them! (Cora laughs and pulls out her phone – to show a black and white picture of her and Vivienne in matching toile de jouy dresses.)
Andreas: That was the Robe de la Reine, like Marie Antoinette. And then Cora had to perform for us wearing it – she didn't really want to… BUT there was no way round it. Because if Vivienne wanted something – she'd get it!

Do you remember walking in your first show?
Cora: I was four. I remember being this tiny girl and someone saying the years, I my name as if I was one of any of the other models. I was so scared, the amazing model Veruschka had to pick me up.

You've walked in shows recently – does it still frighten you?
Cora: No. I think I've grown into myself in the past few years. I'm a lot more confident.

Tell me about the dress Cora's wearing for the cover?
Andreas: It's a classic Vivienne Westwood gown – the Cocotte silhouette – Cora wore it for her 21st birthday.
Cora: But I wanted it less drapey and slightly tighter.
Andreas: So we made a new pattern especially for Cora. It's called the Cora Cocotte. This particular dress is made from 'deadstock' fabric, offcuts left over in the mills. Using fabric that has already been produced is probably the least harmful to the environment. I've been trying to do this for a while in the collections. It's much less convenient, because it restricts you… but restriction excites me! You have to find a solution out of necessity.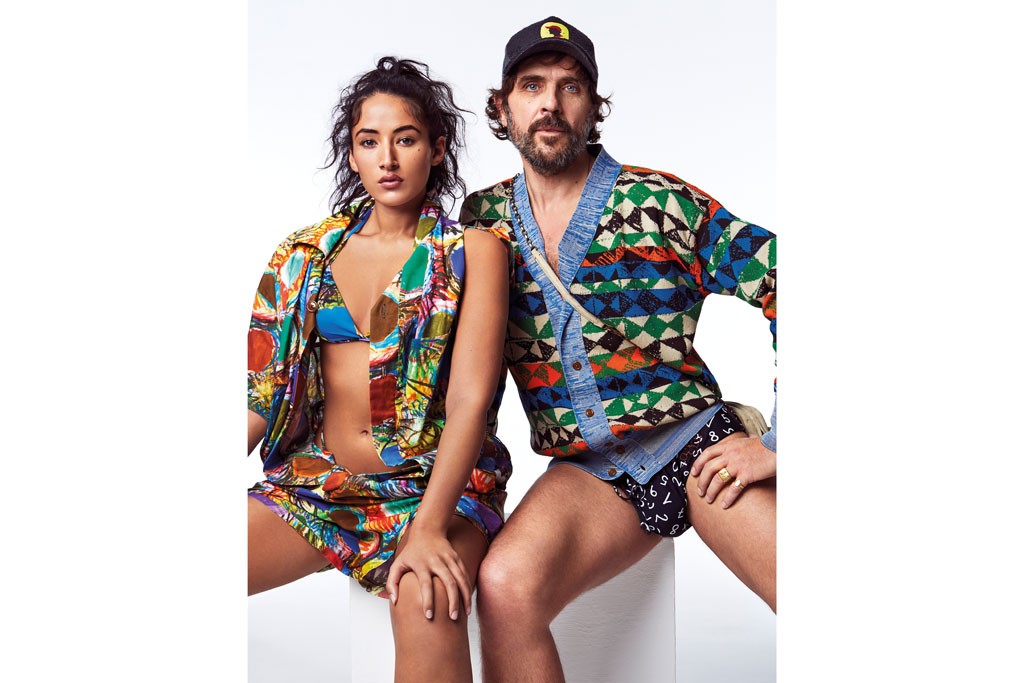 How do you feel when you wear couture?
Cora: Amazing. Westwood dresses fit in such a way they make you feel fabulous – it changes one's mood. And they work for everyone. They're flattering on all sizes and it's amazing how sexy they are.
Andreas, what's your first memory of Vivienne?
Andreas: I always like to answer this question; it was 1988 and she was my teacher in the Vienna academy where I was studying. I was sitting on the windowsill in the classroom, I didn't really know who she was. She came in and looked so incredible; she was wearing a kilt, a knitted catsuit and a big Scottish plaid scarf. As soon as she started talking a whole new world opened up to me.
What does punk mean today?
Andreas: It's a way of looking at life. Vivienne is a punk. She has a real punk mind, turning things upside down and inside out. And not caring what people think, following her instinct, speaking her mind. Of all the people I've met over the years, I can truly say, 'God! She's a real punk'.
When was the last time you went out together?
Andreas: In Vienna a couple of weeks ago – Vivienne was collecting the European Cultural Award. She wore a skirt in white taffeta pulled up to her décolleté, a big cardigan and her hair up. She looked sensational and exquisite, like a strange 19th-century doll. Wherever I am in the whole globe – whatever room or ball or party I go to with her – to me she is the best-looking person in the room. She still gives me all the energy I need.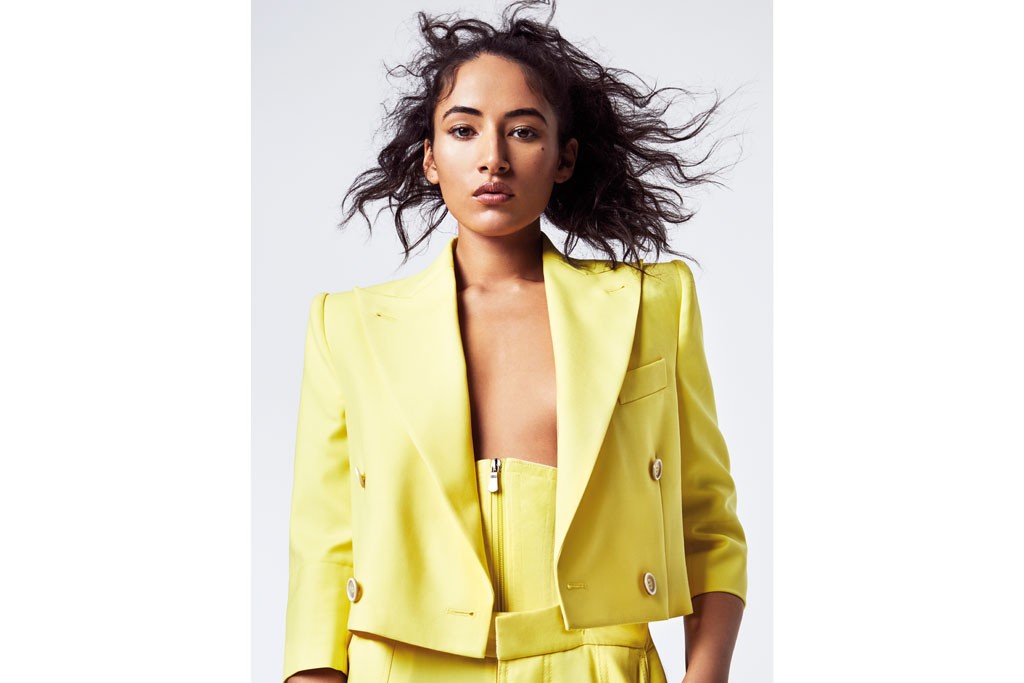 What's the most enjoyable part of being a designer?
Andreas: I like putting on shows. I like the castings, meeting young girls and boys. Of course I cast them because of the way they look but I really cast them because of who they are – if they're nice people, if (he clicks his fingers) something's happening between us. It's like a big family and we always have a good time.
What was the scene like at the height of the '90s supermodel era?
Andreas: At the shows, it was like the models were about to jump from a plane. Linda Evangelista was a terribly amazing catwalk model, she would always check herself in the mirrors, shout for Sam the hairdresser. He would do a little thing to her hair. Then she stood for a split second and would say, 'I. Am. The. Most. Beautiful. Woman. In. The. World.' And then she shot out [onto the catwalk], posed at the end. But it was when she walked back that she was even more magnificent.
How has the fashion world changed?
Andreas: I don't want to sound nostalgic, but it was 'la famiglia della moda', a time when designers and models all knew each other. It was smaller. It was before the internet, which has made everything more random and displaced and torn apart.
Are catwalk shows still relevant?
Andreas: I think about it a lot – but I have not come up with any other way yet. Pictures and video are great – but there is this magic of a fashion show, especiallyfor people who are able to see the show live.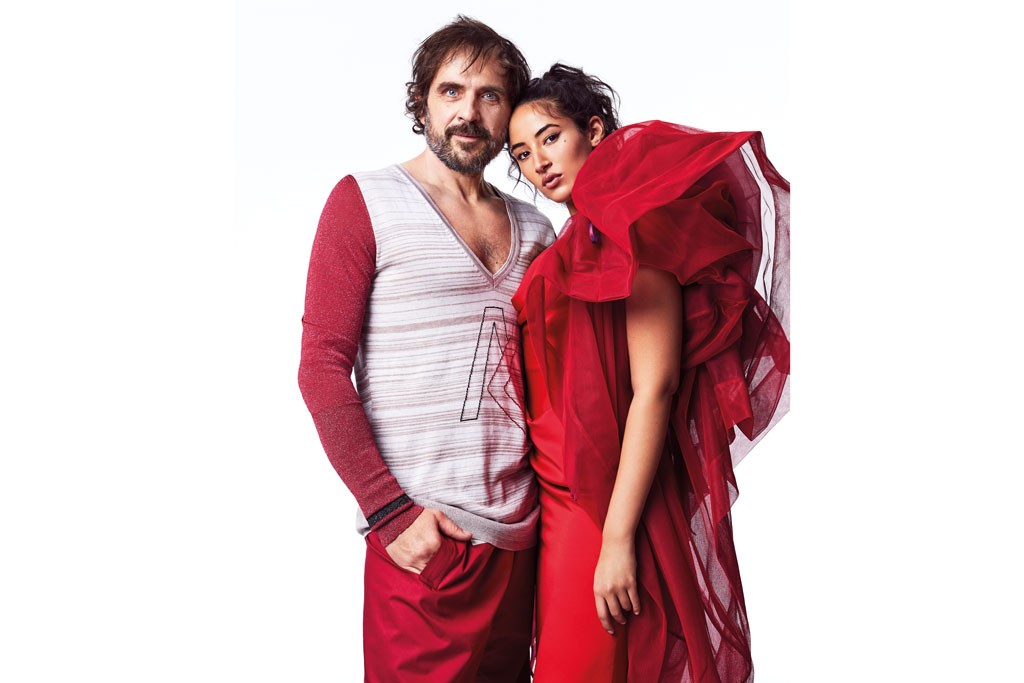 Cora, besides modelling, what other work are you doing?
Cora: Last year I was working for The Agency for Radical Optimists, a workshop at the UN for 22 amazing women. I'm also working part-time for my mum [Serena Rees] on her label Les Girls Les Boys, from brand communication to accounts or giving my opinion on design.
What's your life dream?
Cora: In all honesty, I would love to say that I have it all worked out, but don't. I want to try out lots of different things – trial and error. It's scary trying to work out what you want to do.
Andreas: Strong families can be overpowering and dominating – but it's good that you're doing your own thing. I think you're doing really well. You couldn't be better, really.
What do you like about England?
Andreas: Beans on toast. And I love going to the pub. Though the first time I went, I thought, 'They're completely bonkers!' They filled the beer right to the top and it slopped over onto the carpet. But I got used to it quickly – nowadays if it's not filled up I complain!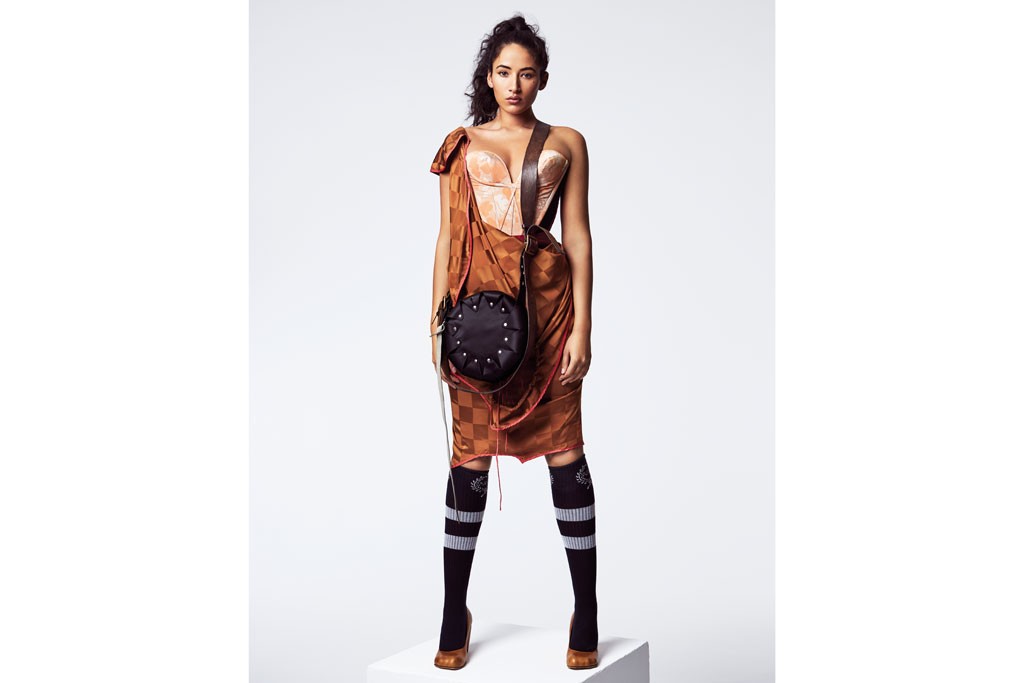 How do you feel about Brexit?
Cora: It's given my generation a kick up the arse and shown how important voting is. Unfortunately you only learn when bad things happen.
Is there anywhere else in the world you'd like to live?
Cora: No! I love London.
What are you feeling most optimistic about in the coming year?
Cora: I guess I'm optimistic because, like with Vivienne working through the whole punk era, this is a time when change is needed. And change will come via the whole population – not just the 650 people in parliament. We're a lot bigger than that.
You might also like...
Oops, there are no posts.