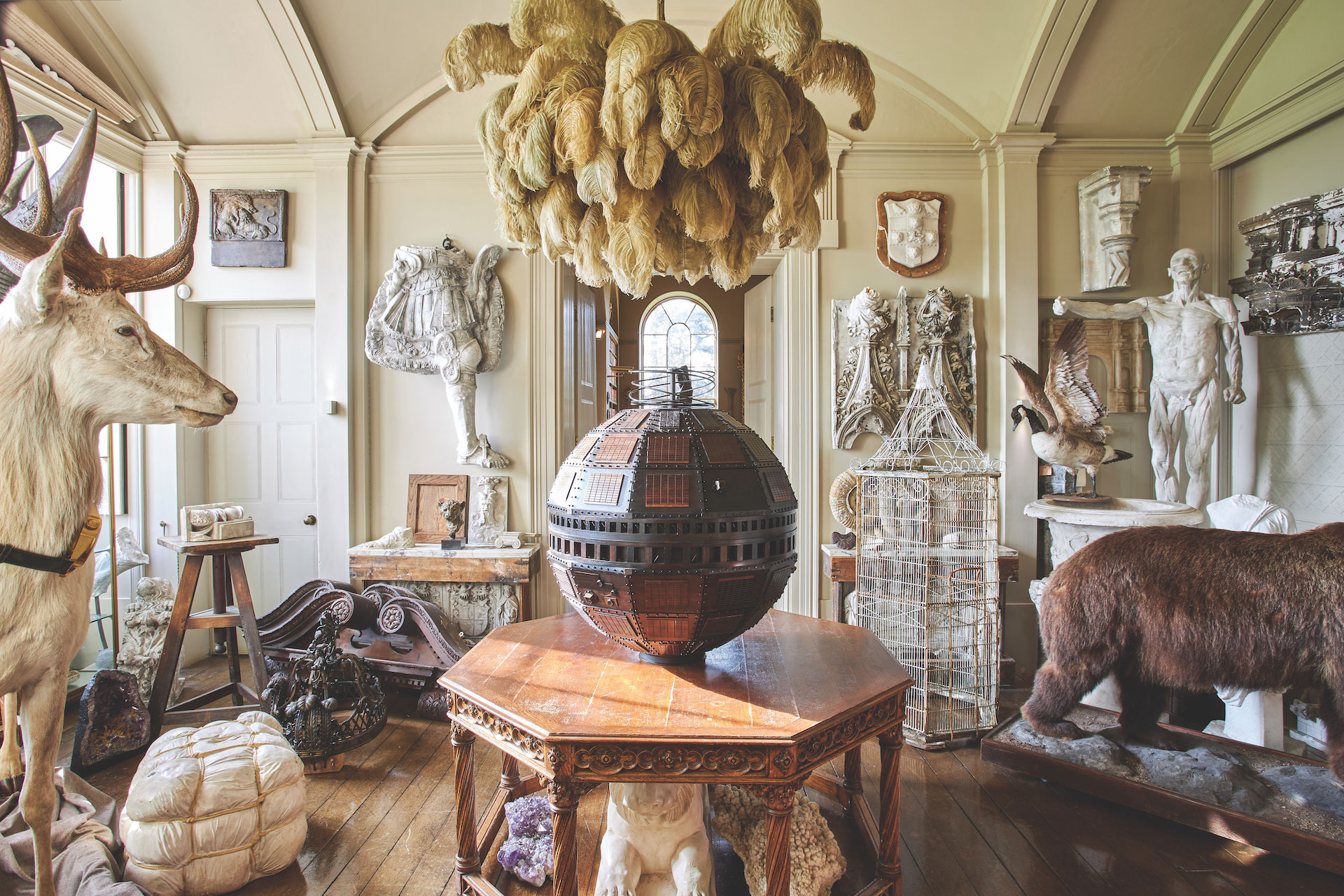 Why Aynhoe Park is the Sale of the Century
---
A behind-the-scenes exclusive
The revelry at Aynhoe Park is over and the treasures amassed by owner James Perkins are up for auction. Stuffed unicorn, anyone?
Party Pieces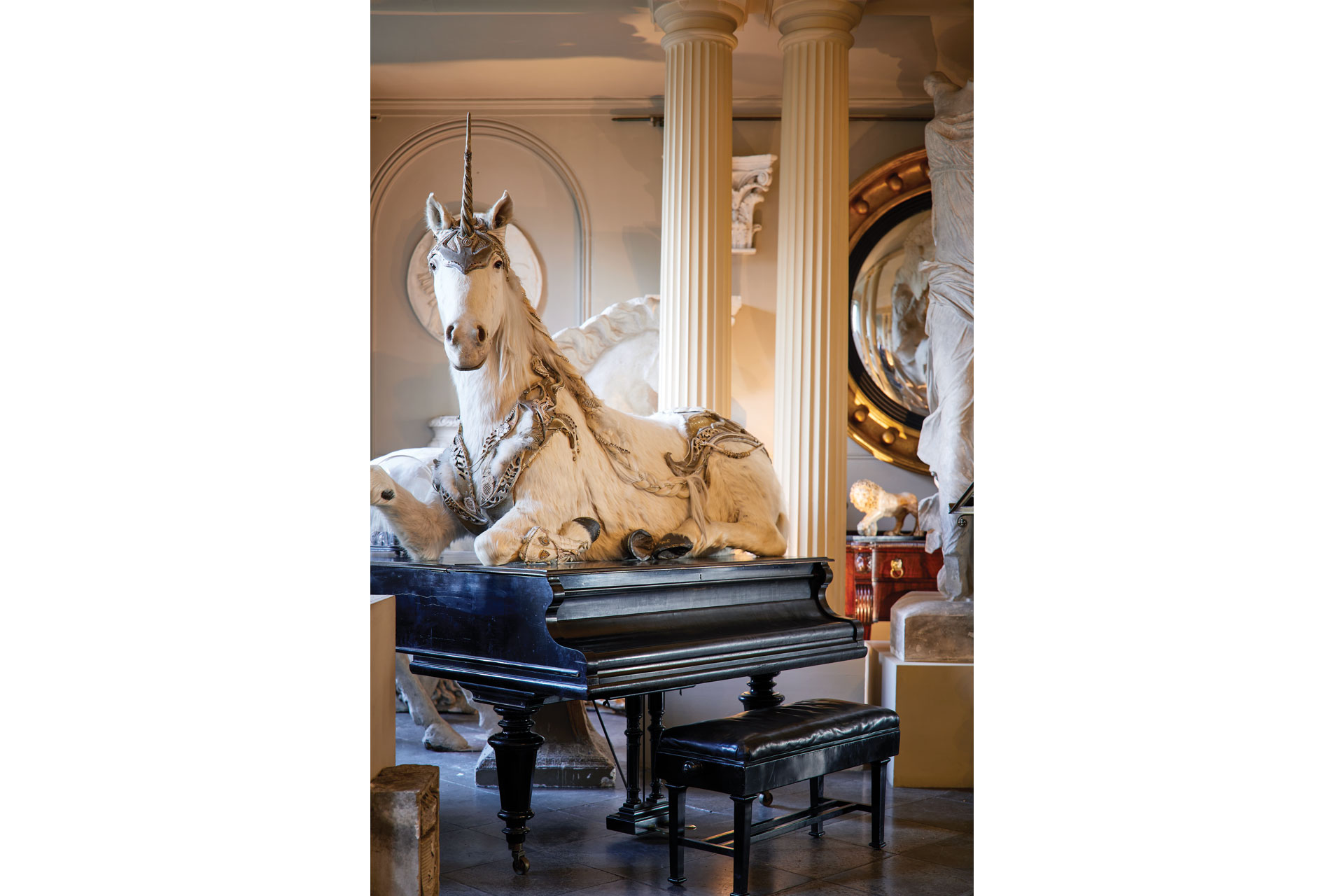 'It's an emotional time,' admits music industry veteran and events organiser James Perkins, who has lived at the Grade I-listed house near Banbury, Oxfordshire, since 2004. 'Aynhoe was my baby but it's now a teenager and time to let go.' Within its walls and around the Capability Brown estate Perkins created an exclusive party and wedding playground for the rich and famous, winning awards and accolades for his superb hospitality and high-grade entertainment.
Jade Jagger married here, as well as numerous other well-heeled socialites and celebrities. Perkins, the ringmaster, conjured anything their hearts desired, from chefs and butlers to cocktail maestros and musicians, and, whatever their high jinks, Aynhoe's walls would never talk. 'Sometimes I was blown away by the creativity that people added on top of what I put in,' he says.
While running the business, constantly adding to and upgrading Aynhoe's interior, Perkins also extended his own family with partner Sophie and three children. After 12 years together they married at Aynhoe last year. 'I'm taking the visitors' books with me and all those memories but the rest is being sold. Everything here was bought specifically for Aynhoe and that's why it's all going under the hammer.'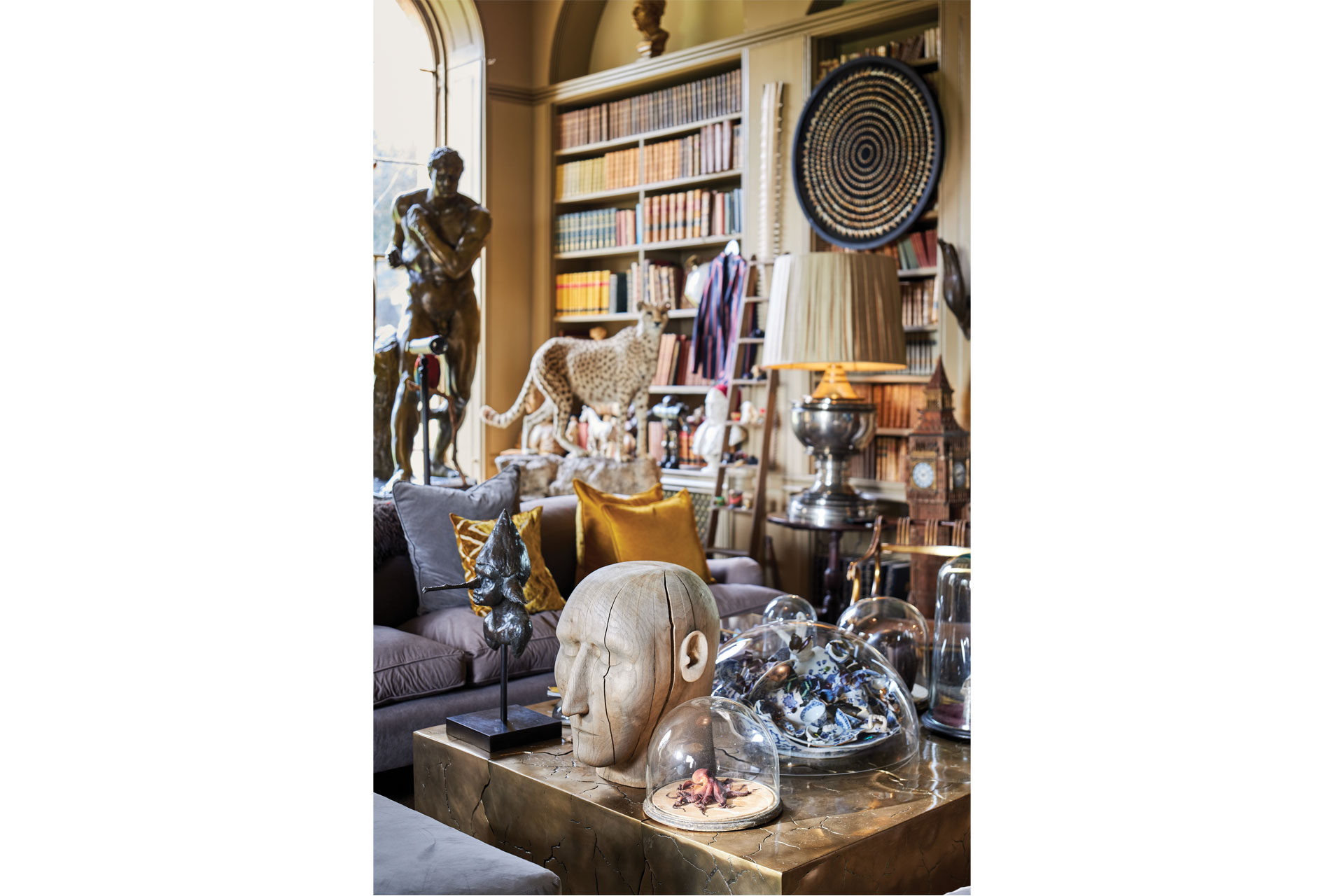 James is, and always has been, a fanatical collector and shopper. He has a discerning, quirky eye and many passions. One of which, plaster casts, was an interest sparked as a teenager when his mother took him to meet a restorer. Over 4,000 casts, many collected from museums, are sprinkled around Aynhoe, including two gigantic ceiling roses currently adorning the eastern staircase, estimated at £1,500-£2,500. These, as well as a feast of other antiques, works of art and modern design furniture, are in the sale.
To give a clue to the lots, imagine Noah escaping the flood and stopping off at a few ports, including ancient Athens and the Isle of Wight, picking up anything that takes his fancy. He carefully stacks his precious cargo in the Ark and deposits it at Aynhoe, animals and all.
Bid on the Preen x Great British Brands cover dress now
But Perkins has his own explanation: 'A modern Grand Tour is very much part of my life story,' he says. 'I have been buying and selling and collecting things for a long time. Anyone who visited Aynhoe could see it was a home. Eccentric, but that's normal to me. The interior evolved. It was like a living story.'
On the day I visit, the house is in cataloguing mode. In the entrance hall where guests would once have been greeted with a roaring fire and a glass of champagne, fingers tap away at computers on a mahogany table surrounded by headless statues; among the paperwork, someone has deposited a pile of ceremonial-drum ice buckets.
A painter touches up the ceiling in the drawing room while staff from Dreweatts, the appointed auctioneers, pace the flagstones looking serious. Every single item, including pictures, furniture and taxidermy, is being photographed.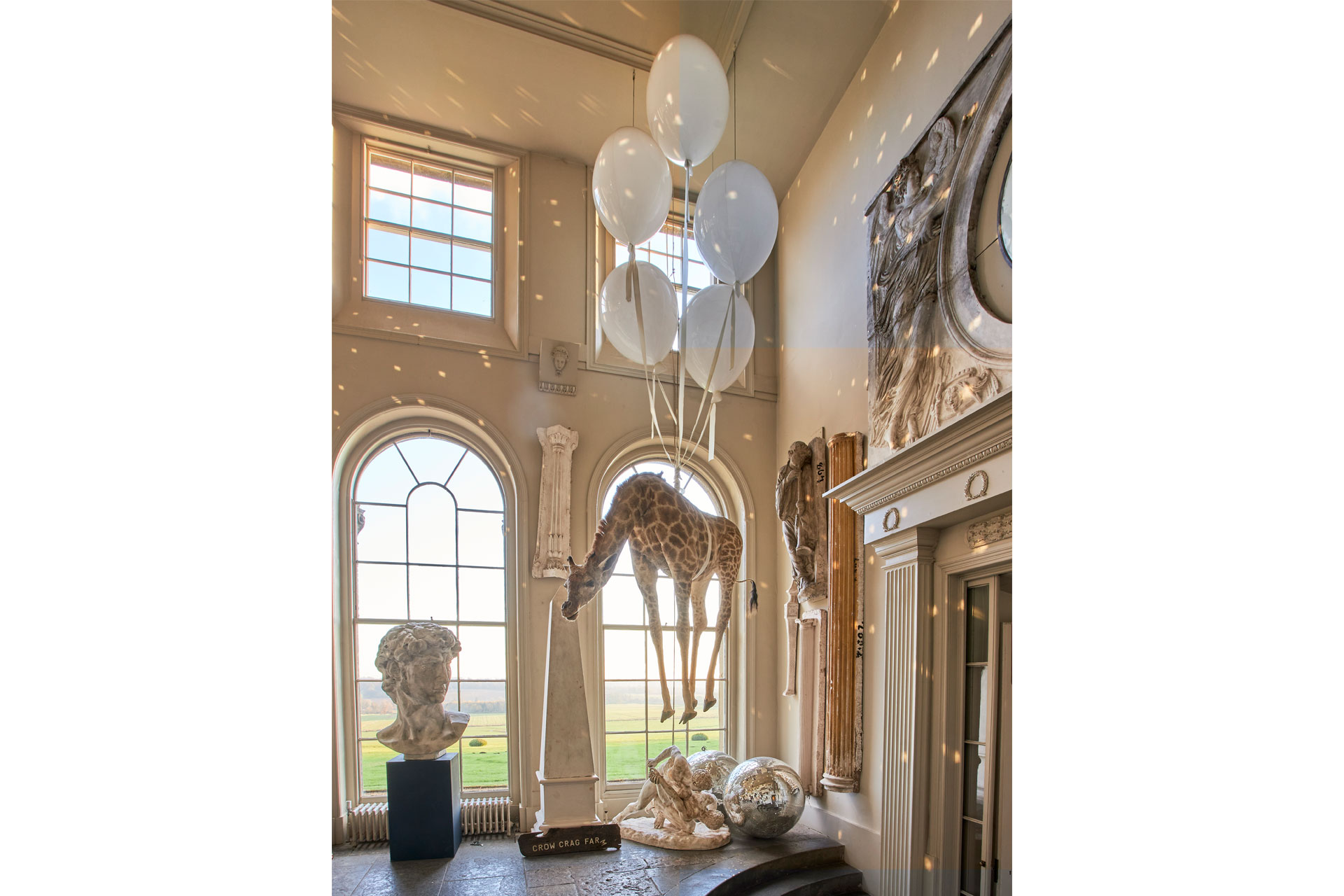 The rooms will be put back again so virtual tour videos can be made, showing prospective buyers how each piece fitted into the Aynhoe story. No wonder a polar bear in the corner has an anxious gaze. It's a mammoth job and the clock is ticking.
'We're very excited,' says Joe Robinson, Dreweatts' head of sale. 'Aynhoe has a truly distinctive collection, unapologetic for its eclecticism and range and emblematic of a life's compulsion to collect. Sales which offer an entire aesthetic are rare and when they come up for sale it is crucial our efforts reflect the passion and the story.'
The sale takes place over two days in January with a post-auction online offering. It's billed as the first virtual house sale, modernising key elements of the iconic country house sales of the mid-20th century through remote viewing. 'I chose Dreweatts as I've been buying over the phone with them for a while now and am always impressed with their service and honesty as a saleroom,' says Perkins. 'Once I spent seven hours with them bidding online, so I feel in safe hands.'
Among the many covetable lots is a triceratops skull estimated at £180,000-£250,000 and a carved, limed-oak, marble-topped pier table in mid-18th-century style above a tree-work base and standing ostrich, estimated to fetch between £1,500-£3,000. Petrolheads, meanwhile, will no doubt vie for a 1959 Le Mans half-scale tribute model of the winning Aston Martin DBR1. The static model of the car was created to commemorate the victory by Roy Salvadori and Carroll Shelby in the 24-hour race, estimated at £10,000-£15,000.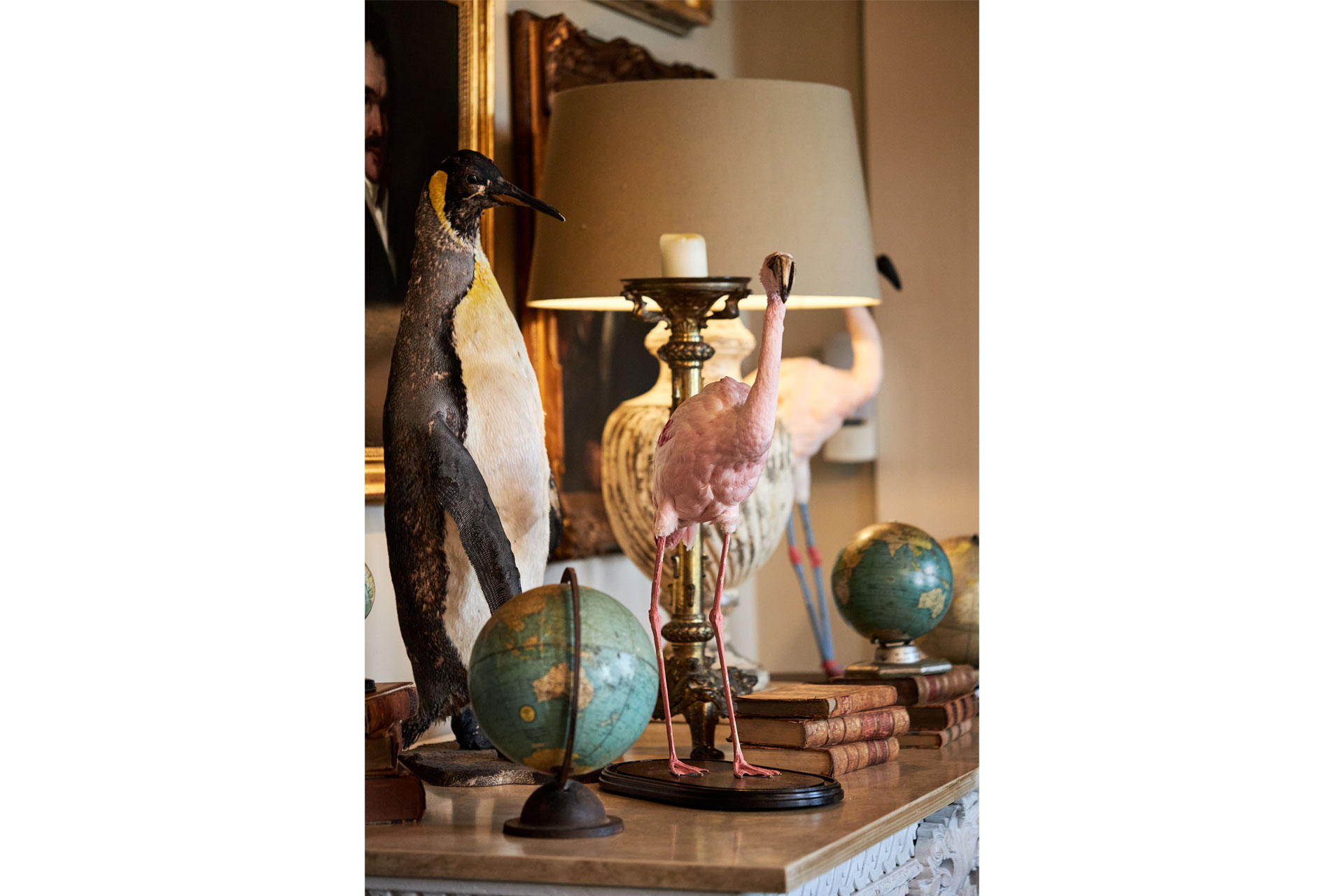 'I'm pained to let go of the judge's chair with ER on the back, which came from Exeter Castle,' admits Perkins, 'as well as my Battersea Power Station desk, a one-off made to commemorate the iconic building. But there's been no edit: the essence of this auction is that we are leaving nothing out.' He apologises for being somewhat distracted. 'Until about a week ago, leaving Aynhoe sort of felt like the never-never and now it's a very real scenario. The auction, three children, schooling, moving out… I'm trying to put together the jigsaw puzzle.'
Perkins is also busy planning his next adventure – he has bought Parnham Park in Dorset. 'It's the most wonderful, magical estate
I have ever seen,' he tells me. 'It'll be a totally different concept to Aynhoe and one I'm very excited about.' For him, it means a = new beginning and a new creation. And a new shopping list.
I just hope he'll have enough bedrooms for all the friends who will want to come and stay.
Aynhoe Park: The Celebration of A Modern Grand Tour. 20 and 21 Jan (live online auction); 22 Jan (timed online auction)