Inside Luke Edward Hall's Whimsical Imagination
Interior designer Luke Edward Hall on history as inspiration, "simply living well", and his eccentric North London flat.
Luke Edward Hall speaks to Rosayln Wikely about his whimsical, romantic aesthetic which not only applies to his designs but how he lives too.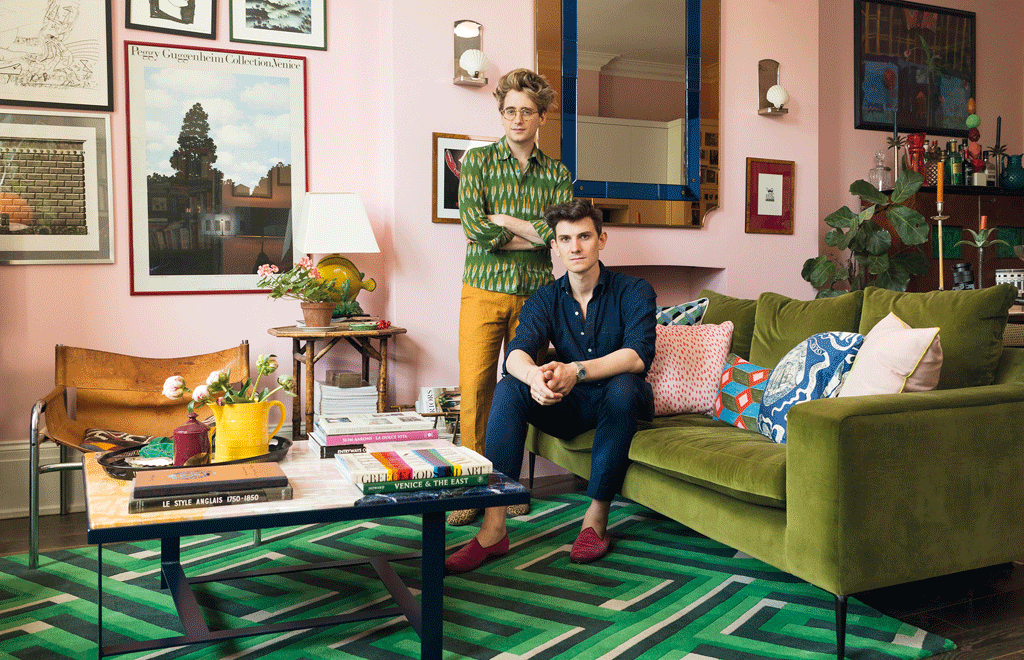 'I'm interested in creating beautiful spaces, curating a beautiful setting.' The sweeping bay windows flanked by kitsch pink pillars, pear coloured walls adorned with romantic illustrations and a soft classical playlist floating through Luke Edward Hall's eclectic North London studio strongly attest to this.
Who is Luke Edward Hall?
This designer, illustrator, painter and all-round creative polymath is the king of curation. He has succeeded in reconciling Instagram's storytelling with a Cecil Beaton-esque quest for beauty. Hall's artistic ascent has been rapid. His style may have been brewing in the creatively sterile suburbs of Basingstoke during his teens, but there was only a year between finishing at Central Saint Martins and establishing his studio in 2015 to being commissioned by Burberry to illustrate their SS16 campaign. 'They wrote to me actually, I still don't know how they found me.' A string of prestigious hotel commissions followed, as did a project with the Royal Academy of Arts and fashion designer Saloni's colourful 10-year anniversary bash in Rajasthan, where his printed tent painted Instagram in vivid hues. It's the sort of success designers can only dream of.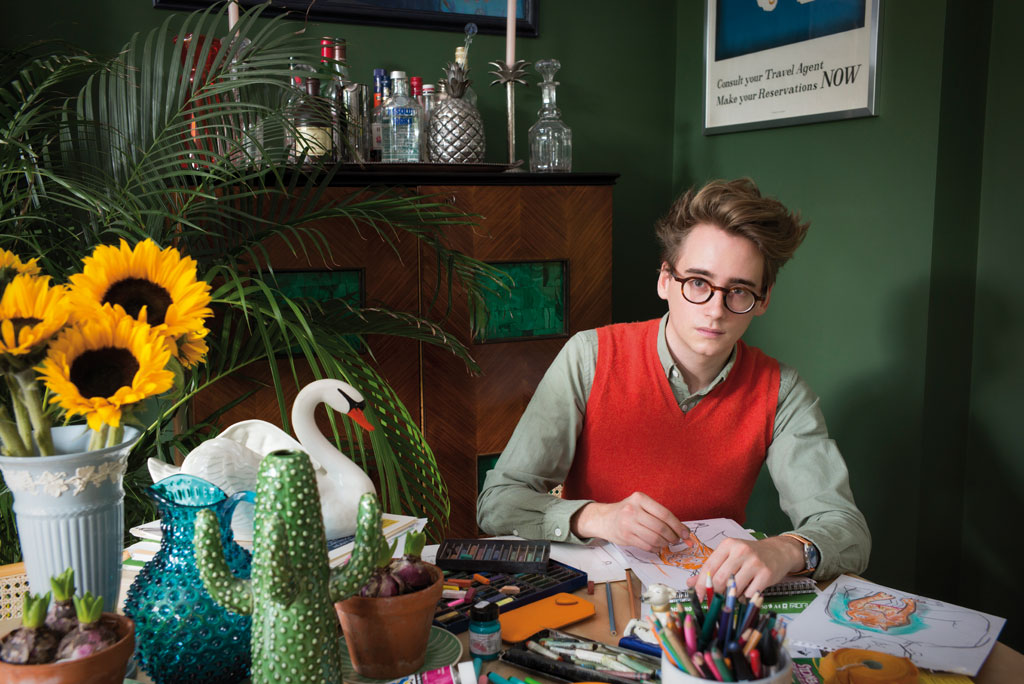 So, why is this Vogue-branded 'wunderkind' in such high demand? 'I became known for taking inspiration from history, particularly the classical era, and pumping it with lots of colour.' Indeed, it's this playful, contemporary spin on a romantic yesteryear that makes Luke's art, design and interior pieces instantly recognisable. His limited-edition collection in Liberty London, from hand-painted tasselled cushions of Hellenic faces to Harlequin trays, sticks out with a quasi-Wes Anderson quirk, while the illustrations adorning the Bloomsbury Hotel's opulent walls in central London reveal a telling romanticism and melancholic eccentricity.
Handwriting scribbled across invitations, pottery and illustrations has fast become another of Hall's trademarks. 'I can't always relate to modern culture or people working now so I often think back to the likes of Cecil Beaton, Piero Fornasetti and Josef Frank. I admire both their work and the way they worked and can relate to their quest for beauty.'
Beyond Aesthetics
Far from the shallow pursuit of the polished and perfect aesthetic that fuels today's social media, Luke Edward Hall applies this concept off-screen to 'simply living well', satiating the senses with beauty. 'I think that kind of gets lost now,' he laments. It's not about the money, the glory, the bigger turret… but about creating a beautiful house and filling it with friends and flowers just as creatives like Cecil Beaton did. 'He had a romantic sensibility that I can connect with.'
As befitting a Central Saint Martin's student graduating in menswear, Hall's artistic influences instruct his outfit and demeanour. The clash of red cords and burnt orange socks against a floral sofa reveal his admiration for Wes Anderson's kitsch, while the knitted librarian jumper and round, thin- framed spectacles are a nod to the Bloomsbury Set.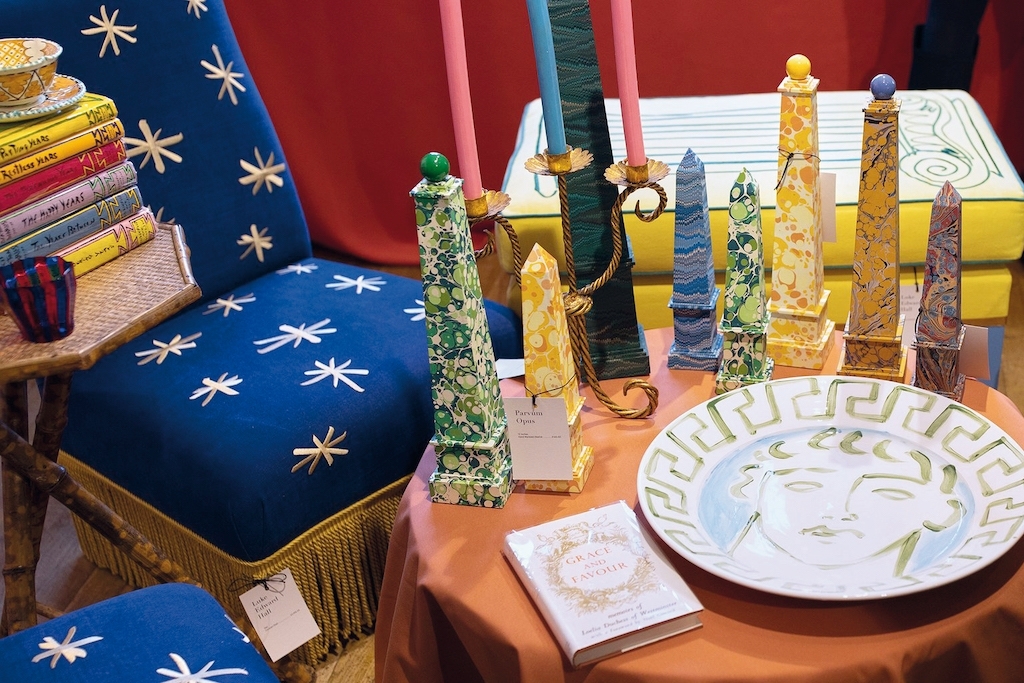 But behind this eye-catching ensemble, Hall can cut a vulnerable, near-melancholic figure: 'I usually associate with shy characters, James Sveck in Peter Cameron's novel Someday This Pain Will Be Useful to You is very awkward and likes solitude.' It's only when discussing his close creative circle of friends or boyfriend, designer Duncan Campbell, that Hall's wild eyes soften. 'I have a really creative, fun group of friends: Haeni [Kim] founded the popular fashion brand KITRI; Fee [Greening] is known for her beautiful illustrations of people, plants, insects and jewels; my boyfriend and Charlotte [Rey] own their own design company Campbell-Rey; my good friends who are sisters, Daisy and Polly [Stenham] are well-known writers, Rachel [Chudley] is another interior designer and Victoria [Williams] owns The Cob Gallery in Camden… we've all helped each other along.'
Hall begins to paint a modern Bloomsbury Set story, one of shared nostalgia for beauty and visual currency, commercial success being a mere bonus rather than the end goal. 'We met in 2008. East London was really exciting and we all loved dressing up for the wild club nights.' After Central Saint Martins, Hall interned with Dazed & Confused and worked for a few stylists and interior designers. 'I really loved the idea that you can create your own identity,' he muses, suggesting there is more to his design prowess than just interiors pieces. 'When I go home, I'm just as interested in how my house looks. I can't separate work from private life, the aesthetic all rolls into one.'
More is More
Together he and Duncan have designed their North London flat with daring colours, prints and antique trinkets to construct an eclectic masterpiece, one that would turn globally acclaimed clutter assassin, Marie Kondo, green. And it's all fodder for Hall's portfolio – companies such as Berry Bros. & Rudd or Le Sirenuse hotel in Positano buy into his visually curated lifestyle and commission him to design everything from wine labels to bespoke Positano plates.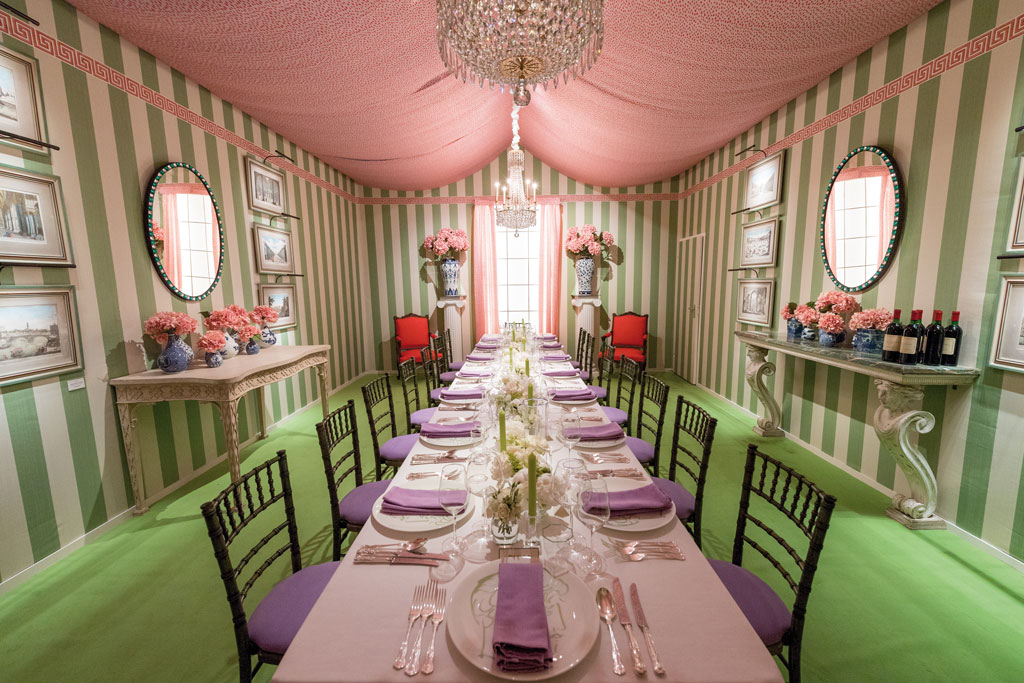 While Hall appreciates the movement to spend less time on social media, he recognises its marketing power. 'It's a great tool, I've had a lot of commissions through it.' His next project takes him to Stockholm where he is working on an exhibition in May and a print collaboration with Swedish brand Svenskt Tenn (more foraging-for-berries-in-the-woods fabrics than anything cutting-edge Scandi).
As his flamboyantly historical style spreads around the world in various guises, perhaps Luke Edward Hall symbolises a burgeoning nostalgia for a bookish, floppy-haired past amid the forward thrust of tech and tight polo necks. Whatever it is, the creative integrity is refreshing, and for Luke, 'it's all part of the same picture'.
DISCOVER MORE
---