The Vertical Garden: Patrick Blanc's Guide to Bringing Small Gardens to Life
Trying to make the most of your tiny garden? Take inspiration from artist and botanist Patrick Blanc.
Need help making your small garden space beautiful? If your town house has limited outdoor space, you might need a little help making it somewhere you want to spend time. Patrick Blanc, creator of the vertical garden, is here to help.
The artist and botanist, often referred to as 'the green man' has worked on dozens of works of art at some of the world's most luxurious hotels, public buildings, museums and private residences.  Blanc's latest projects are on display at the recently opened Il Sereno on the shores of Lake Como. The botanist created three distinct art pieces in one setting; two vertical gardens and one green sculpture, entitled "Le Mirroir Vert du Lac," "Le Canyon" and "Les Racines Echasees,". Each piece boasts thousands of plant species and are inspired by the natural beauty of Lake Como.
While Blanc calls upon years of experience and artistic flair to create his distinctive masterpieces, he insists it is possible to create a work of art in all small garden spaces, if you are willing to do a little research. According to Patrick, bringing your small garden to life is all about finding the plants that will flourish in their environment. In small spaces, these are often architectural foliage and shade-loving plants.
How To Plan Your Small Garden Masterpiece
Here, Patrick Blanc tells you how to make the most of your small garden space…
"Small city gardens often receive limited sunlight and shade loving plants usually grow well in small gardens. Mostly architectural foliage plant species will work best, but many shade lovers have also beautiful flowers.
"When the appropriate plant species are selected according the environment, the gardens are easy to maintain.
"It is possible to create a Vertical Garden at home. Synthetic felt, PVC boards and a pump are necessary tools and can easily be found. Art will come step by step if you understand the way of life of the plants."
Patrick Blanc's top gardening tip: "Selecting the right species that make gardens easy to maintain. A good botanical knowledge is the key."
Find out more about Patrick's work with our Q&A with the green man, below…
How did you come up with the concept of the vertical garden?
The concept of the vertical garden came from many sources of inspiration. As I child I was fascinated by aquarium fishes and the aquatic plants because they were essential for the general aquarium equilibrium. When I was young, every week I would go to the Bois de Boulogne, near Paris with my mother to look at the little rivers and waterfalls. These waterfalls were covered by mosses and ferns and I was truly fascinated by these plants growing outside the soil. After my first years at university I went on to study tropical botany and this fascination only grew more after visiting hot and humid destinations and seeing the plants and flowers that would grow there.
Can you tell us a little about your latest project at Il Sereno?
"Le Miroir Vert du Lac", "Les Racines Echasses" and "Le Canyon" are pieces of living art that feature at Il Sereno Lago Di Como. Many years ago I met the owner of Sereno Hotels, Ignacio Contreras and his son Luis. They both asked me to create a vertical garden above the famous lake. Looking at the surroundings, I wanted to keep this garden and the overall design of Il Sereno in keeping with the lush beauty of Lake Como in general. So we transformed a rather dull looking corridor between the hotel and a natural cliff into a beautiful green living canyon. I also proposed a three dimensional structure, an evocation of the contorted stilt roots of the trees that I see so often in tropical rainforests to create "Racines Echasses" which is covered by many subtropical plant species. And this sort of design is not only new to Lake Como, but to Italy in general.
Do you see yourself more as a botanist or an artist?
My work is both considered as a scientific and an artistic approach. I think of myself as the scientist and the plants as the artists and my job is to reveal the long term harmony of plant architecture in my work. Working with living creatures means first of all to respect their growth habits on the long term. Once you select the right species for the right place in a given situation, you can create design sequences harmonious for our eyes and, most of all, for the plants. It is impossible to be an artist of living creatures if you are not a scientist.
How much of your work is scientific, how much creative? And are the two a good match?
It's a mixture of the two. My botanical knowledge is the foundation for the creative and artistic side of what I do; the science behind creating long lasting pieces of living art in a variety of environments.
What's the ideal location for one of your vertical gardens?
A location which allows people to experience the vertical gardens as they go about their daily lives; such as a busy street or a train station. Of course, I love a challenge, and working with locations like the 200m Towers by Jean Nouvel in Kuala Lumpur was fantastic; I covered the eight façades with 243 different species of climbing plants. Working with a Luxury hotel such as Il Sereno is always a great experience – people will be coming to the hotel to relax on their holidays, and not only are they immersed in the beauty of the lake, the fabulous design of Il Sereno, but also the botanical structures I have created.
Your vertical gardens or 'green walls' are obviously great in places where space is limited, how can people maximise their small garden spaces?
When space is tight, it's always an effective idea to save the limited horizontal places for humans, and instead have plants growing up walls – while being useful to maximise space, the surrounding environment is completely changed when the walls and the enclosures are covered in wildlife.
Do you prefer pretty or practical outdoor spaces?
I prefer wild outdoor spaces. I love to visit National Parks and Primary Forests in Papua New Guinea, Fiji, Colombia, Sumatra, China, Malaysia. These trips are simply for studying plants in their natural habitat and it's always the best source of inspiration for me.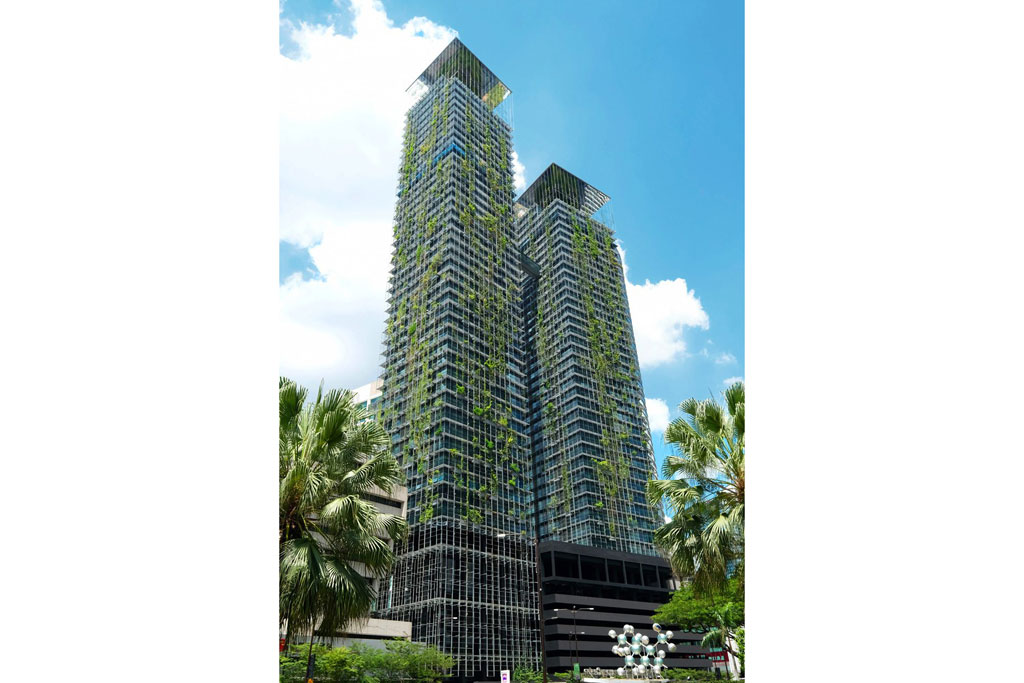 What can we expect from you next?
The Robinsons project in Dubai, to be opened early 2017, will display a lot of climbing species which will be new in this part of the World. The Kuala Lumpur towers are almost finished, the highest vertical gardens of the world. Different huge projects in very cold places like central China. Also projects of free hanging structures in different places, in the same mood as my Rainforest Chandelier in Bangkok. Actually, my only real next step is to install plants for ever in the most inhospitable places like car parkings, tunnels, elevated walkways, train stations… Many projects are on the way – watch this space!
READ MORE:
The Guide to Gardening in London / Best Annuals and Biennials for Your Garden / Garden Design Dilemmas Solved
---