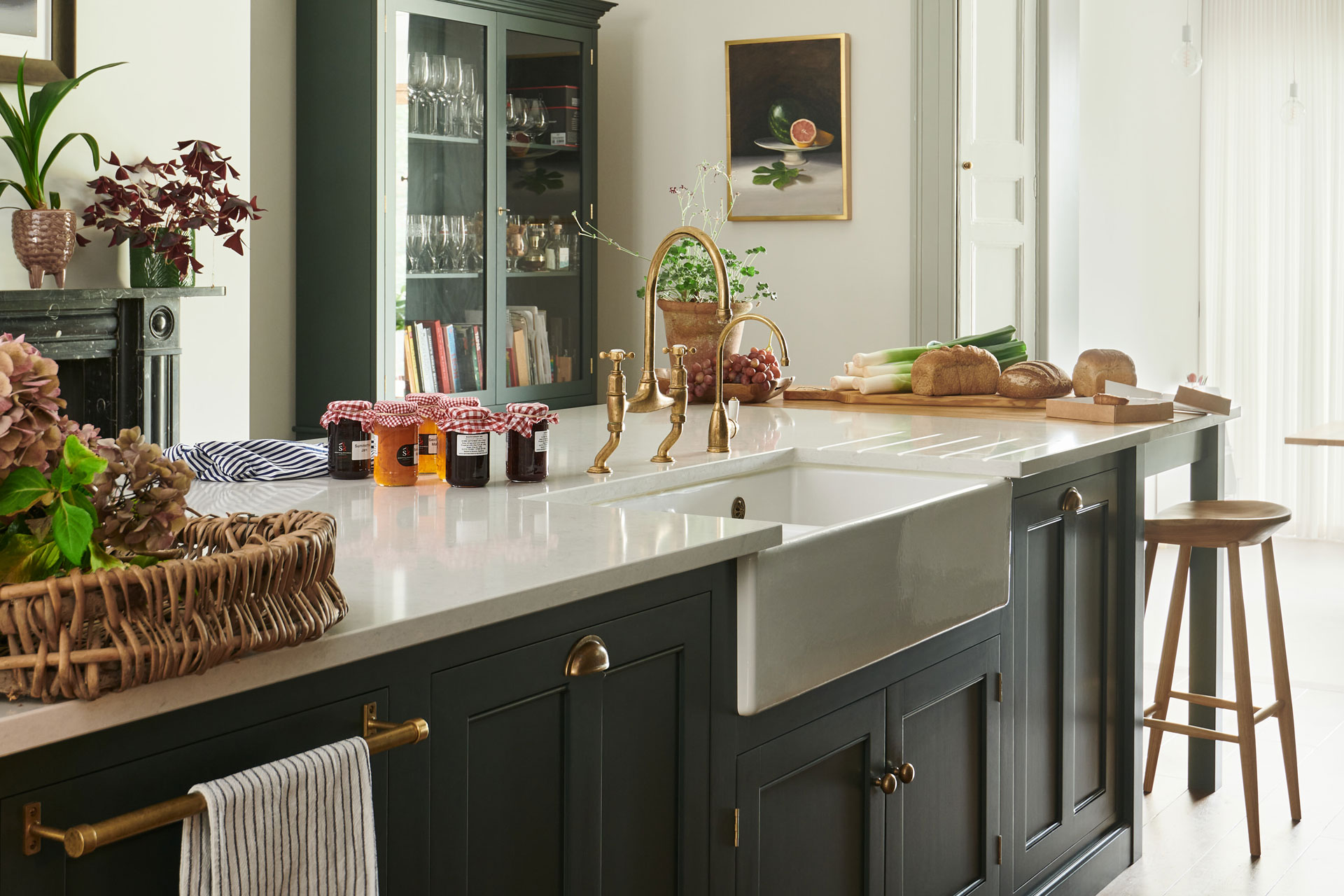 The Best Luxury Kitchen Island Brands to Know
---
Don't go casting away your kitchen island just yet
These are the brands that'll make your kitchen island the hearth of your home…
Thinking of Getting a Kitchen Island? Check These Brands First
But first: a Quick History of The Kitchen Island
The kitchen island has gone through many iterations over the years. The first 'kitchen island' as we know it started in the 1800s in Europe, when you'd usually find a sort of work table near the stove or 'hearth' (a historical word for a sort of structured area around the fire or fireplace of the home).
Then it was Frank Lloyd Wright in the 1930s who changed the kitchen island game. (You may recognise his name, he was the architect who designed the iconic US building, Falling Water). One of his clients requested that he design the kitchen where they could stay in touch with guests as they were preparing a meal.
Then, through the 40s to 70s, the increased casualisation of kitchens and open floor plans became increasingly aspirational, that led to fully cementing the concept of the kitchen island as we know it today.
Now the kitchen island is a bit of a free for all in terms of what it's purpose is. All that we currently know is that the kitchen island is getting bigger. That's at least what at least Wickes was saying in Spring this year, revealing their trends for 2022, reported by The Times.
Now, it's just as much as a working from home spot for an hour or two, a morning coffee, as it is a casual intimate dinner. It's really up to you and your lifestyle. Here are our favourite brands we'll be keeping on our kitchen island mood board.
British Standard by Plain English
Borne from making off the cuff cupboards in a shepherd's hut to now a luxury brand with a cult following with brick and mortars in the UK and US, British Standard has always been about authentic craftsmanship. The collaboration between the two brands, British Standard, and Plain English, is all about meeting the needs of both rural bolthole, and a city slick rick town house. It's about timeless design over anything zeitgeisty.
@britishstandardcupboards | britishstandardcupboards.co.uk
DeVOL Kitchen
Spotted in the homes of Louise Roe and the like of interior tastemakers, DeVOL Kitchens is the no brainer brand that's been making a bit of noise in the kitchen island scene. It's all about crafting pieces for the modern home: the brand offers both a design service as well as kitchen sets, which are all, of course, beautiful.
Just from their names ('The Bloomsbury Kitchen', 'The Haberdasher Kitchen'), already gives you an idea that it's going to be an aesthetic overload. Not just a kitchen island brand, DeVOL's main gig is kitchens, as well as having an online store with a range of electricals, knobs, handles, taps, pieces of furniture.
@devolkitchens | devolkitchens.co.uk
Blakes London
This joinery studio meets design led kitchen is a bit of a power house when it comes to the kitchen island. Blakes London is ostensibly a designer of a kitchen in it's entirety, so you wouldn't be able to just buy a kitchen island on its own. The brand mainly goes for looks that are quite town house led. So think: marble, whites, clean lines, timeless chic aesthetics.
@blakeslondon | blakeslondon.com
Humphrey Munson
Stretching back to it's origins in the 1800s, Humphrey Mason began as a cabinet making franchise that quickly grew in Victorian East London. Humphrey Mason's all about remarkably high standard of craftmanship (there's a reason it's been around for so long), so this one's for a lifetime investment of classic, traditional design that will workaround many times of lifestyles and homes.
@humphreymunson | humphreymunson.co.uk
Barlow & Barlow
View this post on Instagram
A family led franchise, Barlow & Barlow can meet almost all of your needs for decorating, furnishing, and concepting your home. So it's not a surprise to report the brand has a fabulous eye for kitchen islands. Go with Barlow & Barlow for if you're up for a more playful but beautifully classic twist to your interior design.
@barlowandbarlow | barlowandbarlow.com
Artichoke
Bespoke kitchen designers and architectural joiners, Artichoke is all about delicately balancing the historic charm of English period houses, with the functions of the modern world demand of the space, with expert skill.
@artichoke_ltd | artichoke-ltd.com
Neptune
Neptune is offering a few different options when it comes to kitchen islands. First there's the fitted cabinetry islands that's meant to match with your existing Neptune cabinetry in the kitchen, and it's usually on the bigger side (so it's usually fitted with sinks and the like).
Their Chalecote Island bridges between freestanding worksurface and kitchen island that could make a fabulous statement piece for your home. Neptune also offers a bespoke design service, so if you're after a whole concepting service, that can be sorted too.
@neptunehomeofficial | neptune.com
Graham & Green
Offering kitchen islands you can buy online now, Graham & Green is the quintessential 'rustic charm' aesthetic that'll suit both an English country home, as it would easily slip in to a more contemporary hang out kitchen.
@grahamandgreen | grahamandgreen.co.uk
SEE MORE
Interiors Inspiration: Marble Kitchens / 10 Properties with the Best Kitchens
Main Image: courtesy of British Standard by Plain English