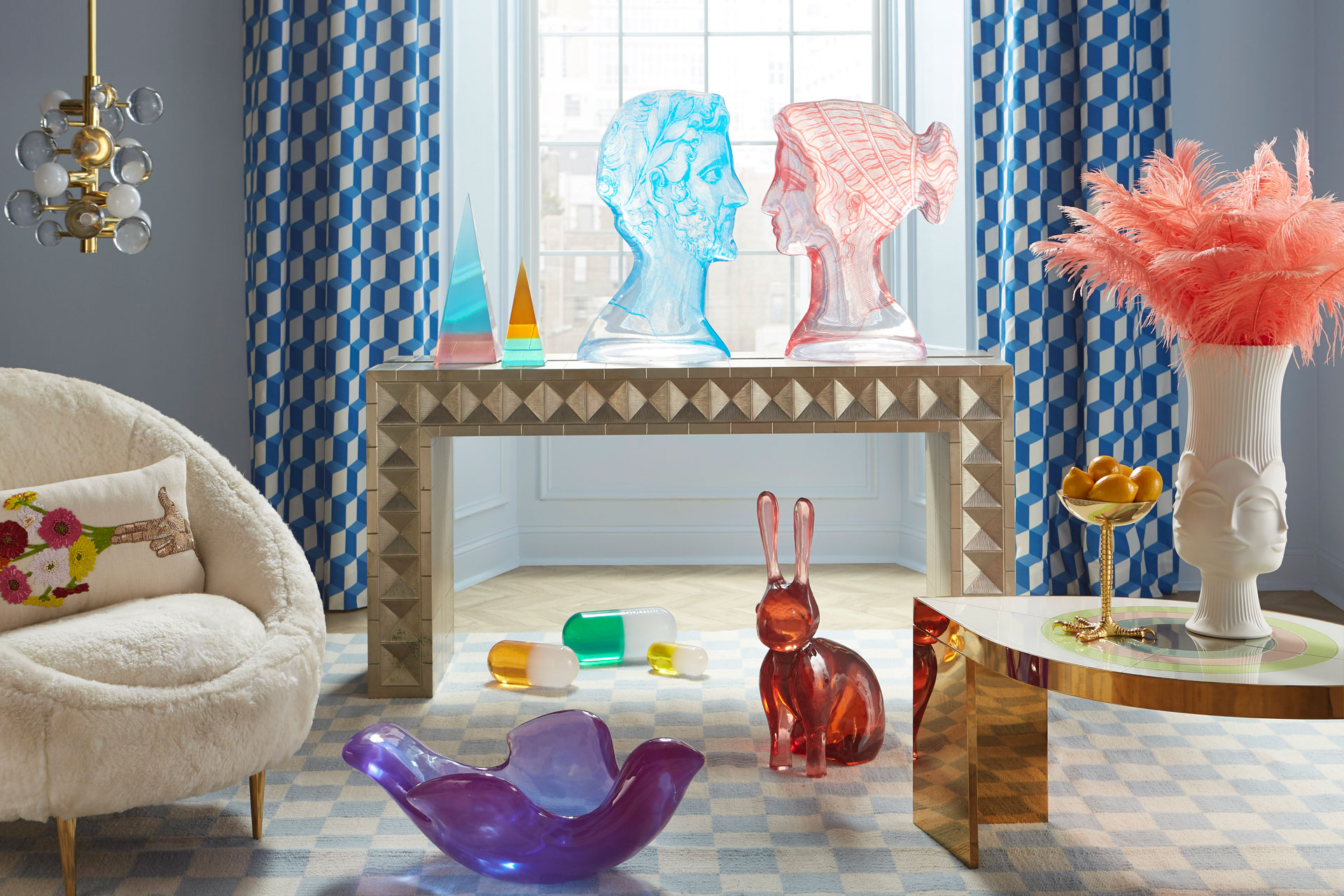 American Interior Designers To Follow on Instagram
---
Here's who's in our IG saves folder
Stuck in your anglophile echo chamber of design inspiration? Here are some of the finest American interior designers we've got in our Instagram saves folder. 
10 US Interior Designers We're Following on IG
Kelly Wearstler
View this post on Instagram
Clients: Cameron Diaz, Ben Stiller, Gwen Stefani
Potentially one of the most recognisable faces in the interior design world today, you'll find Kelly Wearstler teaching on Masterclass (Anna Wintour does the fashion lesson, so you start to see how big of a deal Wearstler is). You'll also catch her striking an effortlessly glam pose behind an equally cool interior she's designed herself on the gram. All in all, we're obsessed.
Wearstler isn't much into direct influences, but she's more about how a space can 'tell a story' (she describes the process of design as 'falling in love over and over again'). Her take to interiors is, of course, suitably sumptuous, and rakes in a clutch of eclectic influences from literature, fashion, as well as the work of Pierre Cardin and Oscar Niemeyer.
Instagram: @kellywearstler
Rayman Boozer
View this post on Instagram
Routinely dubbed 'The Colour Guru', Rayman Boozer is all about making colour pack a punch in your home. He's especially into how a space can be a vessel of your personality; where you'd be able to walk and understand all the unique quirks and tastes of the inhabitant without speaking to them.
Rayman first got a taste for interior design following an obsession with shelter magazine during his upbringing in Indiana. Rayman's zeal for design caught the attention of the press when his original concept store Apartment 48, opened it's doors. It's since snowballed into an established design firm today.
Instagram: @raymanboozer
Amy Lau Design
View this post on Instagram
Co-founder of Design Miami fair, with a background in Art History at Sotheby's, Amy Lau is an interior designer who mainly resides in New York. The Arizona-native designer's main guiding force for decorating any home or space, regardless if it's a celebrity or not, is all about making homes liveable, meaningful, filled with harmony, artistic integrity, and awe.
Instagram: @amylaudesign
Vicky Charles
View this post on Instagram
Clients: Prince Harry & Meghan Markle (rumoured), Victoria & David Beckham, George & Amal Clooney, Mila Kunis & Ashton Kutcher
Love the Soho House aesthetic? Well, you have Vicky Charles to thank shaping that 'home from home' feel you get, since she was the former design director for the franchise; unleashing her creative talent onto Soho House Beach Miami, Soho House West Hollywood and the like.
Her aesthetic, when it comes to private homes (of which Charles & Co Studio, is all about, as well as commercial) is about making anyone instantly feel at ease. Her take on things is not so much a signature aesthetic, but more about how an interiors makes the client *feel*, and of course, a design that'll also attune to every minutiae the dizzying lives of her often high profile clients.
Instagram: @charlesandcostudio
Mary McDonald
View this post on Instagram
The much fêted Los Angeles interior designer, Mary McDonald, that you may have seen on the silver screen, with Bravo TV's 'Million Dollar Decorators', is one to follow on IG. McDonald's oeuvre spans both commercial, private clientele, as well as having her own product line and she's also an author in her own right, publishing 'Interiors: The Allure of Style'.
Her take to interior design is creating spaces that are all about harmony, and, beautiful pops of colour. She takes her inspiration from a clutch of sources (she swerves past anything too specific), so expect influences from her travels around the globe, as well as everything from Palladian style, to early 20th Century decorators such as Elsie de Wolfe, Madeleine Castaing and Nancy Lancaster.
Instagram: @marymcdonaldinc
Jonathan Adler
View this post on Instagram
Jonathan Adler left his work-a-day corporate life for the romantic pursuit of pottery. Throwing his clay, his creativity stretched into the world of interior design, where the Jonathan Adler franchise boasts a whole string of additives (furniture, interior design, lighting, the list goes on).
You could define the 'Jonathan Adler' aesthetic as one of quintessential, but contemporary American glamour. But he's not all glitz, as he says himself, his style is '99 percent classicism, 1 percent witticism'.
Instagram: @jonathanadler
Justina Blakeney
View this post on Instagram
You'll have most likely come across the work of Justina Blakeney when her book, The New Bohemians reached roaring success, and she then became a New York Times Best Selling Author because of it. If you haven't read the book (but it feels like that's a minority now), Blakeney's take to interiors is textured, biophilic, and patterned. Her own brand, The Jungalow, is an easy one stop shop for that coveted boho look (think embroidered cushions aplenty).
Instagram: @justinablakeney
Roman and Williams
View this post on Instagram
Clients: Gwyneth Paltrow, Kate Hudson, Ace Hotel New York, Metropolitan Museum of Art
This New York Design studio, compared to other American interior designers, is mostly well known for their commercial projects. The brand, described by Gwyneth Paltrow's empire Goop, is described as an 'irresistible, can't-put-a-finger-on-what-it-is style that's a combination of louche and livable' Consider our curiousity, piqued.
The firm, founded in 2002 by Robin Standefer and Stephen Alesch, is responsible for the most vibey and buzziest of restaurants and hotels of the century (think Ace Hotel New York, ad Le Coucou). Their latest client? Oh, only The Metropolitan Museum Of Art, for their redesign of British galleries, that's unveiling later this year.
Instagram: @roman_and_williams
Alyssa Kapito
View this post on Instagram
With a reputation for clean lines and elegance, Alyssa Kapito is known for her clever subtlety. Her work, which, is ostensibly in the apartments on the Upper East Side of Manhattan, and also in the family homes of Beverly Hills. Kapito has her head above the parapet compared to American Interior Designers with her mastery of creating serene spaces.
Instagram: @alyssakaptiointeriors
Ashe Leandro
View this post on Instagram
Clients: Seth Meyers, Rashida Johnson, Gwyneth Paltrow
Eschewing anything with a pattern, or, heaven forbid: wallpaper, the designer duo, Ariel Ashe and Reinaldo Leandro (of design firm, Ashe Leandro), focuses on all things textural. These American Interior Designers, Ariel and Ashe, started careers in different arenas. Ariel started her foray in the world of interiors as a set designer for Saturday Night Live, and Reinaldo got into the business in Venezuela studying architecture.
Instagram: @ashe_leandro
SEE MORE
5 American Bars in London to Visit Now
Main Image: Jonathan Adler Harlequin Eye cocktail table £2100, Jonathan Adler Talitha Waterfall console £2600, Jonathan Adler Ether chair from £185, uk.jonathanadler.com 0207 589 9563