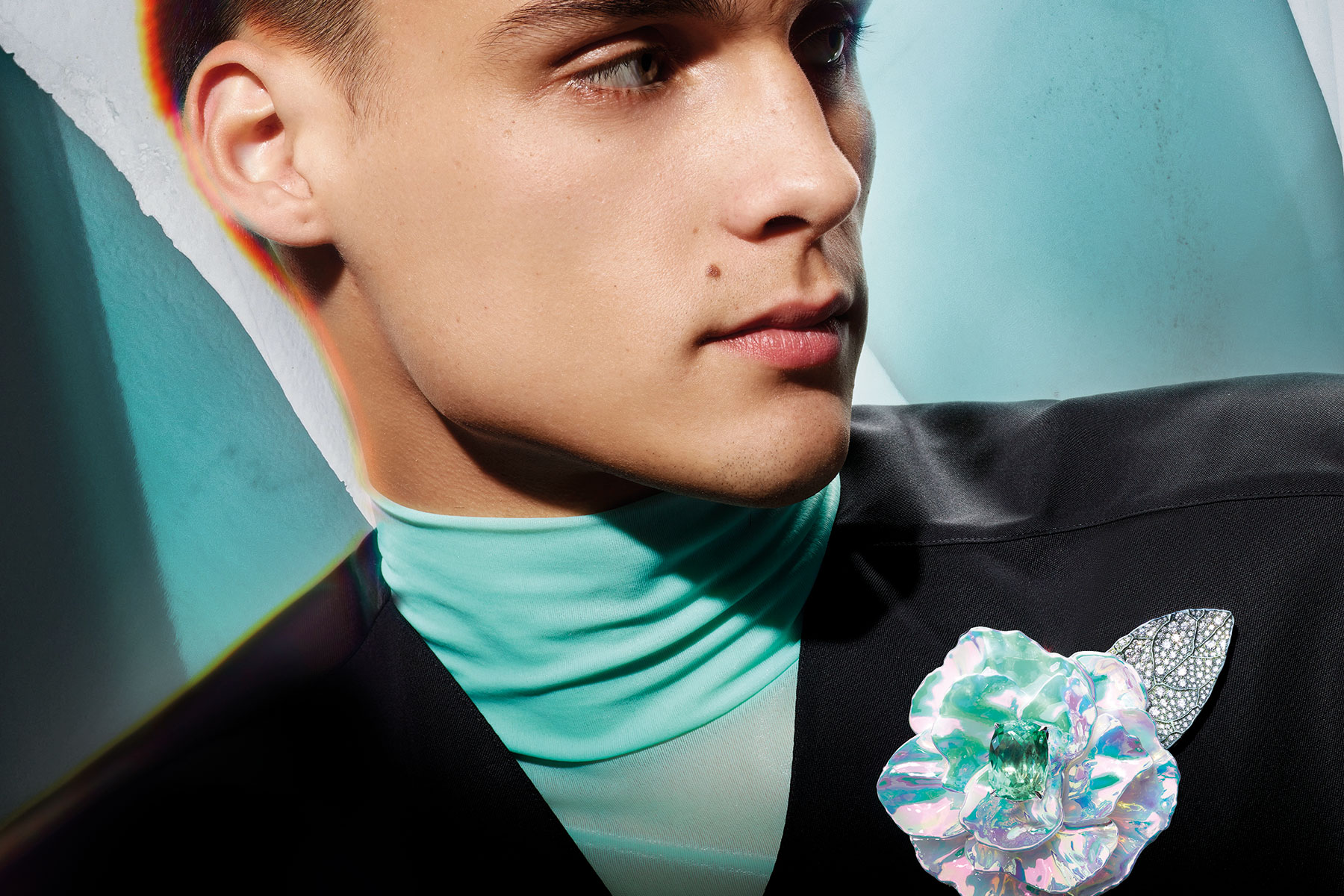 The Rise of Men's Jewellery
---
'Jewellery is not a question of gender but is above all a question of vision. It allows everyone to express their uniqueness'.
Nicholas Foulkes on the rise of men's jewellery
'We have always sold jewellery to men, but now we are approaching levels that are almost Jacobean', says British society jeweller Theo Fennell of the current explosion of interest in male jewellery. There is perhaps some way to go before we reach the standards of bling that prevailed at the Court of King James I, nevertheless, historical hyperbole aside there is no denying that men's jewellery is undergoing a renaissance.
'For so long men have had so little to cheer themselves up and I am all for it both commercially and spiritually', says Fennell who, much as he loathes admitting it, believes the phenomenon of dressing for the red carpet has done a lot to change attitudes about men in diamonds. 'Seeing men whom they thought of as role models wearing jewellery has helped. Even very rich, successful men have role models. Every banker wants to be Keith Richards and have a little rock and roll in their life, even if Keith Richards does not want to be a banker'.
Fennell is finding that many men are now commissioning jewellery that has a strong sense of personal significance whether in design, motif, or material. 'They are looking at unique designs and they are thinking of things more pertinent to them: initials and zodiac signs for instance.  They want rings that have a meaning and have some emotional heft: in a way this is what used to be signet jewellery, things that had crests on them and pertained to the person'.
Mirabile dictu; there was a time when a crested ring was the only option. Men of my generation – let us just say I will not see fifty again – were brought up on the unimaginably puritan notion that the only acceptable items of male jewellery were a signet ring and cufflinks. Back in those dark days, the range of personal ornament available to men who were not either (a) mayors or (b) Olympic medallists was so limited that we were even conditioned to regard watches as 'male jewellery' … imagine.
Nowadays, according to Giona Zen, senior marketing manager of Bulgari, horology can be a gateway to jewellery. 'I have several watches and I choose which one I want to wear that day, like an accessory, and it is the same with jewellery. It is interesting you can have a very beloved ring with particular meaning, but you can also add pieces to your outfit to underline a moment or image that you want to project, or create a different look for different seasons. We used to think that men were buying jewellery as gifts, now we ask if it is self-purchase and what we see is that we have more and more men wearing B.zero1, Serpenti and Viper'. Since making this discovery Bulgari stores now have counters and displays that 'mix jewels and watches as men's accessories'.
Best British Watch Bands For Your Wrist
Certainly, the unstoppable rise of the man bangle has helped to consolidate the idea of jewellery having a place in the arsenal of male accessories and it is due to such powerful proselytisers as Patrick Mavros that it is now accepted as a totem of masculinity. Mavros is machismo writ large. Like a character in his own Wilbur Smith novel he grew up in a world of assegais and axes and served in the elite special forces unit the Selous Scouts, before turning his powerful hands to jewellery; his adjustable silver 'elephant hair' bangle is a classic.
Eschewing the term 'male jewellery' in favour of 'symbolic adornment', he draws upon his native Zimbabwe. 'We are working on cuffs for men all the time'. Happily, Mavros finds boundless inspiration in his homeland whether the 'textures and fissures on the skin of a bull elephant or the scales of a crocodile'. The important thing is to stimulate the male imagination.  Men are buying adornment and looking for an excuse to buy more'.
But jewellery for men is not just about accessories or pieces with personal significance; it is increasingly about the finest creations of the top Paris jewellery ateliers. 'High jewellery should not only be for women, we want men to wear jewellery because we also design pieces for them', says Hélène Poulit-Duquesne CEO of Boucheron. 'Jewellery is not a question of gender but is above all a question of vision. It allows everyone to express their uniqueness'.
Gender neutrality is very topical, but Poulit-Duquesne believes that this is about more than just paying lip service to a passing fashion moment, rather about men reclaiming something that was historically theirs.  As such, she insists that addressing the needs of the bedizened man is a duty of the great jewellery maisons…a duty that Boucheron takes particularly seriously.
'Since the dawn of time, high jewellery has been a story of men. In fact, high jewellery was first made for them in the time of kings and Maharajahs. It is therefore natural to keep this idea alive and create fine jewellery and high jewellery pieces for men'.
It was with this mission in mind that when it launched its Contemplation collection it showed a man wearing high jewellery. 'It was actually the first time we chose to show a man in our campaign. The Fleche du Temps earring for instance is a perfect example', she says of a stunning single earring in the shape of an arrow set with diamonds that appears to have pierced the wearer's lobe. It is a fabulous piece and one that while perfectly contemporary would also have suited the jewel-loving court of King James I where George Villiers Duke of Buckingham would appear at parties 'trimmed with great diamond buttons,' accessorised with 'diamond hatbands, cockades and earrings, to be yoked with great manifold knots of pearl, in short to be manacled, fettered and imprisoned in jewels.'
Who knows, maybe the time is right for gem-set fetters and manacles after all?
Read More:
You might also like...
Oops, there are no posts.