Forget your previous notions of après ski attire, because Parisian brand Maje are reinstating a retro eighties ski look, with a modern twist.
This season, the likes of Balenciaga, Stella McCartney and Sacai all presented the puffa jacket as the cool new coverup. So it's hardly surprising that retro sportswear is making a return. The anorak of yesteryear has been brought bang up to date as fashion's latest hero, replacing last season's love of the bomber jacket.
Now it's time to embrace a chic, but sporty look for your next ski holiday, courtesy of French brand Maje. Their Hors Piste collection is made up of 19 pieces including neoprene overalls, cosy knitwear emblazoned with snowflakes and retro stripes, mohair midi skirts and of course, a stylish take on the puffa jacket.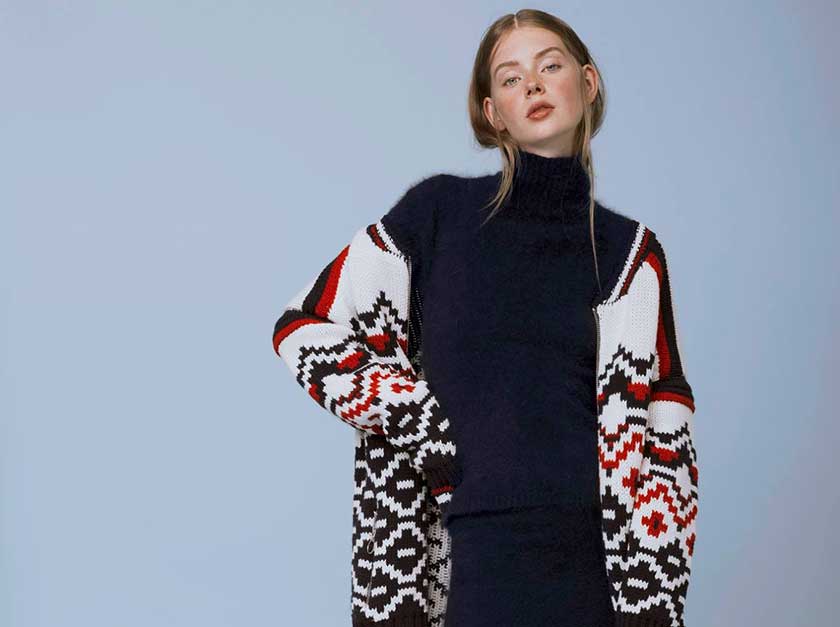 Off Piste isn't restricted to the Alps though. In the country pair the cosy, nostalgic knitwear with boyfriends jeans and trainers, and in the town try the overalls with a shirt and velvet ankle boots like these Cubana velvet boots from Penelope Chilvers.
The look is more Audrey Hepburn in Charade, than Renée Sellweger in Bridget Jones. Balanced proportions, sixties nods of nostalgia and a classic colour scheme of red, white and navy, make Hors Piste the perfect way to add a little sportswear into your wardrobe. Exposed zips, go faster stripes and sporty textures all help to give a nod to athleisure, without having the commitment of say, the Balenciaga ski leggings and oversized puffa look.
If you are going on any ski trips for Christmas, you'll want to make sure you have a selection of the collection in your bag to make your transition from slopes to après ski effortless. Looking stylish on the slopes has never been easier.  From £80.
READ MORE: Autumn skin saviours – The best luxury face creams
READ MORE: Fashion in Film review
---