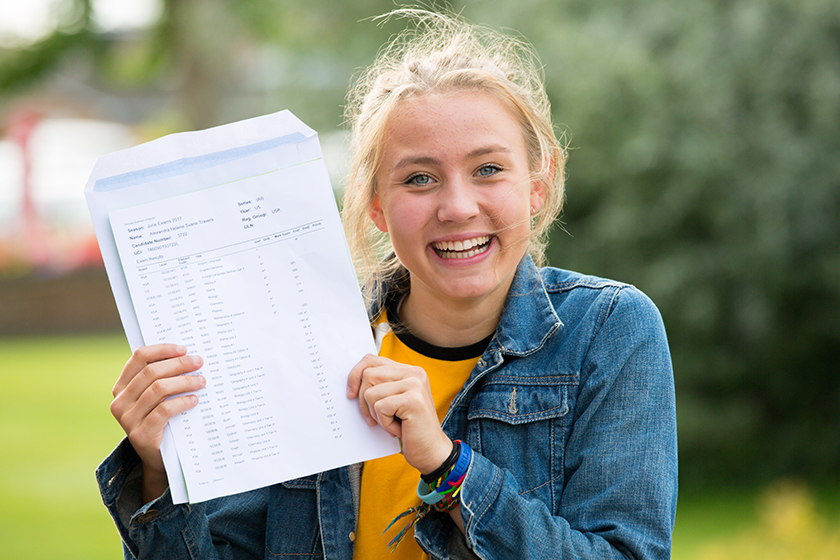 GCSE Results Day 2017: Everything You Need to Know
How did the independent schools do after a turbulent year of reforms?
Pupils and staff across the UK are celebrating new records and perfect scores on GCSE results day amid the biggest exam shake-up in a generation. 
Independent School GCSE Results
The wait for GCSE results is always a nervous one. This year the wait was particularly nerve-wracking however, due to a set of reforms introduced by the Conservatives.
Today pupils received the first wave of GCSE results graded 9–1 in English language, English literature and mathematics.
New grading system
The new grading system has been subject to a great deal of scrutiny with teachers and educationalists criticising the new boundaries for creating uncertainty. Many independent schools like Godolphin took advantage of its independent status by sticking with the current IGCSE specifications and observing how this year's numerical results unfolded. And there were smiles all round as the Salisbury girls' school returned an impressive set of GCSE results with the highest percentage of A*–C grades for three years. One in five girls achieved straight A*–A grades and almost half were awarded straight A*–B grades.
Godolphin wasn't the only school to give their A game. At Reigate Grammar, the typical pupil got 5A*s and 5As, and the co-ed school had more A* grades than all other grades put together. It was another stellar year for the girls at Lady Eleanor Holles in Hampton, with over 94 per cent of all exams achieving A or A*. Bromley High School also reported back great results with 47 per cent of all GCSE entries  graded A* and 74 per cent A*–A.
New Records
Despite the uncertainty surrounding this year's results, new records were set at independent schools. At St Helen's almost half the year group were awarded exclusively A* and A grades, while 11 girls achieved A*s in all their subjects, comfortably exceeding the school's total last year. Another school which saw an increase in their results was Malvern St James, where A*-C grades were up to 97 per cent, reflecting a three year trend at the girls' school. St Mary's Calne, meanwhile, achieved its best-ever set of A* grades at GCSE – with 60 per cent of all entries graded A*. King Edward's School Bath pupils also set a new record with 54.9 per cent of entries at A* & 81.4% at A* or A
Stand-out subjects
It was another successful year for Bede's pupils studying visual and performing arts disciplines, with pupils earning 100 per cent A*–A in dance, 78 per cent A*–A in music, 77 per cent A*–A in art (including art and design, ceramics and photography) and 50 per cent A*-A in drama. At Christ's Hospital over 80 per cent of grades were at A* or A in maths, music and latin and the three sciences averaged 70 per cent A* or A grades. In the sciences, 96 per cent of Queen Margaret's girls achieved A*–A grades in chemistry and biology, and 100 per cent of all science entries gained an A*- B grade. Geography was the stand-out subject at Hampshire Collegiate School with geographers achieving 400/400.
Several schools celebrated stellar results in maths after Year 10 pupils took the GCSE early. For the third year in a row, a top set of Year 10 pupils at Haileybury sat their maths IGCSE a year early and all obtained A*s. At Taunton School 57 Year 10 students were entered for the exams with 42 per cent achieving A* or A grades, 54 per cent  A*, A or B, and 90 per cent at least a C. At Rydal Penrhos all 15 Year 10 pupils entered attained A* grades.
Star students
Teachers across the country expressed their pride today in their Year 11 pupils. At Wycliffe College, no fewer than eight pupils (out of just 60 in the year group) achieved seven or more A* (or equivalent) grades. The new grading system didn't phase pupils at the Royal Hospital School, with star pupils Henry achieving a trio of the elusive 9 grade in maths, English literature and English language. Six students from Bedales achieved at least nine A* grades, with one student gaining an impressive 12 A*/As and another bagging 11 A*s.
GCSE Results Day in Brief
Five things you need to know about this year's GCSE results.
1. This year was the first year of reformed GCSEs. A new nine-point scale was introduced in the key subjects of English literature, English language and maths.
2. The proportion of A* and A grades increased by 0.8 points between 2016 and 2017.
3. Girls fared better than boys overall again this year, and the gap between the two remained steady.
4. There was a dip in pass rates amid the exam shake-up. History, maths and geography all saw weaker results.
5. Half of pupils say they found mistakes in exam papers, according to a survey conducted by The Student Room. The poll also found that three quarters of them were struggling to understand the new 9-1 grading system.