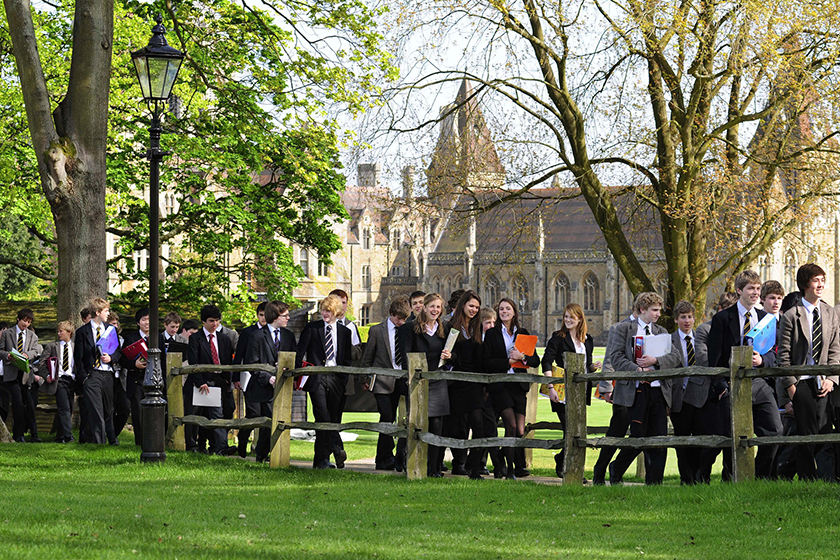 The Pros and Cons of Moving at Sixth Form
Do you stick or switch? Lisa Freedman considers the options available.
An increasing number of pupils consider moving schools after taking their GCSEs for sixth form. Lisa Freedman considers the options available.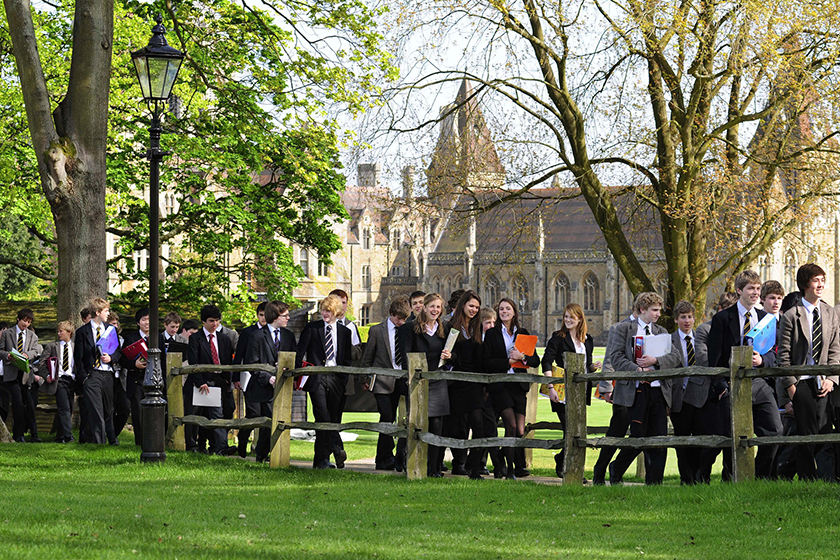 Annabel Morris recently finished her A-levels at Rugby School in Warwickshire – a school she'd arrived at just two years earlier. 'I'd always wanted to board and my parents promised me I could go away in the sixth form. I had a wonderful time; Rugby helped boost my confidence and made me much more independent.'
Annabel's positive experience post-GCSE is not unusual, but while there are many good reasons to change schools at this point, there are, perhaps, equally as many for staying put. Weighing up the pros and cons of this decisive step is always going to require careful consideration.
Conventionally, of course – even for those remaining at the same school – the move into the sixth form has been seen as a major life change, drawing a line under adolescence and opening the door to adulthood. Until recently – when the school leaving age was raised – the decision to continue studying at this juncture was purely optional, and most schools acknowledged their pupils' continuing commitment with greater freedom in terms of dress and discipline.
It is now compulsory to remain in full-time education or training until the age of 18, but there are myriad ways to do so.
The vast majority of pupils will usually trundle along happily at the school they chose so carefully at 11 or 13. A significant minority, however, will want a rethink, and the reasons for this re-assessment are almost as diverse as the options available.
Many, like Annabel, will see a change as a stepping stone to university and both local and international parents recognise that Britain's leading boarding schools can provide a rock-solid bridge. Weekly, flexi or full boarding will furnish a bigger – but still protected – stage, with a first taste of living away from home in a busy, stimulating and carefully monitored environment.
'We started looking at the options in Year 10 and visited about five schools,' says Annabel's mother. 'In the end we concluded that Rugby had the best mix of high academic standards, excellent facilities and strong pastoral care. Annabel struggled a bit at first but, by the second year, had gained a whole new set of friends and much greater maturity.'
Single-sex school to co-ed sixth form
Both boys and girls, especially those who've been at single-sex schools throughout, can feel that a mixed environment will familiarise them with the 'real world'. Girls, in particular, look forward to socialising with boys.
'It was such a relief to move from a cloistered all-girls' school, where everyone was focussed on being good and getting the best possible grades, to Marlborough,' says one recent leaver. 'It was a much bigger environment and much more stimulating.'
An old Stoic, who moved from a single-sex girls' school agrees. 'I enjoyed being taught by masters; the atmosphere was less intense. Boys see and do things very differently. They could say in a two-page essay what it took us girls six pages to write, and still get the same grades. I had far more opportunities to act and debate in a bigger school with termly house plays, compared with the girls' school I had just left.'
However, not everyone has the same happy experience, and girls entering a school which has been single sex to that point may have to be – as the phrase goes – 'quite robust'.
'When I first arrived, I felt I was being weighed up constantly,' said one sixth former at Westminster, 'and not just for my intellectual prowess.' The same girl from Stowe agreed, 'I was aware that we were constantly being watched and talked about.'
Moving school after GCSE results
Sometimes, a move is forced upon pupils, particularly those whose exam grades do not match expectations. Generally these are spelt out well in advance, with six GCSEs at grade B or above commonly considered the minimum to thrive at A-level. For this minority, as well as for those fed up with the whole of idea of school, a sixth form can often be a welcome refuge.
'When my GCSE results came out, my parents had to scrabble around to find somewhere else,' says Jony Grey, who recently completed A-levels at London's MPW. 'For me, the move was brilliant. I learnt to like studying, and went on to get good grades.'
Exam options, as well as outcome, can be another driver, and those who can't get their desired A-level mix or want to stick with a broad-ranging curriculum, will find there's generally somewhere that will accommodate them.
'I just couldn't think of a subject I wanted to drop,' says Helena Fletcher, 'so I decided to move to a school where they taught the International Baccalaureate. The great thing about the IB diploma programme is that it lets you carry on with six subjects.'
The unusually successful are as likely as the struggling or indecisive to consider a transition at this point, and many of the country's leading academic schools, both day and boarding, happily open their arms to motivated high achievers, admitting anywhere between a handful to 50 new entrants.
To take advantage of this window, forward planning is essential, with most sixth forms in the independent sector focusing on the transition in the autumn term of Year 11. An increasing number will expect candidates to sit written exams in all the subjects they're considering for A-level and will also interview not only to ensure prospective candidates are a good match academically but that they fit in with the existing cohort and school ethos. Westminster, for example, carries out a full day of interviews for those who've succeeded in the written papers (no doubt, contributing to its Oxbridge success rate a year later); while Wellington, which admits 40 new pupils to its sixth form, includes group activities alongside exams and interviews, in its quest for the right entrants.
Independent school to state sixth form
A change at sixth form can also present an excellent opportunity to address the financial landscape and parents who have struggled from one fee's invoice to the next, are delighted when their child suggests a good state school might be more their style. But a move in the opposite direction can be equally felicitous, with generous scholarships and bursaries reserved for those who've previously studied in the maintained sector. Eton, for example, offers up to nine such scholarships – all means tested and awarded on the basis of interview, aptitude test and a general paper, as well as the recently established Andrew Lloyd Webber Foundation Scholarship for Music.
If you're considering the leap, you'll need to be clear about your potential to adapt to new teaching styles and unfamiliar ways of doing things. Some schools are certainly more successful at integrating newcomers than others, ensuring that talented sports players or those with leadership potential are promoted to the first team or prefects' list. So, if this matters to you, ask around.
The likelihood of breaking into established friendship groups is another factor to bear in mind. Some boarding schools have designated houses for those coming in at this stage and, clearly, this will be less of an issue at a sixth form or tutorial college, where everyone is a recent arrival. Many pupils undoubtedly thrive on a sixth-form change, happily reinventing and challenging themselves. Some, however, quickly realise this is a choice they regret.
'When she left after GCSEs, my daughter's school kindly said she could always come back,' said one mother. 'After three weeks, she realised she'd made a huge mistake and decided to take them up on their offer.'
The right school at the right time is what everyone is looking for. With a bit of luck, a move at sixth form can make this happen.
The Right Move
Some considerations to bear in mind if you are considering a change at sixth form:
Day to Boarding
Pros: Better facilities, more sport, friendships on tap, well-supervised exam preparation.
Cons: Can be difficult to integrate into existing friendship groups, sports teams and school hierarchies. Often stricter than a day school.
Popular Choices:  Rugby, Wellington, Stowe, Charterhouse, Marlborough, Bryanston, Bradfield.
Tutorial Colleges
Pros: Focused teaching in very small classes generally produces strong exam results. Can be a great confidence booster for those who've lost heart in their own ability. A multitude of subjects available in virtually any combination.
Cons: Not much in the way of school teams and orchestras, though most offer some sport and regular outings.
Popular Choices: MPW, DLD, Ashbourne, Lansdowne.
Top-Performing Schools
Pros: Often a helpful step to outstanding exam results and university entrance outcomes. Highly qualified teachers and demanding exam options, like the Pre-U and the IB.
Cons: The pressure to succeed will not suit all.
Popular Choices: Westminster, North London Collegiate, Cheltenham Ladies' College, St Paul's Girls' School, King's College School, Wimbledon.
Single-Sex to Co-ed
Pros: A first step to university and the job market. Often with better facilities.
Cons: Girls sometimes feel required to adapt to boys' viewpoint and feel less confident about taking traditionally 'boys' subjects' (sciences, economics) or speaking out in class.
Popular Options: Charterhouse, UCS, Westminster, King's College School, Wimbledon, Latymer Upper School, Alleyn's School.
Schools for Specialists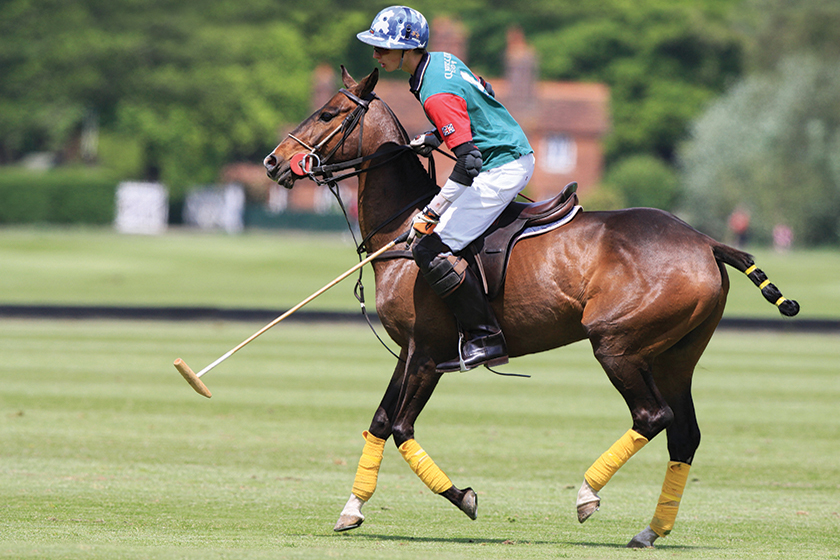 Pros: A good option for those with a well-developed passion they want to focus on.
Cons: Too much too young? Most pupils say not.
Popular Choices: For performing arts and media: Hurtwood House, Arts Educational Schools, Royal Ballet School; for visual arts: Bedales; for sport: Millfield; for music: Purcell School of Music.
A-levels to IB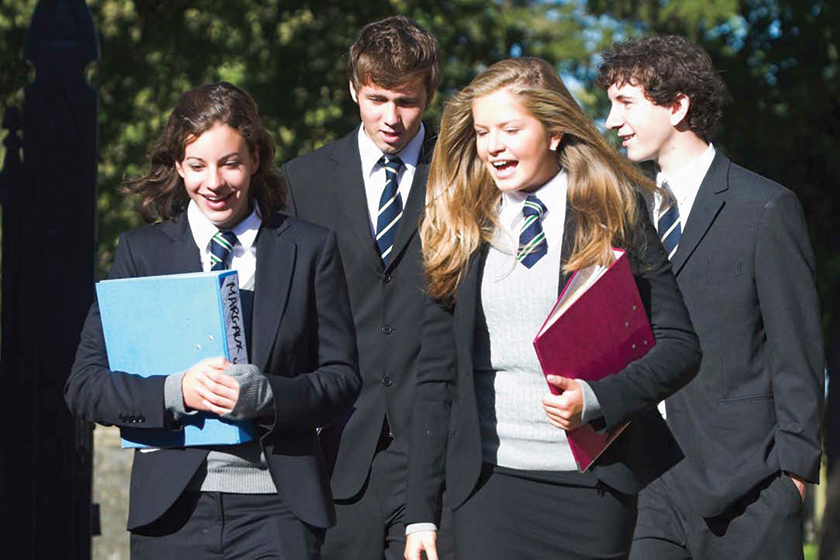 Pros: A broad and exciting curriculum. Excellent for those who can't bear to drop a subject, and like to keep a good balance of science, arts and extra-curricular activities.
Cons: Only suits those who like a busy, busy time.
Popular Choices: Sevenoaks, King's College School,Wimbledon, Haileybury, Godolphin & Latymer.
Private to State
Pros: More like real life, a huge parental sigh of relief, potentially a lower university offer.
Cons: No cosseting here, class sizes are usually larger and the range of options smaller.
Popular Choices: Camden School for Girls, Henrietta Barnett School, Hills Road Sixth Form College, St Marylebone School, Dame Alice Owen's School, Holland Park Comprehensive, Latymer School, Peter Symonds College, Hockerill Anglo-European College