What's New? School Sports Achievements
From gruelling open water swimming races to the national cricket team, find out which schools are excelling at what sports this term so far!
COTTESMORE SCHOOL, WEST SUSSEX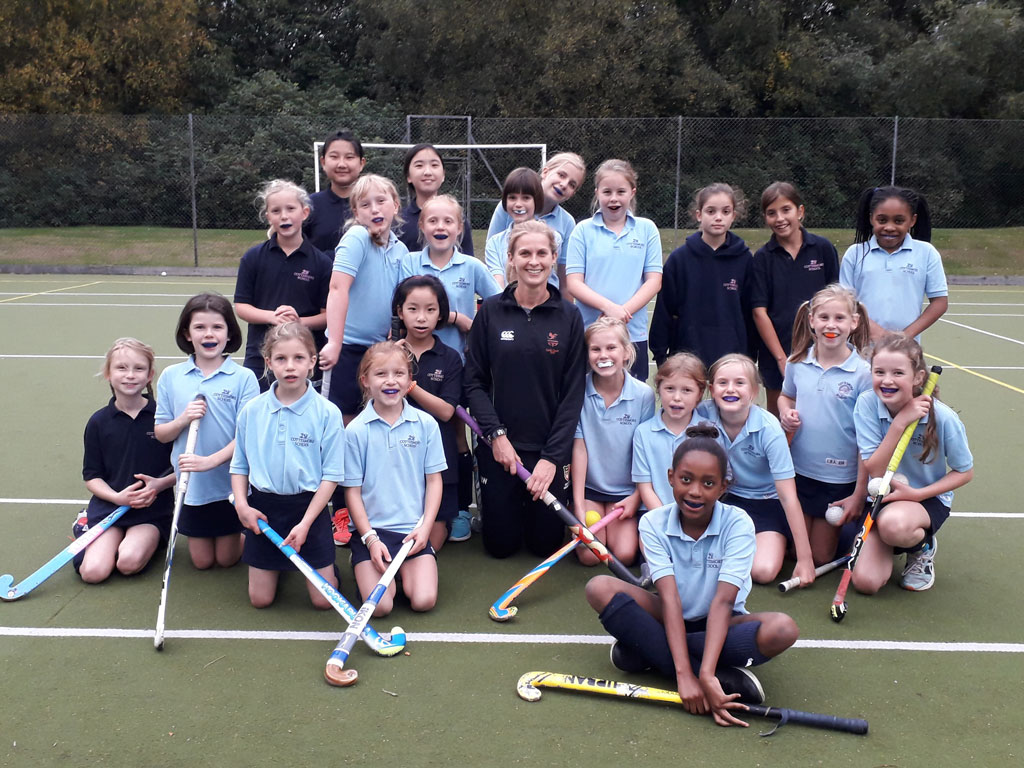 Cottesmore School Welcomes Wales Hockey Captain, Leah Wilkinson
Cottesmore School, the academic Prep School in West Sussex, was delighted to welcome Leah Wilkinson, Wales' hockey captain, in September. Leah has collected over 150 caps for Wales. Following the success of her previous visit to Cottesmore, Leah returned to school to provide coaching for the Cottesmore staff and pupils.
With hockey being an important sport for the children at Cottesmore, the girls were incredibly excited to meet Leah again. Making her Wales debut as a teenager in 2004 and, more recently, being appointed Assistant Director of Coaching for Woking Hockey Colts, this was a real occasion for the girls to learn.
The afternoon was spent coaching staff on the Astro Pitch, with the sports staff participating, followed by the girls' hockey teams. Leah's visit was concluded with the 1st Girls' hockey team who enjoyed supper together. The entire experience was a fantastic opportunity for the Cottesmore girls to learn first-hand about high-octane hockey and what it takes to compete on a national and global stage.
Sian Kerr, Head of Girls' Games at Cottesmore School said, "We were thrilled to welcome Leah back to Cottesmore. Leah is an exceptional role model for our girls; they thoroughly enjoyed their time with her and embraced the opportunity to train with an international player, who imparted words of wisdom on winning matches".
Leah added "it was lovely to be back at Cottesmore and to be made to feel so welcome – it was great to see the enthusiasm and ability in the team here at Cottesmore and I'm sure they'll do great things together this season".
BISHOP'S STORTFORD COLLEGE, HERTFORDSHIRE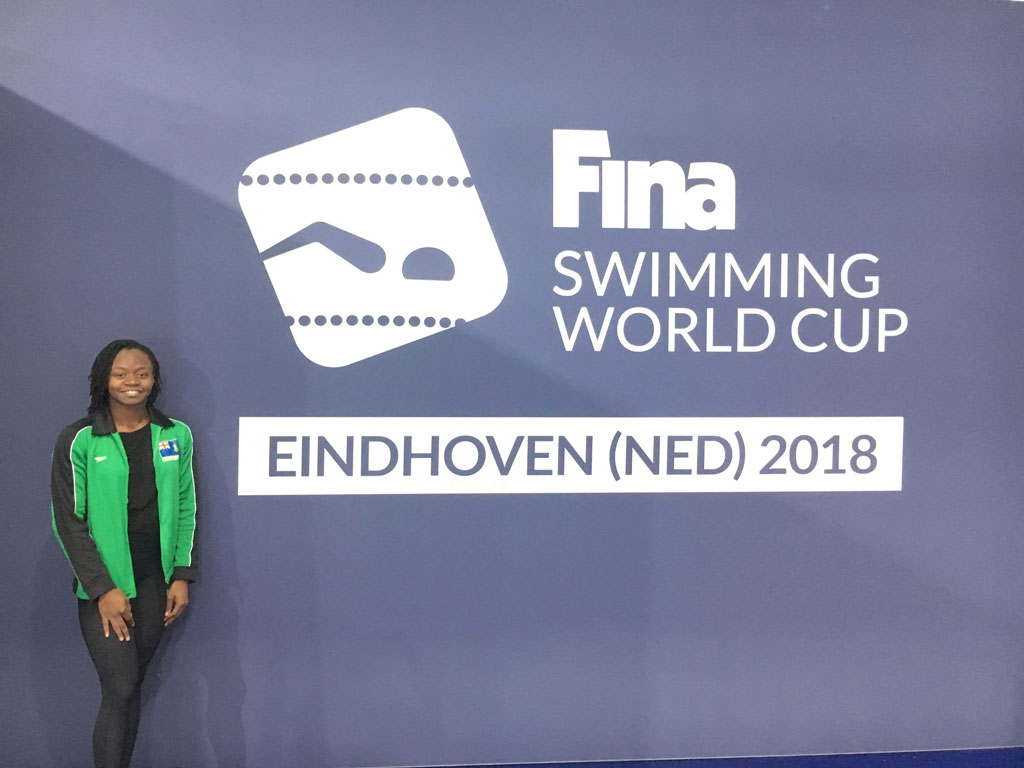 Elinah Smashes Swimming Record in Eindhoven
Bishop's Stortford College pupil and Olympian, Elinah Phillip smashed her Personal Best and the British Virgin Islands National Record by swimming 50m Butterfly in just 27.31 seconds during the FINA Swimming World Cup in Eindhoven in September.
Training hard throughout the summer and feeling confident before her swim, the FINA Swimming World Cup is part of Elinah's preparation for the Youth Olympic Games to be held in Argentina later this month where Elinah has qualified to swim in in the 50m Freestyle and Butterfly and the 100m Freestyle.
Elinah's Eindhoven programme has included 4 events, the 50m Freestyle and Butterfly and the 100m Freestyle and Butterfly.
Einah's training is supported at the College by the Elite Sports Programme which offers bespoke strength and conditioning training tailored to her individual and the requirements of swimming. Where necessary, Elinah's academic timetable is adjusted to accommodate training time and expert coaching.
ST SWITHUN'S, WILTSHIRE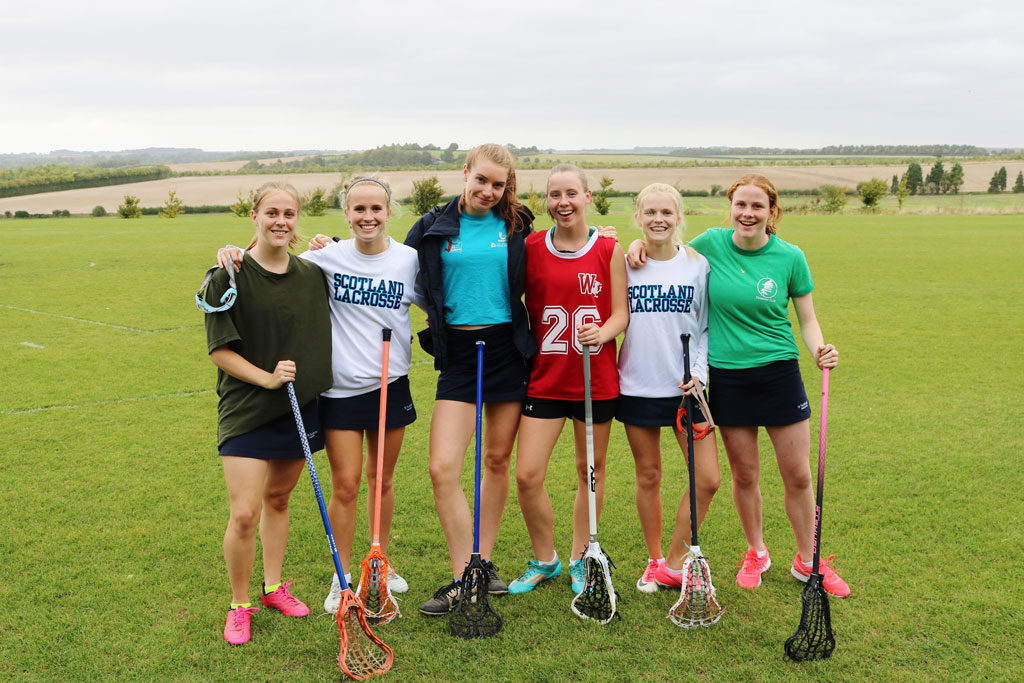 Girls From St Swithun's are Home Nations Hopefuls for the World Lacrosse Championships
Six students from St Swithun's School in Winchester, including two pairs of sisters, have been called up to train with home nations training squads in the run up to the FIL U19 World Lacrosse Championships in Canada next summer. Between them the girls will join the Scotland, Wales and Ireland sessions, taking them one step closer to selection for their national squads.
St Swithun's sports captain, 17 year old Amelia Brown already has four caps for the U19 Scotland team. She has been called up again for training along with her sister Jemima, 15, who has four caps for the Scotland B team. Tallulah Jeffes, who is 16, has also been selected for the Scotland team.
In Canada, the Ireland team will be playing at world cup level for the first time, competing against more than 20 other nations. Sisters Izzy and Eleanor Melhuish, aged 15 and 17 respectively have been selected to join the Ireland U19 training camp.
Meanwhile, 16 year old Siobhan Tainton is flying the flag for her home nation of Wales, having joined their training team over the summer holidays.
Head of lacrosse at St Swithun's, Kate Nelson-Lee coached the U19 Scotland team before becoming assistant coach with England earlier this year. She said "I am really excited at the prospect of St Swithun's girls playing in Peterborough, Canada. It would be a great privilege to watch St Swithun's lacrosse players do our school proud on the international stage. I look forward to supporting them in their bids to be selected for the final squads."
TAUNTON SCHOOL, SOMERSET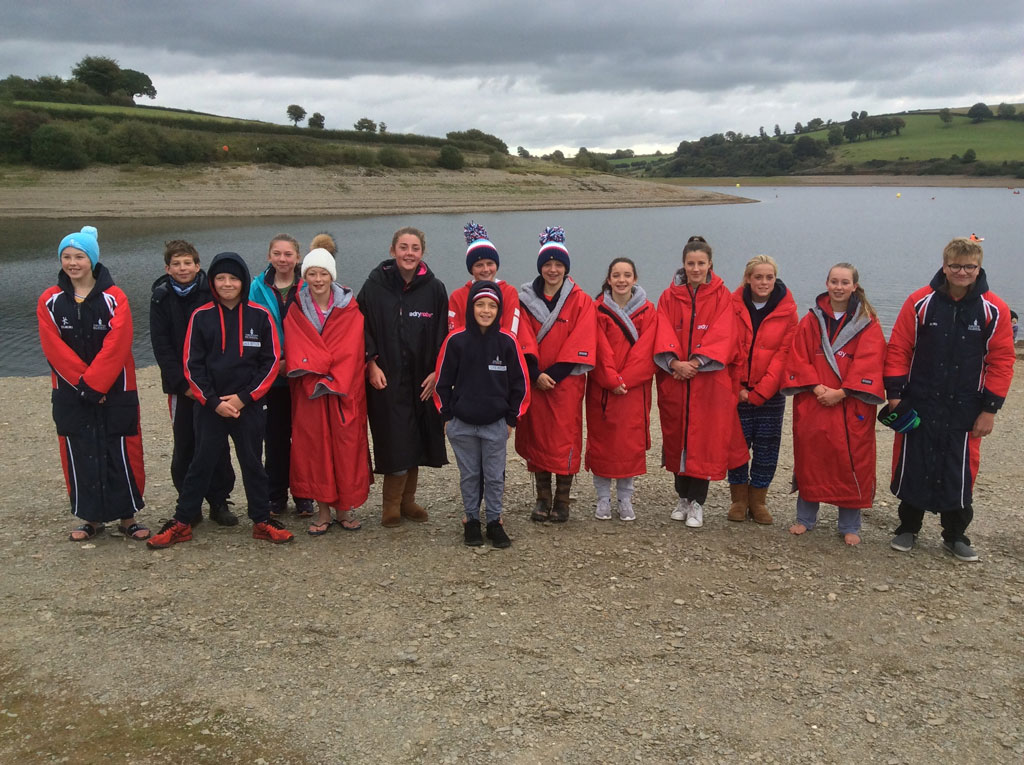 Top Place for Taunton School Swimmers in Tough Exmoor Open Water Swim
17 pupils from Taunton School took part in the Exmoor Swim in September dominating many of the races, including 13-year-old Ollie Heard who scooped overall first place in the Mens 4K, and the senior school girls winning 1st, 2ndand 3rdin the 2K.
The Exmoor Swim is rapidly becoming the premier open water swimming event in the South West and also now has national recognition with elite entrants in the 6km race coming from as far as Scotland. Pupils from Taunton School competed against over 700 entrants in 2km and 4km events. The water temperature was a chilly 16 degrees – only a few degrees higher than the air temperature.
13-year-old Ollie Heard won the 4K Men's category in an extraordinary time of 51:59. Georgia Williams, who is 16-years-old was also 1st Female Youth (16-20yrs) and 4th Female overall. Josh Green, aged 13, came 2nd in the U16 category.
The 2km Ladies category was dominated by Senior School pupils Skye McLaughlin (age 13), Skyla Coate (aged 15) and Hetty James (aged 14) coming 1st, 2nd & 3rd respectively.
The school's younger members, 12-year-olds from Taunton Preparatory School, also excelled in the 2K swim. Jack Butler took the U16 title and was 4th Male overall. Ollie Butler was 4th in the U16 and Max Mitchell, Jack Bollom, Freya Bartels, Chloe Hims all finished well into the top half of the mainly adult field.
Senior School pupils Emma Hounslow accompanied by Freya Tyler completed the challenge for fun, chatting with their swim coach for much of the swim, as did Florence and Freddie Salter-Green and Darcie Coleman.
Former Taunton School pupil and now honorary member Mr Lawton won the Supervets (50+) category.
Hamish McCarthy, Swim Coach and Pastoral Head of Year 7&8 at Taunton School said "All our pupils and staff showed great courage and determination completing the swim with much honour and recognition. Ollie Heard achieved a time I am struggling to comprehend it was so impressive and I am looking forward to entering him in the 6Km next year."
He added: "Nearly all swimmers began their open water swimming adventures in Year 7 and 8. Still training with us, they epitomise the whole school ethos and sports development pathway that Taunton School facilitates – they will only get better as they get bigger and stronger."
MILLFIELD SCHOOL, SOMERSET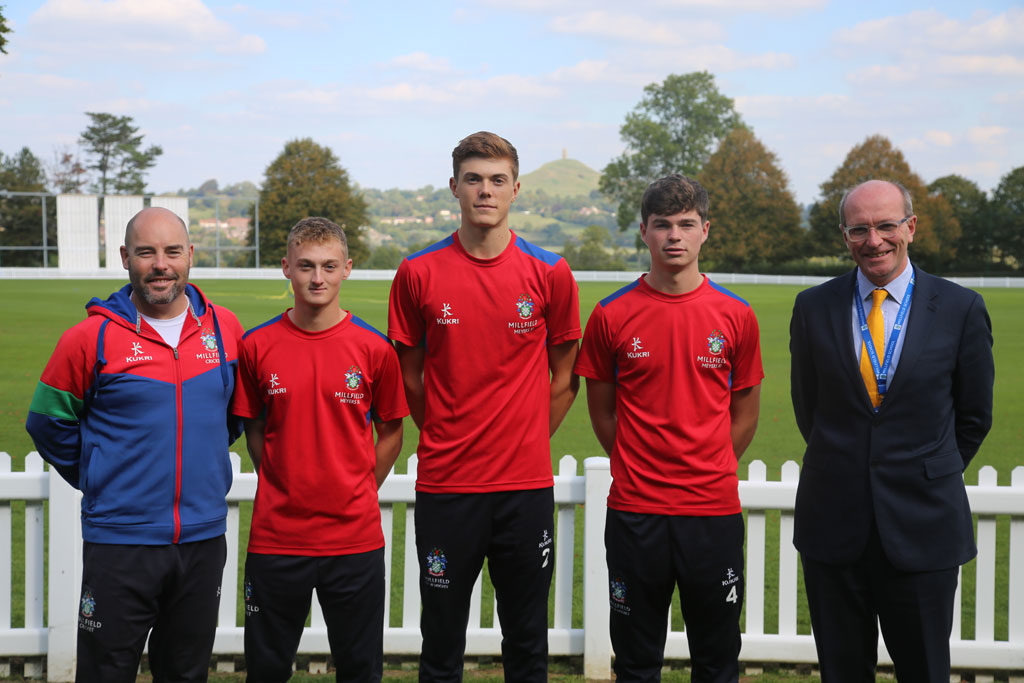 Two Millfield cricketers have been selected to play for England U19 on their tour to Bangladesh in February 2019.
Upper Sixth pupils Lewis Goldsworthy from Cornwall and Kasey Aldridge from Bristol have been selected for the squad, with Millfield Meyer's XI Captain Sam Young from Bath selected as first reserve.
The pupils will now take part in ECB training camps in England and Bangalore, in preparation for the Overseas Competitive Series in Bangladesh next year.
These high profile selections show the depth and professionalism of Millfield Cricket, which has seen a number of pupils, including Kasey and Sam, join from Millfield Prep in Glastonbury.
The programme has a number of pupils playing for county and national teams in their age groups: all 3 players are part of the Somerset County Cricket Academy Programme, Lewis also plays for theCornwall Men's Minor Counties team in their National Championship team, Kasey represents Brislington CC in the Premier League and Sam plays for Bath CC and captained the South and WestU17 team in the recent ECB Super 4's Regional Competition at Loughborough.
Millfield's Director of Cricket, Mark Garaway, says, "This is a fantastic achievement for all three Millfield boys. Lewis and Kasey have worked incredibly hard in the past 12 months to create this opportunity. I'm also delighted for Sam to be part of the process. He suffered a lengthy injury lay off in 2017 and has come back strongly to force his way back into the minds of the National Selectors.'
'Coping with adversity and then coming back strongly is a great characteristic to demonstrate at this age. I can't wait to see the boys mixing with high-level players while on tour in India, and to see where the experience takes them in the future."
CRANLEIGH PREP, SURREY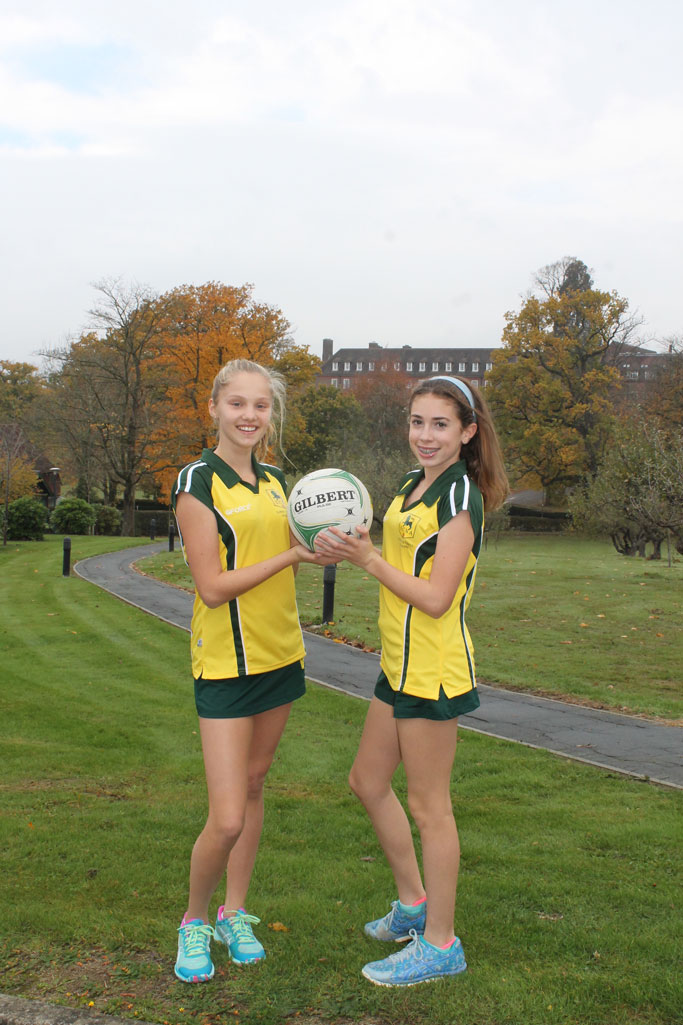 Two Cranleigh Prep girls selected for Surrey Netball Satellite Academy
Many congratulations to Lauren Crossan and Eva Morley, currently in Form 6, who have been selected from Cranleigh School to join the Surrey Netball Satellite Academy, after coming in the top 44 girls out of c.450 who participated in the trials.
After four trial sessions at Epsom, followed by a tough day of trials at Cranleigh, Lauren and Eva have been invited to attend the Thursday Satellite Academy, held at Nonsuch School in Cheam. The Academy programme is for talented athletes between the ages of 11-13 who have demonstrated a degree of potential to Engand Talent Scouts.
Lauren and Eva will attend training sessions most Thursdays for two hours after school and on Sundays once a month for three hours. The Academy will give them individual coaching support and they will also be invited to a Surrey Academy day in January.
Alison Jolly, Director of Sport, says:
'We are very proud of what the girls have achieved. This is great news and it is well-deserved.'
ACS COBHAM INTERNATIONAL, SURREY
ACS Cobham International School recently reigned victorious at the South West Regional Swimming Gala, qualifying the team for the national championships at the London Aquatics Centre.
The senior and junior swimming teams dominated the competition winning 43 out of the 78 medals available. Two shields were awarded to the overall senior boys and overall senior girls teams, plus three cups – best overall girls, overall boys and overall school teams, making ACS the International Schools Association (ISA) champions of the South West Schools.
"There were some outstanding individual and team performances from our ACS Cobham swimming team at this year's South West Gala, and I would like to specifically congratulate the 14 students who made the individual finals at the London Aquatics Centre. It will be wonderful for the students to attend a competition at such a prestigious venue where the world's best swimmers competed in the 2012 Olympics.

Amanda Edwards, Assistant Head of Aquatics at ACS Cobham
The national championships will see the ACS Cobham team representing the entire south west region in December 2018.
READ MORE: The Latest Extracurricular Clubs to Join | Organised Chaos: Everything You Need To Know About Public Parties