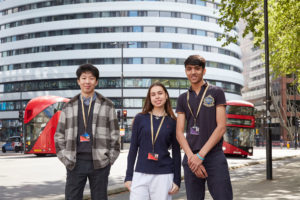 Address: 199 Westminster Bridge Road, London SE1 7FX
Website: dldcollege.co.uk
Founded: 1931
Number of Pupils: 400
Ages: 13-19
Fees: Domestic day students: £25,000
Head Teacher: Irfan Latif
Entrance Procedure: Selective based on assessment and interview.
Religious Affiliation: All religions welcome
Contact: Admissions
Email: [email protected]
School Visits: Private tours welcomed by appointment, termly open evenings. Details at dldcollege.co.uk
Watch the video…
The Curriculum
Innovative offering delivers a hybrid of the best of traditional and modern: interdisciplinary learning for our new Year 9, GCSEs offered with BTEC Awards options, A-levels or BTEC Diplomas.
Games & the Arts
We excel at creativity and have many opportunities across art, design, graphics, photography, media, film and drama. Weekly PE lessons use the on-site gym or local outdoor sports area. Clubs include basketball, boxing, football, yoga, circuit training
and badminton.
Pastoral Care
Student wellbeing is at the centre of our philosophy with a dedicated wellbeing centre in the heart of the school. Judged Excellent at inspection and the first UK school to receive the Gold Standard Boarding School Mental Health Award, we are STEER accredited and a beacon school, able to demonstrate proactive, targeted, evidence based pastoral care. Also winners of recent ISA and BSA Awards in the Wellbeing category.
University Places
Oxbridge, Russell Group universities, and art and music colleges in the UK and USA with applications supported by specialist university tutors.
Head teacher's Philosophy
'I believe education is about more than grades. It is an awareness of the world, independent thought and values, the benefits of team sport, of culture, of academic ambition and learning with enthusiasm; of growing up in a safe and caring community where all are passionate about what they do. That is what we aspire to and, I am confident, deliver.'
Outstanding Characteristics
A distinctive, multi-award winning boarding and day school with ultra-modern educational facilities in an iconic location on the South Bank, overlooking the Houses of Parliament. Described by the Good Schools Guide as 'one of the most unique and exciting schools in Britain' and recommended by Tatler as 'pioneering a modern alternative to traditional boarding schools'. DLD offers an innovative curriculum and courses, future-proofing students and creating unique learning opportunities. Year 9 will open in September 2023.
---
---