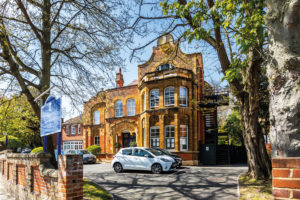 Address: Falcons School, 11 Woodborough Road, Putney, SW15 6PY
Website: www.falconsschool.co.uk
Number of Pupils: 130
Ages: 2-11 boys and girls
Fees: Nursery from £3,075/ term; Reception Class £5,190/ term; Year 1 to Year 6 £6,025/ term
Head Teacher: Mrs Sara Williams-Ryan
Religious Affiliation: Non-denominational
Contact: Miss Nadine York
Email: [email protected]
School Visits: Open Mornings offer a chance to visit our fantastic facilities, hear from our Headmistress and Head of Early Years about our unique school ethos, meet with our incredible team of specialist teachers and of course, our pupils. We also offer individual family tours.
The Curriculum
Our exciting and stimulating curriculum covers a broad range of subjects and we use traditional and modern teaching methods using the latest classroom technology. In 2021, we gained accreditation as a 'Thinking School'. This means we are an educational community in which all members share a common commitment to think reflectively, critically and creatively, and employ these skills and techniques in the co-construction of a meaningful curriculum and associated activities. 
Games & the Arts
At Falcons we believe that everyone should have the opportunity to get involved in sport to promote teamwork, leadership and proficiency. Sport is also about self-improvement. We encourage and support each child to reach their individual sporting ambition whether that be as part of a team or in an individual event.
Pastoral Care
Our philosophy is to provide the right kind of opportunities and support, creating a safe and happy environment in which pupils feel comfortable taking risks and challenging their own and others' views, knowing that they are valued as they are and will be listened to. 
Recent Scholarships
Academic scholarships at LEH, Notre Dame School, Putney High School, Surbiton High School. Sport scholarships at Kingston Grammar, Ibstock Place School. Music scholarships at Woldingham and Heathfield. Drama scholarhsips at Epsom College and More House school.
Headmistress' Philosophy
At our small, family school we believe passionately in the close links between academic achievement and emotional wellbeing. Children need to feel emotionally secure in order to take risks, challenge themselves and make progress. We have very clear academic goals and our pupils have achieved an outstanding history of 11+ results, making our school's reputation enviable in this area. 
Outstanding Characteristics
Falcons School is an 'Excellent' school with on-site nursery school, providing independent education for boys and girls aged two to eleven. We are a warm and caring
school, taking great pride in developing our pupils into happy, kind
and confident individuals.
---
---