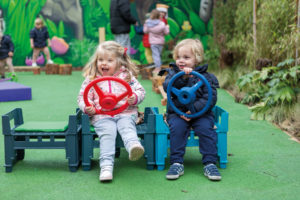 Address: Kew Green Nursery, 85 Kew Green, TW9 3AH
Website: www.kewgreennursery.com
Founded: September 2022 (Prep School founded in 2004)
Number of pupils: 25
Ages: 2-4 years old
Fees: (termly) Starting at £2,653  (www.kewgreennursery.com/our-sessions-and-fees)
Head Teacher: Chantal Baard
Religious Affiliation: Non-denominational
Entrance Procedure: Non-selective
Contact: Chantal Baard, 020 3370 7301
Email: [email protected]
School Visits: Please email [email protected] to book a tour.
The Curriculum
Creativity, collaboration, confidence, and communication are at the heart of Kew Green Nursery. Through an enquiry-based approach to the Early Years curriculum, it is our aim to provoke investigation and reflection. Children will become researchers, explorers, designers, problem-solvers and risk-takers.
Games & the Arts
To enhance learning, we make use of our specialist teachers from Kew Green Preparatory School for lessons such as PE, ICT, Music and Art. In addition, we use the glorious Kew Green for our Forest School every Friday afternoon.
Pastoral Care
We aim to nurture and educate our children to develop their self-confidence, resilience and passion for learning. We provide a safe and stimulating environment where children thrive and develop a sense of belonging as they are cared for by our dedicated and talented staffing team. During these early years, we hope to promote excellent social skills and we encourage the children to become responsible, confident and independent learners.
Head Teacher's Philosophy
Self-confidence is at the core of a child's education, and is our founding principle. We focus on who the children are becoming as individuals. With us, they establish an articulate voice and self-awareness. The growth-mindset is celebrated, and we encourage our children to embrace, learn and grow from their mistakes.
Outstanding Characteristics
Our beautiful indoor and outdoor spaces are designed to provoke a sense of wonder and excitement in our children and include bespoke areas for roleplay, sand and water play, art and construction, a reading wall and places for quiet time. We have equipped the building with a creative studio for specialist learning and mini-classrooms to support the transition to Reception. 
---
---