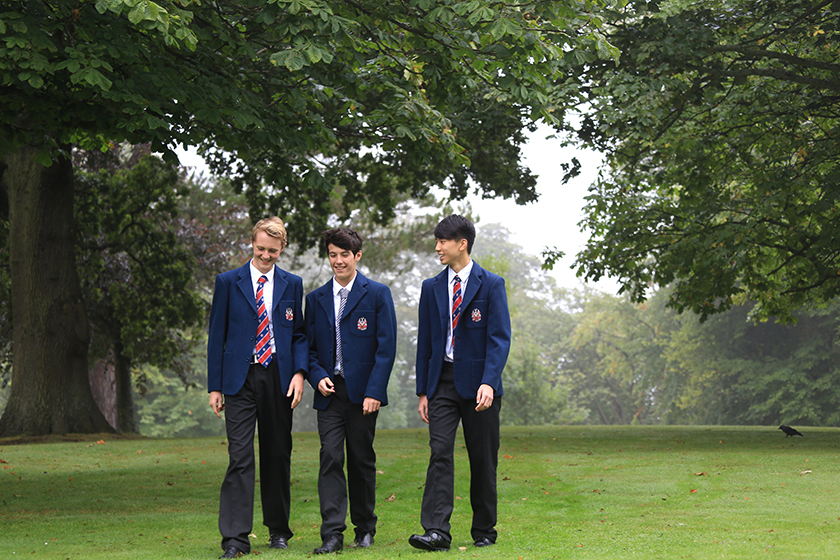 Address: Merchiston Castle School, 294 Colinton Road, Edinburgh, EH13 0PU
Website: merchiston.co.uk
Founded: 1833
Number of Pupils: 450
Fees: Day: £14,595 – £23,505 pa. Boarding: £20,280 – £31,650 pa
Ages: 7-18
Head Teacher: Mr Andrew Hunter
Religious Affiliation: Non-denominational
Entrance Procedure: Entry is always dependent on receipt of a satisfactory report from current school and interview. Each application to Merchiston is dealt with individually, to meet the needs of the family applying.
Contact: +44 (0)131 312 2201
Email: [email protected]
School Visits: Please come and visit Merchiston. A personal tour around the campus will allow you to experience our unique atmosphere and learn more about our school philosophy. Visitors have the opportunity to meet staff and pupils and gain an insight into the close relationships we create. In addition to a tour, your son may like to spend some time at the school himself, to experience something of life at Merchiston. This involves anything from a day to a week spent here.
Watch the video to find out more…
The Curriculum
Merchiston is the only boys' independent boarding school in Scotland, offers the English curriculum, and has a global, outward-looking dimension.
Games & The Arts
Merchiston prides itself on fostering the pursuit of excellence in a sport-for-all environment. The school is currently represented nationally and internationally in many sports, such as athletics, cricket, golf, rugby and target shooting. Merchiston also benefits from its strong links with local girls' schools for drama and musical performances.
Pastoral Care
Merchiston staff are 'gurus', 'trusted advisors', 'revered mentors'; they are not just teachers. We build around every boy a circle of belonging, ensuring that he is known: each boys' individual teachers; his Housemaster; his academic tutor; the chaplaincy team; the medical centre etc. Merchiston is an extremely nurturing School and our accommodation has a warm and stimulating atmosphere, reflecting a real sense of community. Boys feel safe and well cared for, whether they are studying or having fun.
University Places
Six pupils went to American universities.
Four pupils gained places to Oxbridge.
64% of pupils went to UK Russell Group universities. Bath, St Andrews and other leading international institutions.
82% of pupils received places to their first or second choice university.
Head Teacher's Philosophy
With an ethos based on traditional values, Merchiston encourages self-reliance and independence, as well as respect for and tolerance of others. Our main objective is to motivate pupils to try their hardest and to strive to achieve the highest levels possible in all areas – firstly academic, then cultural, sporting, leadership, and simply living together as part of a community.
Outstanding Characteristics
·         47% of pupils achieved A*/A grades at A Level
·         82% of pupils gained places at their first or second choice university
·         64% of pupils went to UK Russell Group Universities, Bath, St Andrews and leading international institutions
·         92% A*/A/B pass rate in Further Mathematics at A Level
·         SAT support clinics for applicants for American Universities. Students have gained admission to Ivy League Universities, such as Cornell and Brown
·         62% of pupils achieved A*/A grades at GCSE
·         18 pupils achieved 9 or more A*/A GCSE grades
·         Best Head of Public School (runner-up), Tatler School Guide 2015 and 2018
·         Gradual progression to secondary teaching from Primary 6
·         Full boarding with a varied weekend activity programme specifically suited to age and stage
·         No.1 UK Junior Ranking Golf School (ISGA, 2014/15, 2015/16 & 2016/17)
·         No.2 World Tennis School (ISF, 2017)
·         Representation in all of the 2017/18 Scottish National Rugby Teams
·         In 2016/17, 89% of all pupils, from 7-18, represented the School in sport.
·         In 2016/17, there were 73 different teams, of all abilities, playing competitive fixtures across 16 sports:  a total of 539 fixtures.
·         Wide range of sports available, such as athletics, cricket and hockey, suitable for boys of all abilities
---
---