Caroline Issa is a career plate-spinner extraordinaire. How does she manage to keep them all up in the air?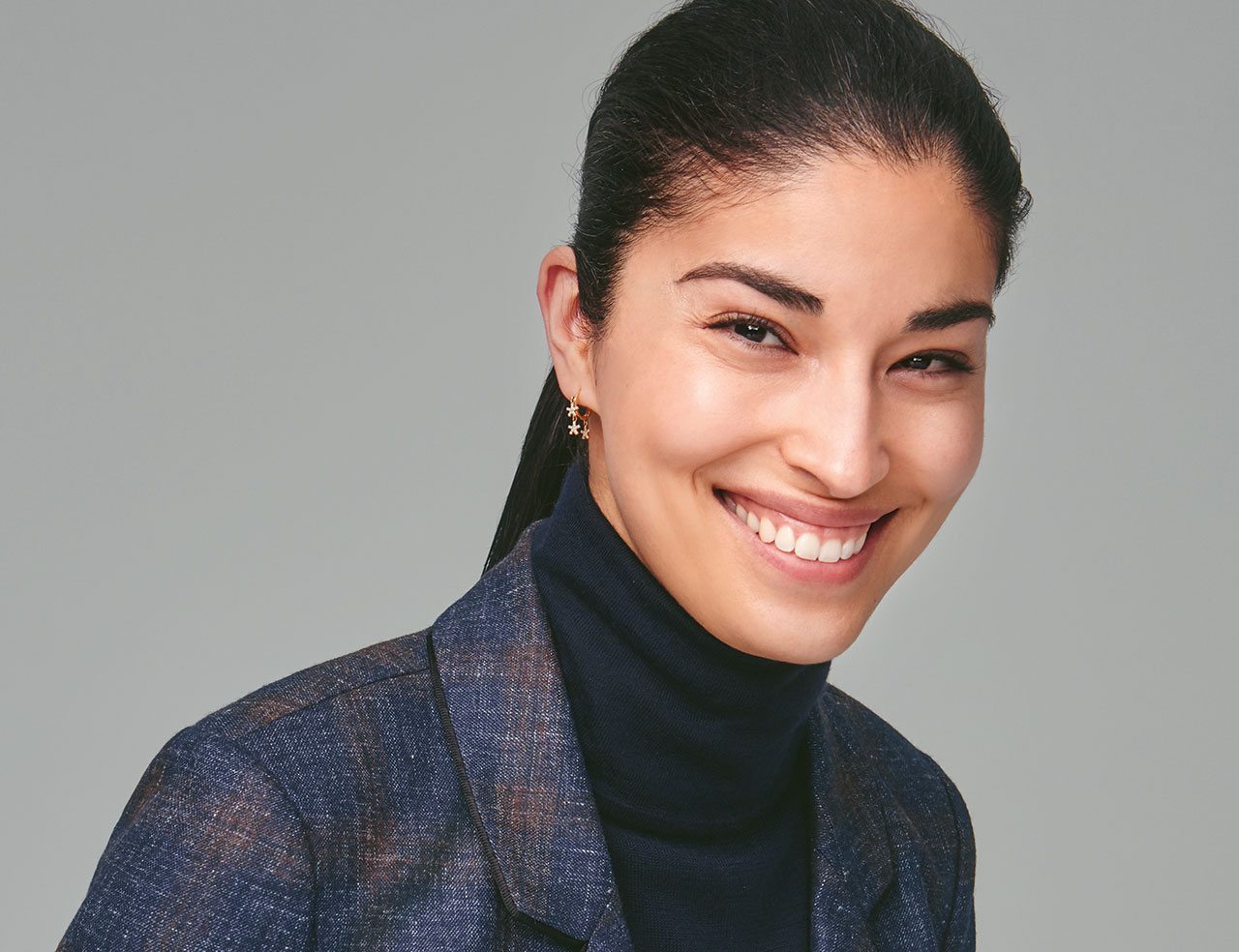 Nowadays, we like to categorise everyone in their career space. You're either a Converse-clad-Soho-Farmhouse-creative or a member of the suited and booted corporate army. Switching sides is akin to going from Leave to Remain; mixing them is nigh impossible. Thank goodness, then, for mavericks like Caroline Issa, style icon, fashion editor, creative director, businesswoman… the list goes on.   
'I think a lot of brands really appreciate it because you have your right side and left side working in conjunction, rather than just the creative side of your brain,' says the impeccably coiffed and supremely striking Issa, referring to her business degree at Wharton School of the University of Pennsylvania ('very nerdy… filled with Ivy League, A-type personalities') and her experience in management consultancy. 'When I tell people I went to Wharton they're like, "but you're a fashion editor". There aren't many fashion journalists to graduate from there but I think that it has given me a completely different perspective.'
Indeed, Issa has combined her business acumen with an intrinsic head for style to carve out a career in publishing. After graduation, she became a management consultant, travelling the world, from Texas to Tokyo, working on everything from the Snapple acquisition by Cadbury Schweppes to analysing mortgage deals. All before she turned 25. It was only when landing a consultancy role for Boots in Nottingham – which was trying to counter Superdrug's rise – that Issa was introduced through a mutual friend to Masoud Golsorkhi, founder of Tank magazine.
On Tank Magazine
This 'little niche independent publishing company was super cool and run by creatives', and Issa spent any spare time she had 'hanging out' in the Tank offices, impressed by their design campaigns and the quality of the magazine. Then, one day, she jumped. 'You've got to feel uncomfortable to realise you're actually living and learning… I decided OK, I'm going to take a huge risk. I'm going to quit my stable, well-paid job and go into publishing. So I joined Tank, got a little bit of equity and worked my ass off to stabilise the business and come to understand it.'
At this point, Issa's knowledge of fashion was limited to a summer of modelling in Milan as a teenager. 'I tripped. There are videos of me tripping…' Luckily, she finds the terrain around the runway easier to navigate. The Front Row is Issa's stomping ground. You can single her out from across the room, the balletic posture, wide smile and inquisitive gaze, assessing the fashion forecast from the sidelines, ascertaining its implications. Her analytical approach to fashion is refreshing. She's aware that the industry hangs on hype as much as plush velvet hangers: 'Luckily, we live in a fashion bubble.'
Could our digital world of 'everything, all the time' pop this bubble? Does the instant gratification of 'see now, buy now' mark the end of the myth-making glamour underpinning the fashion industry? Despite her digital inclinations and modern gaze, Issa responds with cautious optimism: 'I think as an industry we need to be very careful about instilling the idea of value, production, quality and craftsmanship at the same time, so I don't think it's right for every brand to do "see now, buy now". What Tommy Hilfiger did was brilliant (turning their ship around to offer capsule collections that customers can buy immediately off the runway) but it really depends on the brand.'
On Fashion
As well as being Executive Fashion director of Tank magazine, Issa's proficient plate-spinning involves being editor-in-chief of online retail platform Because London and co-founder/CEO of Tank Form, a creative agency with clients such as LK Bennett and Hugo Boss. She is also Creative Director for a clothing collection for American department store Nordstrom, which has given her 'a PHD in fashion'. 'I now understand how product, creativity, sales, marketing and a social media strategy translate to growing a multi-million dollar business.' So how does she find time to brush her exceptionally glossy hair? 'I realise that I need to start prioritising so that I can have a weekend to relax a bit, but I'm having so much fun!'
https://www.instagram.com/p/BOzzG9Yj5Iq/?hl=en
Caroline's relaxed elegance and warm manner serve as a welcome antidote to the intimidating Tank offices. It's 10am on a Friday morning and she's already wrapped up a meeting, chosen some models for Because London and read through today's papers. Maybe she never sleeps, although her bright complexion suggests otherwise – her face is make-up free and her hair sexily 'done'. She's enviably well put together, even though she laughably calls today's outfit 'basic'; Yves Saint Laurent boots, Equipment turtle neck, Monica Vinader signature bracelets, Apple watch and Monique Péan rings. Hopefully she will never encounter my own personal version of basic. This fashion editor, both aesthetically and mentally, is anything but. 
On Interiors
What about her eye for interiors? Issa is still exploring but it follows her 'classic with a twist' sartorial one. Her most treasured object? Her bookshelves 'because they hold my most sentimental things'. You'll find her shopping for furniture in Nilufar gallery in Milan ('I'd buy everything if I could afford it').
The wealth of cultural references absorbed from her parents' mixed backgrounds (her mother is Chinese and her father, half Iranian, half Lebanese) has led her to develop a more global interiors palate, enhanced by her lust for travel. This woman's a nomad. The past few months have seen her in Bhutan, Iran and Tokyo, not to mention the S/S'17 Fashion Week cities. In Tehran, she fell in love with the colours, the embroideries and the craftsmanship; in Tokyo, with the infinite stationery stores and, in Bhutan, with Amankora lodge: 'It has been an insane year for travel'. And she obviously didn't forgot to pack her business hat: 'We've just launched Because Tehran, the first ever online luxury platform for Iran.' Issa is as politically astute as she is economically shrewd with an antenna for opportunity. 
On London
However, nothing surprises me more than her London love affair. 'London is my favourite city in the world and I've been to a lot of cities.' She speaks of its energy, philosophy, creativity. She's moving to Lisson Grove off Maida Vale, where in 'proper traditional London', she has still managed to find a 'very New York' flat in an old spitfire engine factory.
Yves Saint Laurent, Tehran and spitfire factories, but how would Ms Issa fare in a muddy field? 'Sure, I have a friend who throws this yearly Somerset party,' and yes, she is referring to Alice Temperley. 'I've fallen in love with it.' According to Issa, you'll find her tramping rugged West Country fields in the obligatory Hunter boots, Barbour jacket and 'maybe just a Dior sweater or something…' The 'twist' continues. 
READ MORE: Pandora Sykes on style, London haunts and love of interiors
READ MORE: The expert guide to layering for winter
---