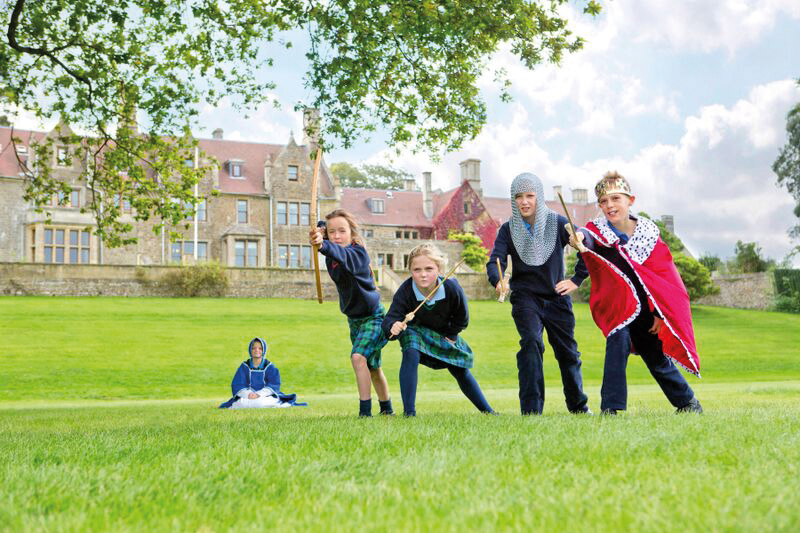 Address: Bourton, Shrivenham, Wiltshire SN6 8HZ
Website: pinewoodschool.co.uk
Founded: 1875
Number of Pupils: 415 (225 boys, 190 girls)
Fees: Pre-prep and nursery (full days): £3,035 – £3,210; prep school: £5,415 – £6,175; boarding supplement: £1,505
Ages: 3-13
Head Teacher: Neal Bailey BA Hons (Newcastle), PGCE
Religious Affiliation: Non-denominational
Entrance Procedure: Early registration is recommended
Contact: Emily Miller, Registrar: 01793 782554
Email: [email protected]
School Visits: Please telephone the school office and speak to the Registrar, Emily Miller.
The Curriculum
Pinewood aims to equip children with the skills and knowledge to make the transition to Senior School as seamless as possible. While still offering CE papers in the major subjects, our History, Geography and TPE (Theology, Philosophy and Ethics) encompass over-arching themes which promote a more skills-based approach to teaching. Inculcating a love of learning and curiosity, combined with a sense that the whole experience of childhood is an adventure, remains at the heart of the Pinewood approach.
Games & The Arts
Facilities include a dedicated Music School, Theatre and Art Studios, as well as an Astro pitch and a purpose-built Sports Hall. 75 per cent of children take up a musical instrument or participate in our many choirs and bands. The games programme is full, competitive and varied; sport is coached most afternoons. Pinewood strive to make sure all children play in a team regularly.
Pastoral Care
Form tutors provide a vital link between child and parent and are responsible for the academic, spiritual, moral and social welfare of the children. When necessary, the Head of Well-Being & Emotional Support is on-hand to offer additional support. The Houseparents, alongside the Headmaster, his wife and a boarding team look after the boarding children in the evenings.
Head Teacher's Philosophy
To release the children's potential by developing character, curiosity, learning and skills through a variety of opportunities within the academic, sporting, musical, dramatic and artistic arenas, as well as through our wide-ranging activity and adventure programmes.
Outstanding Characteristics
The Pinewood co-educational philosophy, country location, flexible approach to boarding, size and high levels of pastoral care all combine to create an environment that allows children to enjoy a happy, secure and fulfilled childhood.
---
---