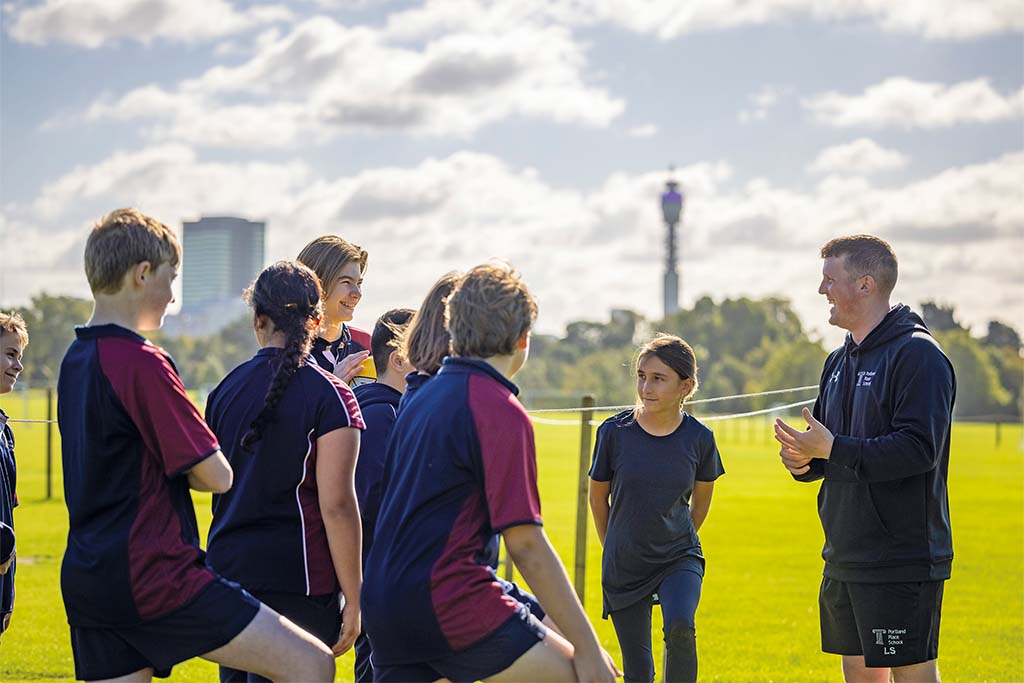 Address: 56-58 Portland Place, London W1B 1NJ
Website: portland-place.co.uk
Founded: 1996
Number of Pupils: 215
Ages: 10-16 years
Fees: (termly) Day School: £7,845, Hybrid School: £4,000
Head Teacher: David Bradbury
Religious Affiliation: All faiths welcome
Entrance Procedure: Attend interview, provide a reference and complete a baseline assessment
Contact: Registrar, 020 7307 8700
Email: [email protected]
School Visits: Open events & tours are in the autumn term. Private tours are available year-round.
The Curriculum
Portland Place School was founded as an alternative to the intense, large, examination focused independent day schools of which there are many in London. At Portland Place, our creative approach to academic study nurtures the spirit of discovery with a learning programme that will inspire and stretch horizons. The result? Our students achieve personally, socially and academically.
Games & the Arts
Arts, music and drama are very popular at Portland Place, and our students benefit from visits to the wealth of art and performances on offer in London. Symphonfree is offered to all Year 7 pupils, supplying them with a free musical instrument and lessons for a year. Competitive and recreational sport has always had a special place in Portland Place. While some pupils have gone on to represent their county and country, we also take pride in stating that most of our pupils have represented Portland Place in an inter-school fixture, because we recognise that sport develops self-confidence and leadership.
Pastoral Care
We believe that the happier your child is, the more likely it is that they'll be receptive to new ideas and in the right state of mind to learn. At Portland Place, your child won't be tested left, right and centre, but will have the time and space to discover how they like to learn. We are small by design, which allows us to understand the individual child, support them, and unlock their potential. Pastoral care is proactive rather than reactive. Staff are focussed on using positive psychology to support students. Wellbeing and coaching is included within the curriculum and the school has two counsellors to support students. The atmosphere is relaxed so our students are more relaxed.
Head Teacher's Philosophy
Here at Portland Place we believe that exceptional teaching, combined with a modern curriculum inside and outside the classroom, provides the best stimulus for children to become inquisitive and creative learners and achieve beyond exams.
Outstanding Characteristics
The Good Schools Guide describes us as 'small, nurturing and refreshingly relaxed. A haven of creativity in the pushy, academically competitive world of London day schools. Portland Place also offers a unique Hybrid School for Years 6-11, combining four days of online teaching with the option to attend the school in person one day a week.
---
---