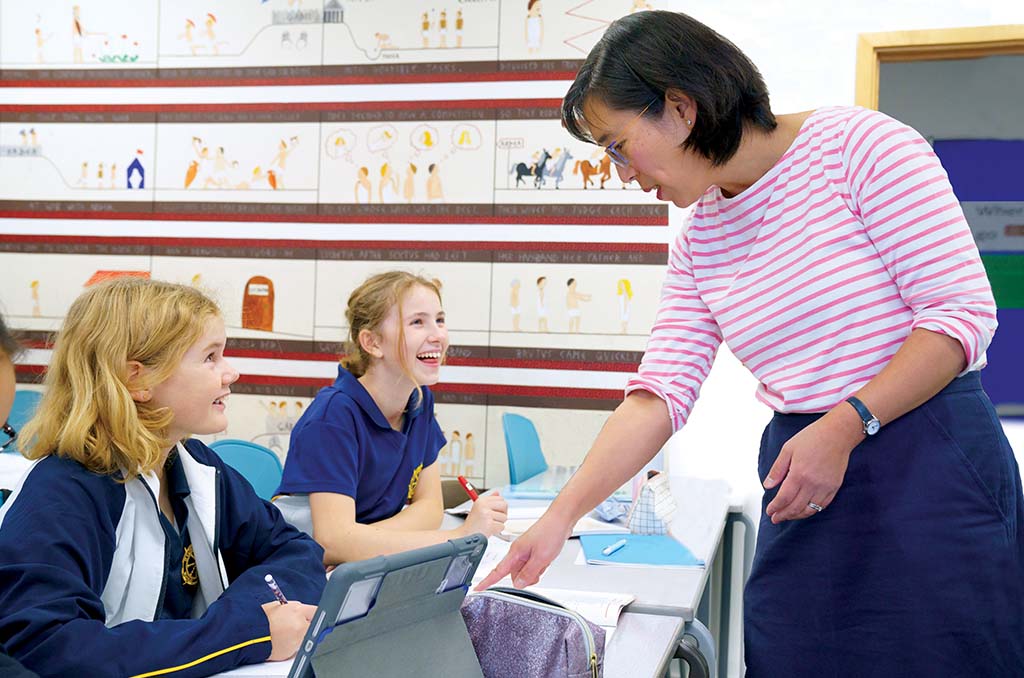 Address: Station Road, Bramley, Guildford, Surrey GU5 0DF
Website: stcatherines.info
Founded: 1885
Number of Pupils: 842 girls (of which 217 in the prep school)
Ages: 4–18
Fees: (termly) day £6,975; boarding £11,660
Head Teacher: Mrs Alice Phillips M.A. Cantab
Religious Affiliation: Church of England
Entrance Procedure: By St Catherine's own entrance examination at 11+
Contact: Clare Woodgates
Email: [email protected]
School Visits: Wednesday 30th November 2022, Tuesday 7th February 2023, Thursday 16th March 2023, Wednesday 10th May 2023 and Friday 23rd June 2023
The Curriculum
In the first three years of the senior school, girls follow a broad academic programme which allows them to experience a variety of subjects from which they then select options to study at iGCSE/GCSE. St Catherine's offers 27 A-level subjects, providing girls with a perfect platform for higher education. Thinking Skills, a PPPE programme, a vibrant and relevant careers programme plus regular lecture slots complement the curriculum. All pupils have iPads.
Games & The Arts
Exceptional facilities include a sports hall, fully equipped fitness suite, dance studio and indoor pool. In addition, there is a large assembly/performance hall with superb acoustics for music and drama productions. We promote an ethos of 'sport for all', encouraging every girl, whether she is an elite player or playing for the sheer fun of it. St Catherine's opened its new Art and MakerSpace facility in Autumn 2021 which brings all of the creative arts under one roof. 
Pastoral Care
Girls are welcome to join our dynamic and successful school as day pupils, or as full or weekly boarders. Six school houses underpin the pastoral provision where girls feel valued and supported. 'House spirit' is strong as is a huge sense of fun and loyalty to the school and each other. A brand-new sixth form boarding house, The 6, opened in Spring 2021.
University Places
90 per cent of our pupils secure their first choice university place, with around 7 per cent securing places at Oxbridge, 58 per cent attending a Russell Group University and a further seven per cent attending overseas institutions including the Ivy League.
Head Teacher's Philosophy
Mrs Phillips believes that girls thrive best, both academically and pastorally, in a single-sex environment where happiness is the key to successful learning. St Catherine's girls go out into the world confident that there is nothing that a woman cannot do.
Outstanding Characteristics
St Catherine's pupils' attitudes to learning are exemplary and they enjoy a strong rapport with their teachers and peers. Staff create an ambience of encouragement where learning thrives. By the time girls leave St Catherine's, they are able to think critically, have high aspirations and the self-belief that there are few things they cannot achieve.
---
---