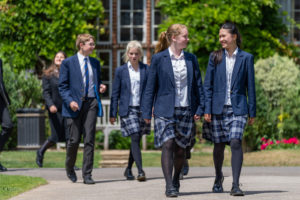 Address: St Edward's School, Woodstock Road, Oxford, OX2 7NN
Website: stedwardsoxford.org
Founded: 1863
Number of Pupils: 785
Ages: 13–18
Fees: Boarding £14,433; Day £11,550. Fees stated are per term.
Head Teacher: Alastair Chirnside
Religious Affiliation: Church of England
Entrance Procedure: Selective. Academic entry exams: ISEB pre-Test and Common Entrance/PSB or St Edward's own exams. Interview and school reports.
Contact: Registrar, Nicola Jones: [email protected]
School Visits: Most Saturdays during terms. Main Open Days: May for 13+ and September for sixth-form
The Curriculum
St Edward's is at the forefront of modern educational thinking. A collaborative, engaging, discussion-based approach in the classroom prepares our pupils for university study and the workplace beyond. The GCSE years have been transformed with the introduction of innovative new courses designed by the School in conjunction with leading educationalists. These Pathways and Perspective courses run alongside GCSE's and are the latest in educational innovation. Read more here.
Our new landmark academic centre is now open. These modern bright learning spaces are specifically designed for the way young people learn today and are already bringing fresh vitality to an already dynamic intellectual culture.
Games & The Arts
The professionally-run North Wall Arts Centre and the new Ogston Music School combine to create outstanding cultural opportunities for our pupils. Sport is a big part of school life with pupils able to participate at many levels.
Pastoral Care
St Edward's is well known for the strength of its community and the quality of its pastoral care. A comprehensive network of support surrounds each individual pupil, including House staff, Tutors, specially-trained Sixth Formers, on-site Counsellors, and our Health Centre and Chaplaincy teams.
University Places
Over 80 per cent go to the best universities in the UK and overseas.
Head Teacher's Philosophy
In Teddies pupils, we look for academic ambition and a genuine eagerness to be involved in everything the School has to offer; we actively seek a community in which a broad range of academic abilities is represented. Our character is shaped by our pupils' willingness to engage – with each other, in the classroom, on stage, on the sports field, in the recital room – and in our local community.
Outstanding Characteristics
A green and spacious 100-acre site in the vibrant university city of Oxford.
A newly completed academic facility – The Christie Centre – and stunning 1,000-seated Olivier Hall on the Quad, specifically designed for the way young people learn today, and bringing fresh vitality to an already dynamic intellectual culture.
Innovative new courses, Pathways and Perspectives, adding further academic rigour to the GCSE programme.
An outstanding pupil programme of volunteering and community activities.
A professional arts centre, The North Wall, running an impressive public programme alongside its role as home to pupil drama, dance and exhibitions.
A stunning Music School, and exceptional art and design facilities.
Alumni including Kenneth Grahame, Sir Laurence Olivier, WWII heroes Guy Gibson and Douglas Bader, aviation pioneer and engineer Geoffrey de Havilland, leading actors Emilia Clarke, Florence Pugh, Pippa Bennett-Warner, presenter Jon Snow and composer George Fenton.
---
---