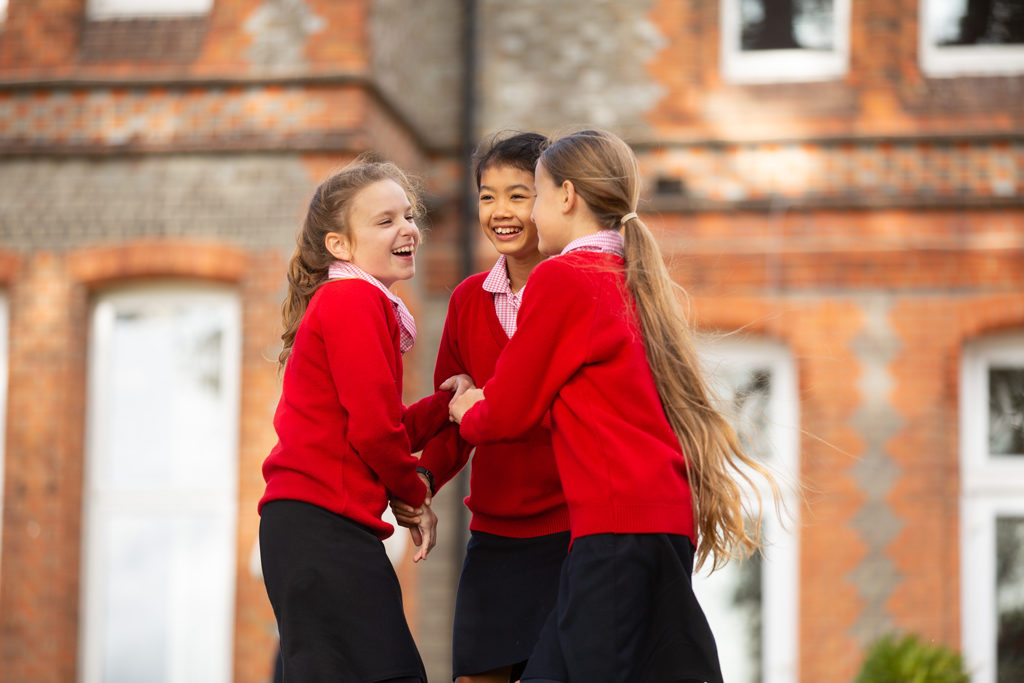 Address: St George's School, Wells Lane, Ascot, Berkshire SL5 7DZ
Website: stgeorges-ascot.org.uk
Founded: 1877
Number of Pupils: 270
Ages: 11-18
Fees: Day fees per term – £8,065; Boarding fees per term – £12,660
Head Teacher: Mrs Liz Hewer
Religious Affiliation: Church of England
Entrance Procedure: Admissions at 11 (Year 7) and 13 (Year 9) via examination, CEM assessment and interview, and at 16 (Sixth Form) via interview and contingent on GCSE results
Contact: Mrs Kerry Bertram, Director of Admissions and Marketing
Email: [email protected]
School Visits: Termly open mornings
Watch the video to find out more…
The Curriculum
St George's adds value at every level of a girl's education. Pupils take GCSEs and IGCSEs at the end of the Fifth Year (Year 11). At Sixth Form most girls study three A Levels alongside the Extended Project Qualification (EPQ). In addition, all sixth formers take part in a non-examined enrichment programme.
Games & the Arts
A strong co-curricular programme at St George's gives all pupils the opportunity to explore existing talents or discover new ones. A strong performance culture develops remarkable pupil confidence with plentiful opportunities to shine whether in the whole school musical, the chapel choir, in a Year group production or as an individual performer. The School offers over twenty sports with a healthy balance between the traditional, termly team sports and individual pursuits. The indoor swimming pool opened in 2019 is a stunning facility delivering life skill lessons through to England pathway club-level training. There are also exciting new sports on offer with handball and futsal growing in popularity amongst the younger years, adding breadth to the School's policy of sport for all.
Pastoral Care
Caring for the wellbeing of each individual within St George's has always been at the heart of the school's ethos and is intrinsic to the school's reputation. We are a community that strives to develop Capable, Confident and Connected young women, who are ready to take their place in the world. We understand, however, that our girls will only reach their potential in the classroom, on the stage or on the sports pitch if there is balance, confidence and positivity at their core. A rich network of support from teachers, tutors, house mistresses, from our healthcare professional and from amongst the girls themselves ensure that each of our girls is truly known and cared for throughout their educational journey.
University Places
In 2021 our Upper Sixth leavers achieved the grades required for their first or insurance choice as against 92% of our 2020 leavers and 80% of our 2019 leavers.
Head Teacher's Philosophy
St George's is a place where girls flourish academically, creatively, physically and morally, where risks can be taken, lessons are learnt, and challenges are welcomed. By developing the girls' love of learning and individual talents, they become confident, capable and connected young women with a strong sense of self.
Outstanding Characteristics
The 'connected' family: St George's is renowned for having a very strong sense of community in which everyone knows one another, for the warmth that is evident to the outsider and the newcomer, for the strong bonds and sense of connection between girls, for a House and co-curricular system that integrates the year groups, and for small class sizes and the strong relationships that are formed between teachers and pupils.
An individual education with value added: St George's is a school where girls of every capability flourish. Neither just for the high achievers nor learning support dominant, it is simply tailored and specific to each pupil, providing the value added that each girl deserves.
The co-curricular provision: the extensive co-curricular program is extraordinary and great value is placed on exploring interests, on getting involved, and on expanding and stretching learning outside of the classroom.
Facilities that are disproportionately strong and extensive for a school of its size.
---
---