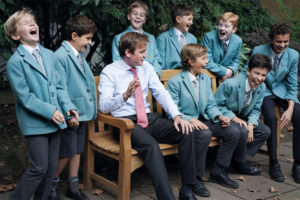 Address: 6 Wetherby Place, London SW7 6NE
Website: www.stpschool.co.uk
Founded: 1934
Number of Pupils: Approx. 100 boys
Ages: 7-13 years
Fees: £6,475 per term
Head Teacher: Alexander Thomas
Religious Affiliation: Roman Catholic, welcomes all faiths
Entrance Procedure: Register from birth, entry by assessment
Contact: Fi Kaye, Registrar, 020 7373 3944
Email: [email protected]
School Visits: Please contact the Registrar to arrange a tour or to attend one of our open days
The Curriculum
A broad and liberal curriculum which prepares pupils forwell for the ISEB Common Pre-Test, Common Entrance and scholarships whilegiving them a broad introduction the great civilisations and achievements of world history. 
Games & The Arts
The school makes full use of its 30 acres of facilities at Barn Elms where the boys take part in a variety of sports  two afternoons a week including: cricket, rugby, hockey, athletics and cross-country. Music is an intrinsic part of school life, and there is a strong choral tradition. Plenty of extra-curricular activities are available, with a wide variety of clubs on offer from cricket and fencing to ornithology and astronomy.
Pastoral Care
Pastoral care is particularly strong with excellent individualised support in a caring environment with a strong Catholic ethos. Parents often say that the school feels like an extended family to them and their children.
Recent Scholarships
Eton, Harrow, City of London, Charterhouse, Worth School and Ampleforth.
Head Teacher's Philosophy
We are a Catholic school and our patron Saint Philip is the patron saint of happiness, joy and humour. Whether it be in the classroom, at our vast games fields by the side of the Thames, or in our wonderful garden back at base, we put fun at the heart of everything we do. Our boys work hard too, and are well-taught within a bespoke and broad liberal curriculum. They leave Saint Philip's aged 13 ready for the next stage of their education at some of the leading schools in the country.
Outstanding Characteristics
 Inspirational teaching in a warm and nurturing environment that delivers exceptional results. Leavers go on to: City of London, Dulwich, Eton, Harrow, KCS Wimbledon, St Paul's, Westminster, Winchester.
---
---