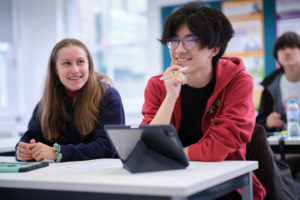 Address: Cambridge Road, CB23 8AH; Union Road, CB2 1HF; Bateman Street, CB2 1NA
Website: stephenperse.com
Founded: 1881
Number of Pupils: 1,665
Ages: 1-18
Fees: (termly) 2023-2024: Fees start at £4,588 and £14,705 for boarding students
Head Teacher/Principal: Richard Girvan
Religious Affiliation: Non-denominational
Entrance Procedure: The school is selective and students undertake an entry assessment and/or informal interviews with staff
Contact: Helen Roberts, Admissions Registrar
Email: [email protected]
School Visits: Open Days are held throughout the year offering families the opportunity to tour the schools and speak with our school leaders about our values and approach to education:  https://www.stephenperse.com/opendays
The Curriculum
Our curriculum is designed to give a firm grounding in all the areas of understanding from a young age. (I)GCSEs in Year 11 are followed by a choice of A-level courses in Sixth-Form. The Sixth Form curriculum provides the best possible platform for study at a higher level, prior to university entrance, and gives our students an enriched and stimulating learning experience.
Games & the Arts
All students at Stephen Perse enjoy a varied and stimulating music and drama programme, with many additional opportunities for the most gifted students to excel. All students benefit from a thriving concert programme, with opportunities to perform in renowned venues across the city and beyond.
Pastoral Care
At Stephen Perse, looking after our pupils' mental health and wellbeing is at the heart of our approach to education.  We provide a safe, joyful, structured and supportive environment. Our community supports students to develop both their academic and personal potential, and to respect the needs of others. An important aspect of a student's wellbeing and their pastoral care is building a student's self‐belief, and understanding of themselves, and their own individual identity; this underpins our structures and procedures for pastoral care.
University Places
Our recent leavers have gained places at prestigious institutions including Cambridge, Oxford, UCL, Kings College London, Durham, Edinburgh, Boston University USA, University of Toronto, Canada and Hong Kong.   
Head Teacher's Philosophy
At Stephen Perse, our mission is to educate and inspire the contributors to tomorrow's world: intelligent young people with the creativity, compassion, confidence and conviction to question, evaluate and improve society.
Outstanding Characteristics
Stephen Perse Cambridge is a family of schools in and around Cambridge. Students benefit from state-of-the-art facilities such as professional theatre spaces, fully equipped drama and art studios, and a generous provision for sporting activities, including sports fields, multi-use sports halls, climbing wall, full-sized netball and tennis courts and Cambridge's first ever rooftop football pitch.
---
---