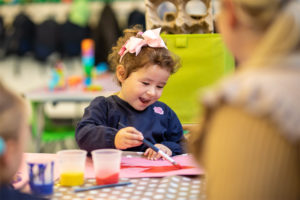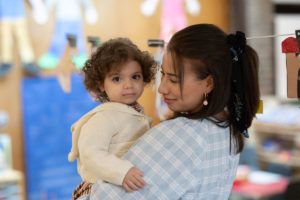 Address: 25 Mallinson Road, London SW11 1BW
Website: www.thekindergartens.com
Founded: 1991
Number of pupils: Capacity 388 over 10 settings
Fees: Available upon request
Principal: Joanne Allen
Religious Affiliation: None
Entrance Procedure: Non-selective -Early registration advised
Contact: 01622 833 331
Email: [email protected]
School Visits: Daily showrounds available by appointment only.
Please contact [email protected] to arrange.
The Curriculum
At the Kindergartens, we help prepare children for a confident step into their educational journey.
Our Early Years Foundation Stage (EYFS) curriculum has been designed to shape curious, enthusiastic and motivated young minds, as well as broadening imaginations, unlocking creativity, and encouraging a true sense of adventure.
Games & The Arts / Pastoral Care
At Forest School we find our own slice of nature within the capital by taking fortnightly trips to Wimbledon Common and Holland Park. Activities include understanding signs of seasonal changes, observing wildlife and insects, and learning how to use real tools safely. Forest School is designed to allow children the opportunity to 'give things a go', and so we offer consistent encouragement and praise to create a positive experience.
Communication and language: Developing communication, speaking, and listening skills to use with both adults and their peers.
Physical development: Immersion in a wide range of sports and activities to increase their coordination, control, manipulation, and movement skills.
Social development: Establishing a sense of self and personal identity, along with developing an outward awareness of oneself.
Expressive arts and design: Increasing children's creativity through activities which promote curiosity, exploration, and play.
Literacy: Preparing for education, we begin by encouraging children to link sounds and letters for a smooth transition to reading and writing.
Mathematics: Exploring the foundations of mathematics whilst encouraging children to learn, practise and discuss their developing knowledge.
Understanding of the world: Providing information and instilling curiosity in an age-appropriate way to help children to make sense of the world.
The Principal's Philosophy
We believe it's important for children to be introduced to as many new experiences as possible, and so our time together is filled with an ambitious and enjoyable mix of indoor and outdoor activities. As well as learning, we make sure to spend plenty of time exploring ways to expand their imaginations, boost their creativity, and embrace the wide-eyed joy our little adventures can bring.
Outstanding Characteristics
Set in the heart of their London communities, our ten Nursery Schools offer an Outstanding pre-school experience.
With a variety of different settings, from smaller, cosier groups to larger, more bustling spaces, no matter which one you choose each share an ambition to nurture enthusiastic, kind, confident and imaginative young people.
---
---