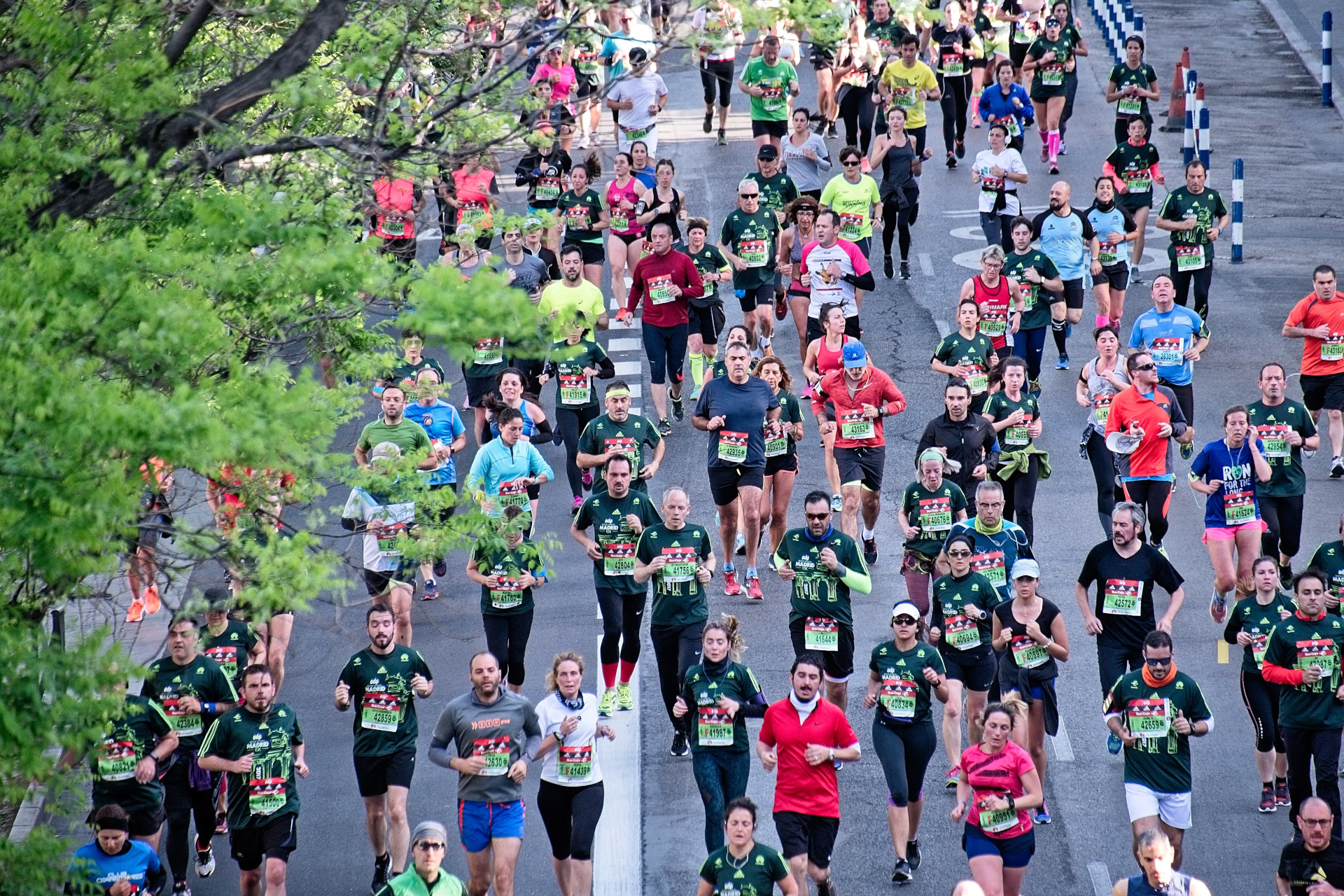 How To Sign Up For The London Marathon In 2024
Everything you need to know before signing up to the world-famous race
Missed your chance at running the London Marathon this year? Not to worry, there's plenty of time to sign up for the next one. From ballots and charity entries, here's how to sign up for the London Marathon in 2024. 
What Is The London Marathon?
The London Marathon is an annual long-distance running event held in London. One of the six World Marathon Majors and the second largest annual road race in the UK, the London Marathon attracts tens of thousands of runners from all over the world. The race itself consists of a 26.2-mile course that takes them through the streets of London, passing many of the city's famous landmarks.
The first London Marathon was held in 1981, set up by athletes Chris Brasher and John Disley, and is split into multiple components; the mass race, which is open to the public, is considered the main event. Many people have run the marathon to raise money for charity, and since its founding have raised over £1 billion for various charities.
When Is The London Marathon?
The London Marathon typically takes place in late April. You will have just missed this year's London Marathon, which took place on Sunday 23 April 2023. There's multiple ways to still enter next year's race, which takes place on Sunday 21 April 2024.
How Many People Enter The London Marathon Each Year?
As you can imagine, the London Marathon is a popular race. 2023 was the biggest race yet, with over 48,000 runners taking part (and massively up from the 40,643 that took part in 2022). There's limited spaces available, so it's important to start planning early if you want to get involved.
How To Sign Up For The London Marathon
Enter The Ballot (UK Entrants Only)
Most people enter the London Marathon via its infamous ballot, with over 410,000 people using this method for 2023 alone. There are two ways to enter the ballot:
Enter the ballot for free: enter for free, and if you're successful you then pay an entry fee of £69.99
Enter the ballot and donate to the London Marathon Foundation: if you donate when you enter the ballot, you'll automatically be entered into a second – giving you two chances to get in. This will also reduce your entry fee to £49.99. If you're unsuccessful in both ballots you'll still receive a winter training top.
The deadline to enter the ballot for the 2024 TCS London Marathon is 9pm on Friday 28 April 2023.
Find Out More: tcslondonmarathon.com
View this post on Instagram
Charity Entry
A set number of places at the London Marathon are allocated to charities, which are given to runners who agree to raise a minimum amount of money for that charity. To apply, search through the marathon's charity listings to see which causes are taking part and then get in touch with the charity to see if they can offer you a place.
Places allocated for charities are limited, with participants usually selected based on their connection with a cause and what they can realistically raise.
Even if you don't receive a place through a charity, you can still raise money for a cause of your choice. The official London Marathon website also gives some helpful tips for raising money for your chosen charity on its fundraising page.
Find Out More: tcslondonmarathon.com
British Athletics Club Entry (UK Entrants Only)
Athletics clubs in the UK that are affiliated with British Athletics are also eligible to apply for London Marathon entries, with the number of entries allocated based on the number of first claim-registered members it has. Clubs with fewer than 10 first claim-registered members will be placed into a ballot. After the application deadline, 20 will be drawn at random and allocated one place each. You can see if your club qualifies here.
Details have yet to be released for 2024 entries, so make sure to keep an eye on the TCS London Marathon website for updates.
Find Out More: tcslondonmarathon.com
View this post on Instagram
Good For Age Entry (UK Entrants Only)
If you're a fast runner, there's a chance that you could run your way into a place on the marathon. The London Marathon sets aside a number of places for Good For Age entrants (split equally between men and women), where prospective entrants of different age groups from the UK can submit an application for entry based on whether they meet their age-designated qualifying time. Those who log the fastest running times will be allocated a place in the marathon.
The qualifying period for the 2024 race started on 3 October 2022 and will end on 30 September 2023.
Find Out More: tcslondonmarathon.com
The Virtual TCS London Marathon
Can't make it in person? Another way to enter the marathon is by virtual attendance, completing the 26.2 miles however and wherever you are able to. You can choose to undertake this on a route of your choice from 00:00 to 23:59:59 BST on the same day as the mass event in London, and break it up into stages if you need to.
Those who cannot take part on Marathon Day due to religious reasons can complete their race on the next available day and upload their results manually.
Find Out More: tcslondonmarathon.com
Participants With Disabilities
Organisers of the London Marathon have been working to make the race more accessible for disabled participants. 10 assisted wheelchair participants took place in 2023's race, with a maximum number of four support personnel helping to push them from Greenwich to Westminster (only two of the four could help push at any one time). Entrants can now also use battery-operated robotic exoskeletons if needed, with a team of four helpers allowed to join on the event (with only two on the course at any given time). Organisers encourage you to get in touch for more information.
Details have yet to be released for 2024 entries, but the TCS London Marathon website indicates that updates will be released in May 2023.
Find Out More: tcslondonmarathon.com
View this post on Instagram
International Ballot
There's also plenty of opportunity for international runners to take part in the London Marathon. As with UK entrants, you can enter a ballot. Those who are successful are required to pay an entry fee of £146.
It is estimated that over 90 percent of the marathon's carbon footprint comes from international participant travel, so £26 of the international entry fee will go to certified projects that will balance these CO2 emissions.
The deadline to enter the international ballot for the 2024 TCS London Marathon is 9pm on Friday 28 April 2023.
Find Out More: tcslondonmarathon.com
EXPLORE
For full details on how to enter the 2024 TCS London Marathon, visit tcslondonmarathon.com
Featured image: Miguel A Amutio, Unsplash