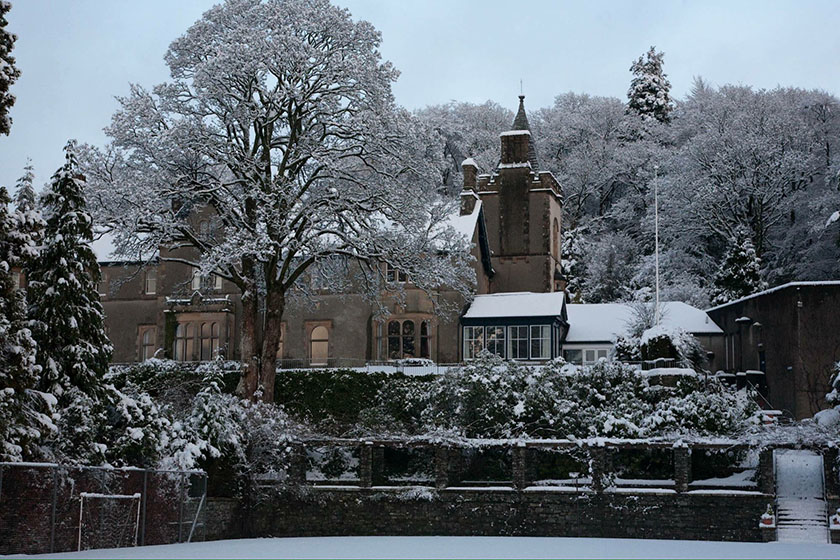 Address: Patterdale Road, Windermere, Cumbria LA23 1NW
Website: windermereschool.co.uk
Founded: 1863
Number of Pupils: 365 across both Elleray and Browhead campuses
Ages: 3-18
Fees (all per term): Day, Elleray Campus: Pre-school (per hour);: £6.30; reception: £2,733; Years 1-2: £3,133; years 3-6 £4,633. Browhead Campus: years 7-8: £5,400; years 9-11: £5,995; years 12-13: £6,100 | Boarding, Elleray Campus: years 3-6: £7,167. Browhead Campus: years 7-8: £9,075; years 9-11: £10,240: years 12-13: £10,350 | Full Boarding, Elleray Campus: years 3-6: £7,833. Browhead Campus: years 7-8: £9,600;  years 9-11: £10,650; years 12-13: £10,760
Head Teacher: Mr Ian Lavendar
Religious Affiliation: None
Entrance Procedure:  Academically non-selective school. Entrance into the senior school (Browhead): taster day at the which includes an interview with the headmaster and the head of section and entrance assessments. The most recent school report and a reference from the current head teacher is also required; entrance into the preparatory school (Elleray): we suggest a tour, followed by a meeting with Mrs Julie King, Head of Elleray, and a taster day.
Contact: [email protected]
Email: [email protected]
School Visits: We recommend that in the first instance you visit the school during term-time to experience first-hand the energy, spirit, and warmth of our community. As you walk around, observe the inspiring teaching, magnificent grounds and excellent pastoral care. All pupils receive the very best tailored tuition and care within a nurturing environment which inspires excellence and a desire to achieve.
The Curriculum
Our curriculum is carefully designed to be both challenging and flexible, creating a highly individualised learning experience for every child in our care. Delivered by experienced and dedicated staff, our programme of study will guide your children through a series of challenges that develop the skills and confidence needed not only for academic succes, but life beyond.
Pastoral Care
Pastoral care is central to the ethos of Windermere School. We are a welcoming and friendly school with a happy working environment for both children and staff alike because of the excellent relationships we build with one another. We believe that happy children are more resilient and therefore do well academically, socially and emotionally.
University Places
University College London, Cambridge, St Catherine's College, University of Glasgow, Manchester, St Andrews, Edinburgh, Bristol, Plas y Brenin National Outdoor Centre in Snowdonia and a number of top apprenticeships.
Head Teacher's Philosophy
Our mission is to produce confident and compassionate people. Our vision and mission are shaped by our determination to encourage self-knowledge, articulated by our school motto 'Vincit qui se vincit' (One conquers who conquers oneself). Today, that means 'overcome yourself and you will achieve', which is what Windermere School is all about – challenging to excel.
Outstanding Characteristics
Windermere School is the only independent school in the country based in the heart of England's Lake District National Park, a UNESCO World Heritage Site. The breath-taking location not only makes for an inspiring educational setting but enables students to make use of what surrounds them; taking part in watersports, hill walking and many other outdoor adventures.
---
---