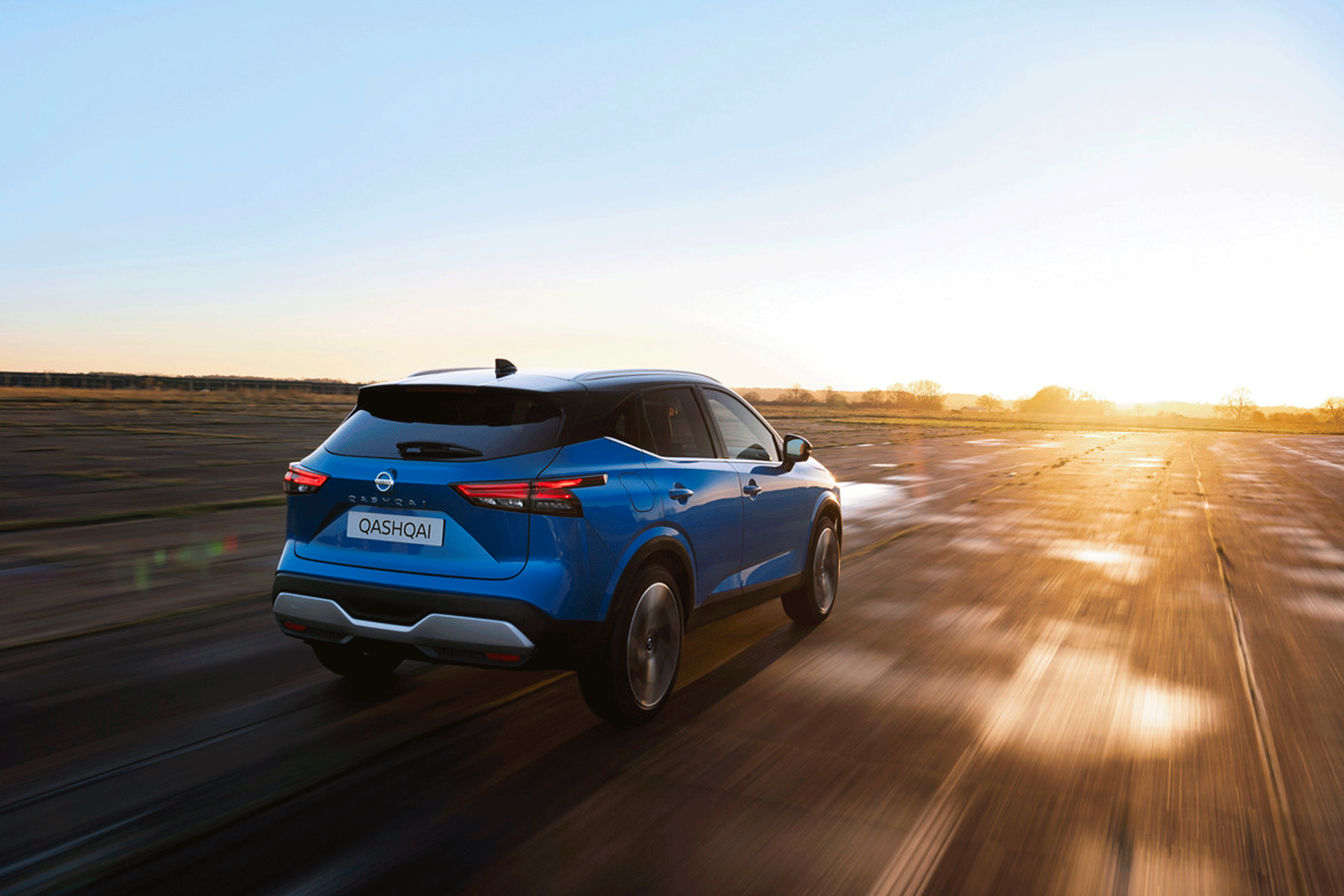 The Green Lane: Nissan Qashqai Tekna+ DIG-T
---
'Perfect for the everyday trials and tribulations of family motoring on a tight budget'
Motoring editor Jeremy Taylor and sustainable fashion expert Jessica Saunders drive Nissan's best-selling family SUV, the Nissan Qashqai Tekna+ DIG-T
The Green Lane: Nissan Qashqai Tekna+ DIG-T
JT – You may be wondering why we are testing a car in The Green Lane that isn't a hybrid or electric model.
JS – I did notice that there's no socket to plug it in, or any mention of 'hybrid' in the lengthy name. So, what gives this Nissan its green credentials?
Well, for some people who live in remote locations, or don't have a huge stack of cash to spend on a car with batteries, cars like the Qashqai, or the excellent Skoda Karoq are perfect for the everyday trials and tribulations of family motoring on a tight budget.
What Does Tax Per Mile Mean for EV Drivers? 
You say that but our Tekna+ model is £35,000!
Yes but this all-new, third generation model can be bought for £25,000. It is the best-selling crossover (a vehicle built on a car platform but with increased ride height) in the UK, despite the tongue-twister name. Basically, it's a lot of vehicle for the money. The entry-level Visia versions are a bit lean on kit but our car had everything.
It certainly did – everything from eight-way, multi-adjustable driver's seat, to fixed panoramic sunroof and my particular favourite, wireless Apple CarPlay. I also liked the heating steering wheel, plus the heated front windscreen on cold mornings. It looks good too, not as bland as the previous model.
It was created with British buyers in mind at the company's design centre in Paddington, engineered in Bedfordshire and then built at Nissan's factory in Sunderland. In fact, and this is quite incredible, one in five of ALL new cars built in Britain since 2007 was a Qashqai. This new model is larger all round, offering extra legroom and a much bigger boot. The infotainment system is first class with Bose Speakers – better than some Mercedes I've driven.
What's under the bonnet?
Nissan offer two, 1.3-litre petrol engines producing 138 or 156bhp. Ours was the smaller unit with a six-speed manual gearbox. It was actually incredible efficient, partly because this isn't a four-wheel drive. So, no good in mud but officially around 44mpg everyday driving. If you do need 4×4 grip, Nissan now offer those too.
No batteries at all then?
Not in our test car but Nissan is about to launch an e-Power version, with a 1.5- litre petrol engine that generates power to drive an electric motor. The lack of a hybrid option is quick a big hole in the Qashqai's armoury. The petrol engine creates enough battery power to turn the Qashqai into proper EV for much of the time, depending on how you drive it.
What does it line up against – anything else worth considering?
The crossover market in the UK is swamped with strong offerings but the Nissan is number one for good reason. It's has a strong following and proven ability. You might want to consider the Renault Kadjar, Hyundai Tucson, or the brilliant Skoda Karoq. All top models but unlike the Qashqai, none are built in Britain.
Jessica Saunders is Director of Programmes at London College of Fashion, studying for a PhD in sustainable e-textile design.
READ MORE GREEN LANE: 
Mercedes-Benz EQS Review / Polestar 1 Review / The Hispano Suiza Carmen/Audi RS e-tron GT
Main Image: The Nissan Qashqai Tekna+ DIG-T. Image courtesy of Nissan.