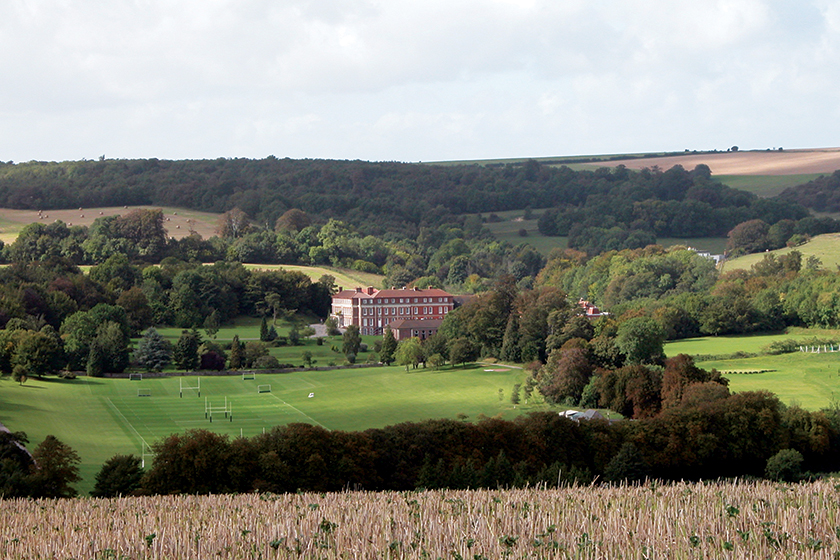 Address: London Road, Washington, Pulborough, West Sussex, RH20 4AY
Website: windlesham.com
Founded: 1837
Number of Pupils: 340
Fees: Pre-Prep £3,092–£3,598. Prep £5,722–£9,573.
Ages: 4–13
Head Teacher: Mr Richard Foster
Religious Affiliation: Non-denominational.
Entrance Procedure: Windlesham is a non-selective school but we require children to have an academic ability that falls broadly within the national average. Selection is based on informal assessments, which focus on understanding the whole person, identifying pupils who are able to benefit from our balanced and well-rounded education and to make a positive contribution towards the life of the school. Our process includes a visit to the school where there is time to meet the headmaster and have an individual tour of the school. Registration is then required to move forward to a taster day or night which provides the children with an opportunity to find out whether Windlesham is the right school for them. During that time there is an assessment and low-key interview to find out where they would fit in terms of academic level and sets.
Contact: Admissions
Email: [email protected]
School Visits: Next Open Morning: Saturday 5 June. Prospective parents are welcome any day of the week by appointment. Coffee and registration at 9:30am followed by presentations from the headmaster and director of studies, then an individual tour of the school. You can register for the Open Mornings at: windlesham.com/open-mornings
The Curriculum
The range of subjects, sports and music on offer is almost limitless. At the top end of the school we ensure that each child achieves the highest grades they can for their Common Entrance or Scholarship as well as ensuring they follow a balanced and enjoyable curriculum.
Games & The Arts
Having fun is an essential ingredient of life at Windlesham. We want them to enjoy themselves whether in the classroom, on the sports field or through music and the performing arts allowing every child to find an area they can excel in.
Pastoral Care
The headmaster's wife, Rachel Foster, is the school's head of pastoral care, and in this role she works closely with the headmaster and the houseparents to ensure the school becomes every child's 'home from home'. Each pupil joins one of six houses led by experienced Houseparents who are responsible for looking after the children. They ensure the children's welfare and happiness is at the centre of everything they do.
Recent Scholarships
25 per cent of Year 8s gained scholarships including all-rounder, sport, academic, drama, music and two boys were awarded King's Scholarships to Eton College.
Head Teacher's Philosophy
Richard Foster is an astute observer of the individual child. His philosophy is that children only truly achieve if they are genuinely comfortable in their environment which he believes comes from making sure Windlesham is a genuine 'home from home'.
Outstanding Characteristics
When it comes to the quintessential English prep school, Windlesham is the real thing. The first preparatory school in the UK (founded 1837 and the first prep school to go co-ed) its children have that rare combination of excellence, happiness and aplomb. Set in 60 acres of South Downs, it also boasts fabulous facilities including a new state of the art sports complex and pool.
---
---