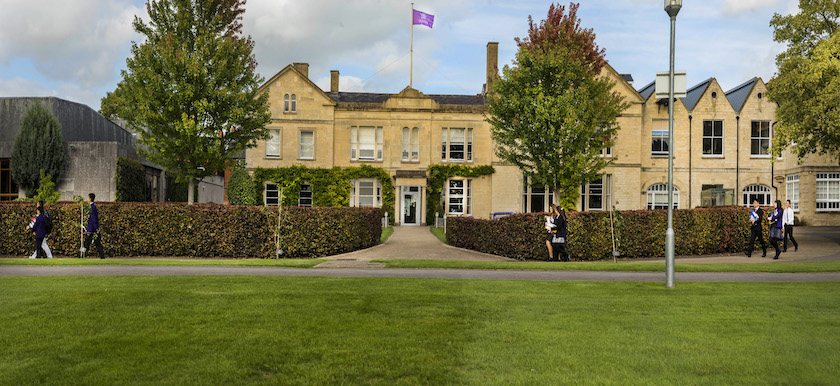 Address: Stonehouse, Gloucestershire GL10 2JQ
Website: www.wycliffe.co.uk
Founded: 1882
Number of Pupils: 644
Fees: Day: £3,400–£7,645. Boarding: £7,700– £10,325
Ages: 3–18
Head Teacher: College & Senior: Nick Gregory. Prep: Helena Grant
Religious Affiliation: Interdenominational
Entrance Procedure: Prep School: Interview, taster day and report. Senior School: 13+ by interview, CE or scholarship. Sixth Form: Minimum of five GCSEs at Grade C.
Contact: Prep: 01453 820471. Senior: 01453 820412.
Email: [email protected], [email protected].
School Visits: By appointment.
Watch the videos…
The Curriculum
Wycliffe delivers a robust traditional curriculum with exceptional support for EAL, SEND and Gifted and Talented pupils – the college has accreditation from CReSTeD and NAGC. In the sixth form, there is a choice of 28 subjects at A-level including Computer Science, psychology, Business and Japanese, as well as three BTECs in Business, Digital Production and Sport. The co-curricular programme includes such diverse activities as robotics, bee-keeping and basketball.
Games & The Arts
Sport is first class at Wycliffe both in its breadth – from rowing to yoga as well as the mainstream sports, and in its aim to ensure that all enjoy and take part in sport whatever their ability. In the Senior School, the Wycliffe Advanced Sports and Performance Programme (WASP) and the elite Squash Academy cater for talented athletes, whilst co-curricular activities include fencing and modern pentathlon. Art, DT, drama and music are incredibly strong as is shown through the high level of pupil achievements in these areas and the number of pupils from three to 18 years who participate.
Pastoral Care
Wycliffe has an exceptional pastoral team who take the time to really get to understand your child and their individual needs, strengths and desires. The ISI Inspection 2016 found that pastoral care was excellent and stated, 'Pupils' personal qualities are excellent and accord well with the school's aim that they should exhibit self-belief and willingly take responsibility. Pupils are unassumingly confident, self-aware and emotionally mature.'
University Places
Successful placement of students at top universities in the UK and overseas including Harvard.
Head Teacher's Philosophy
Our stated core purpose is 'inspiring initiative, creating community, stimulating success' and these principles drive our actions.  What makes Wycliffe distinctive is that people really matter here.  Their differences and individual qualities are truly valued and respected and staff support every pupil to be the best that they can individually be.
Outstanding Characteristics
With a highly connected and supportive community, a pupil's time at Wycliffe becomes part of them as they move through life. The ISI Inspection 2016 recorded, 'By the time they leave school, pupils are very well prepared and positive about meeting the challenges of the next stage of their lives.'
---
---