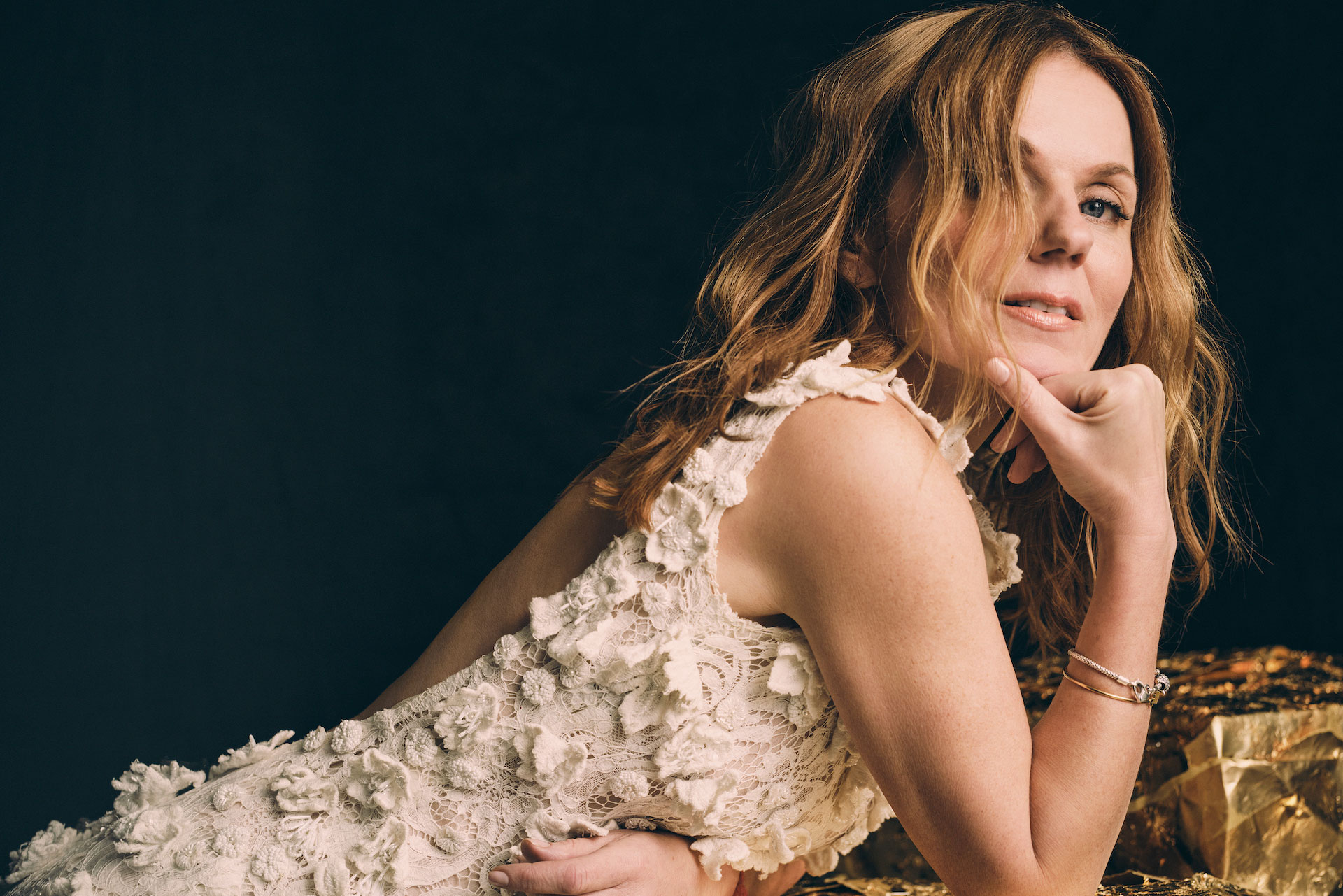 Talking Grief, Girl Power and Growing Up with Geri Halliwell-Horner
Spice up your life
Even though she was the sauciest of the Spice Girls, Geri Halliwell-Horner was always more into the words than the music – and now she's a best-selling author, says Benji Wilson.
Fashion Director: Nicole Smallwood; Photographer: Simon Emmett; Art Director: Fleur Harding
Spice Word: Getting to Know Geri Halliwell-Horner
As I arrive at Geri Halliwell-Horner's north London home my phone pings with an email alert. Geri's book, Rosie Frost and the Falcon Queen – the first in a young-adult series about a girl sent to an exclusive boarding school on a remote island – has gone into the New York Times bestsellers at number four. 'I was not expecting this,' says Geri as she ushers me in. 'But it's such validation for something I've believed in passionately and worked on solidly for so long. To get that connection with a readership… it's mind blowing.'
If Geri is a smidge mind-blown this morning it's understandable – she is just back from New York, where she's been on tour promoting Rosie Frost. She is jet-lagged, she says, though she looks bright as a button in white jeans and a cream silk blouse, hair tied back with a ribbon just so.
I tell her that her new designation as an NYT bestselling author surprised me because, to be honest, I had assumed that Geri Halliwell-Horner, writer, was just another celebrity jumping on the kids-lit bandwagon. In other words, I had underestimated her. 'I studied English literature,' she says, offering me a marshmallow, sipping on a coffee. 'I actually was thinking about journalism before music,' she adds, pointing at my tape recorder as if, in different worlds, she could easily have been asking the questions.
And she does ask questions: we compare notes on kids (Halliwell has two, Monty and Bluebell), animals (there's an aquarium in the corner of the room with some blasé fish doing circles; she is a keen horse rider) and what's on television right now (answer: several documentaries featuring her, but more on that later).
What comes out is that, although Geri Halliwell became an internationally famous pop star when she was young, it's always been the words as much as the music that's been her interest.
'I was doing theatre – Stanislavski, and DH Lawrence and Hamlet, I'm steeped in Hamlet – all before music. I loved writing, and when I went into music I felt very confident in the power of words and lyrics.'
Looking back, she concedes that she was never a vocal powerhouse: 'I wasn't Mariah Carey in the singing, I know that, but in the actual songwriting I always felt competent. I thought, "this is something where I can really serve the band".'
For the 1997 film Spice World: The Movie, Geri says she wrote parts of the screenplay. And now that the band is in the past, it's storytelling that she has come back to. She had already written a series of younger children's books but she sees Rosie Frost as the first real expression of her literary ambition. One early assessment came from her husband, Christian Horner, the head of the Red Bull Formula One team.
'He's not a book reader at all. Sometimes I'd say to him, "Oh, can I read you this bit?" And he kept on saying, "No, no, no, when it's published!" He just wouldn't look at it.'
But though Rosie Frost is aimed at the young-adult market, Geri wants broadsheet readers and grown-ups to enjoy it too.
'There are questions in there that if you really care about the world, politically, environmentally, it might stimulate you anyway. So I gave Christian the book. And the first thing he said was, "It's much better than I thought".' We both fall about laughing at this typically abrupt spousal endorsement.
'And then a few days later, once he'd finished, he went, "You know what? I just could not put it down." And I thought, "My work is done".'
You might ask why Geri would want to put herself out there for evaluation anyway. Looking round her home, which is mansion-sized with several fast cars out front, (and she has another one in the country out near Oxford) it's fairly obvious that she is not writing for the money.
'I'm incredibly grateful for what I have and the opportunities I've been given. But one thing I've always tried to do is to be useful to the world. Of course, my ego likes the validation of being a New York Times bestselling writer. Absolutely! But beyond that, it feels really brilliant when somebody has gone, "You know what, I read your book, and I felt good about myself." If anyone has felt marginalised or bullied, or just needed a bit of encouragement or escapism, and they get that from what I've done, that's really nice.'
The cover of Rosie Frost and the Falcon Queen features a girl with flowing red hair standing resolute against all that the world can throw at her. It's not too much of leap to guess who our Rosie might be based on.
'You can't help but put a little bit of yourself in there!' she says with a laugh. 'I come from Watford and then went to Watford Girls' Grammar School in another part of town, so like Rosie I felt like a fish out of water.'
In the book's opening scene Rosie is pulled out of class and told that her mother is dead. This comes straight from Geri's own experience.
'I was told at school that my father was dead. I was just doing my A-levels and what I remember most is I felt embarrassed about my feelings. I didn't want anybody else to feel awkward, just because I was feeling overwhelmed. It's so British – you just bottle it up. But I definitely use that in Rosie. The difference is that in the book I don't airbrush her feelings and how she processes the grief.'
She knows people will roll their eyes at the idea of a pop-star turned actress turned author. 'I do it too! So I'm not going to take it personally. And the outcome – what the book is like – is more important than what people think of me anyway. And actually, everyone in the UK has been 100 percent receptive to the idea of me as a writer. They get it.'
She points out that the themes in the book aren't worlds away from the message of the Spice Girls: there's a continuum between what Spice Girl Geri was saying and what Geri Halliwell-Horner is writing.
'The girl power thing is there and I've always championed that. It's just evolved into a different medium, that's all.'
I mention that Netflix's Beckham documentary has taken a whole new generation back to the late 90s and that time of Spicemania. Geri also features in Netflix's forthcoming Robbie Williams documentary (the pair dated in 2001). So how does she feel now watching her younger self?
'I see an evolving person,' she says. 'If you look at nature, trees consistently keep on growing and they have different seasons. I think that's really healthy and natural. I mean, to expect anyone to remain static – that's unattainable.'
No one, she says, stays frozen in time. 'Ageing is what happens. It's lovely to share what's happened in my life and, if it inspires others, fantastic. And then if they see my life now, hopefully they can feel some sort of inspiration in their own life that it's OK to get older.'
Any regrets? Any lessons learned? 'What I've learned is that we're all idiots at different times. And if I can have the humility to give that to myself and to others, we're all right.'
Rosie Frost and the Falcon Queen (Scholastic,£7.99) is out now
Creative Team:
Prop stylist: Michelle Lester
Make-up: Charlotte Reid @ One Represents using Charlotte Tilbury
Hair: Louis Byrne @ Premier Hair & Make-up using L'Oréal Professional and BaByliss
Manicurist: Lucy Tucker @ A-Frame using Nails Inc
Video: Tracer Ital @ Adrenalin Photographic.
Fashion Assistant:  April McCarthy
Digi Assistant: Claudia Gschwend
Lighting Assistant: Tom Frimley