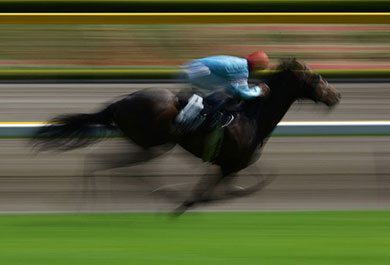 The Funniest and Most Ironic Grand National Horse Names of the Century
---
The popular event returns to Aintree Racecourse on 9 April
With the Grand National weekend upon us, we take a look at some horsey names that have made us chuckle over the years…
For those of you (myself included) who tend to bet on horses based on how great their names are, here's a list of the top Grand National runner names of the 21st century…
1. Any Second Now
An unfortunate name, as this horse finished in 3rd place in last year's Grand National.
2. Pleasant Company
Obviously not pleasant company for its rider, as this horse unseated him at the 27th fence in 2019.
3. Livelovelaugh
Chilled by name, chilled by nature – this horse finished a respectable 11th at 2019's Grand National.
4. Up For Review
Its position went up for review after 2019, when it was brought down at the 1st fence.
5. Chase the Spud
Sadly, spec-taters were not on their feet for this horse; it was pulled up at the 15th fence in 2018.
6. Shutthefrontdoor
Racing in the 2016 Grand National, at the age of nine Shutthefrontdoor was a favourite in the event.
7. Morning Assembly
Harking back to school days, this horse finished fourth at the 2016 Cheltenham Festival handicap chase. Don't miss him in action this year in the classic educational colours of grey and black. What could be more appropriate?
8. What's Up Boys
What's Up Boys came second in the Grand National in 2002. If you search #whatsupboys on Instagram, by the way, some interesting things happen. Don't do it.
9. Just in Debt
This non-finisher in the 2004 Grand National knows how expensive a business horse racing can be. Or at least its owner does. Amusingly, there are some real people called Justin Debt. We hope their parents' humour pays off.
10. Wounded Warrior
Wounded Warrior lived up to his name in the 2017 Grand National after falling before the finish line.
11. Hedgehunter
Taking on a new meaning, Hedgehunter, owned by Ruby Walsh, won the Grand National in 2005, after having finished last the year before. Quite the turn around…
12. Gallant Approach
In 2007, Gallant Approach did not live up to its name and finished last.
13. Tumbling Dice
In this case, Tumbling Dice certainly did tumble, falling at the third fence in the 2008 Grand National…
14. Brooklyn Brownie
This sounds like the name of something you might find at a hipster bakery, but alas, it's not a moist pudding, but a horse. Brooklyn Brownie ran in the 2009 Grand National but fell at the second fence. We usually fall for brownies too.
15. Becauseicouldntsee
The irony of what happened to the horse with this name is blindingly funny. In the 2012 Grand National Becauseicouldntsee lost his rider on course – what's in a name?
16. Shakalakaboomboom
Ok, bear with me on this one. Just picture Claire Balding reading out the names of the runners, and coming across Shakalakaboomboom. How could such an onomatopoeic word not tickle you a little? Say it out loud to yourself a few times…
17. The Last Samurai
This big fella was nearly the winner of the Grand National in 2016, but Definitely Red stormed in front and took the winning position. With 10lbs more weight on him this year, we just hope he can outlive his name once and for all.
18. A Genie in A Bottle
If you give him a stroke or rub do you think he will make your betting wishes come true?
 READ MORE: Galloping Ahead: Being a Female Jockey in 2022 / The Cheltenham Festival 2022: A Guide