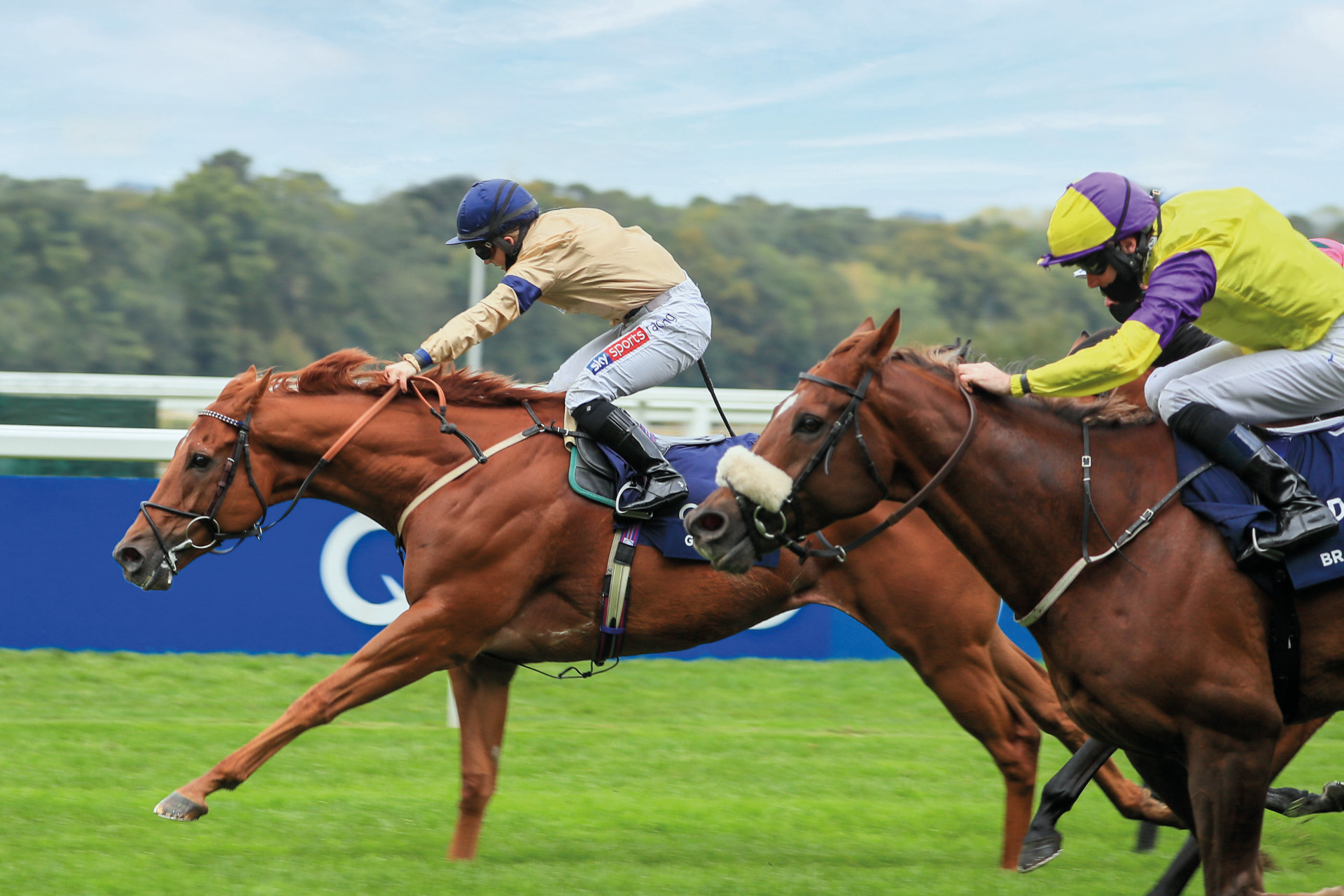 Galloping Ahead: Being a Female Jockey in 2023
---
The female riders shaping history
Fifty years since women first competed alongside men on the racecourse, female jockeys are finally getting the big rides and the big wins. But what's it really like to be a woman in racing in 2023? asks Amy Wakeham
How To Celebrate International Women's Day 2022
Galloping Ahead: Being a Female Jockey in 2023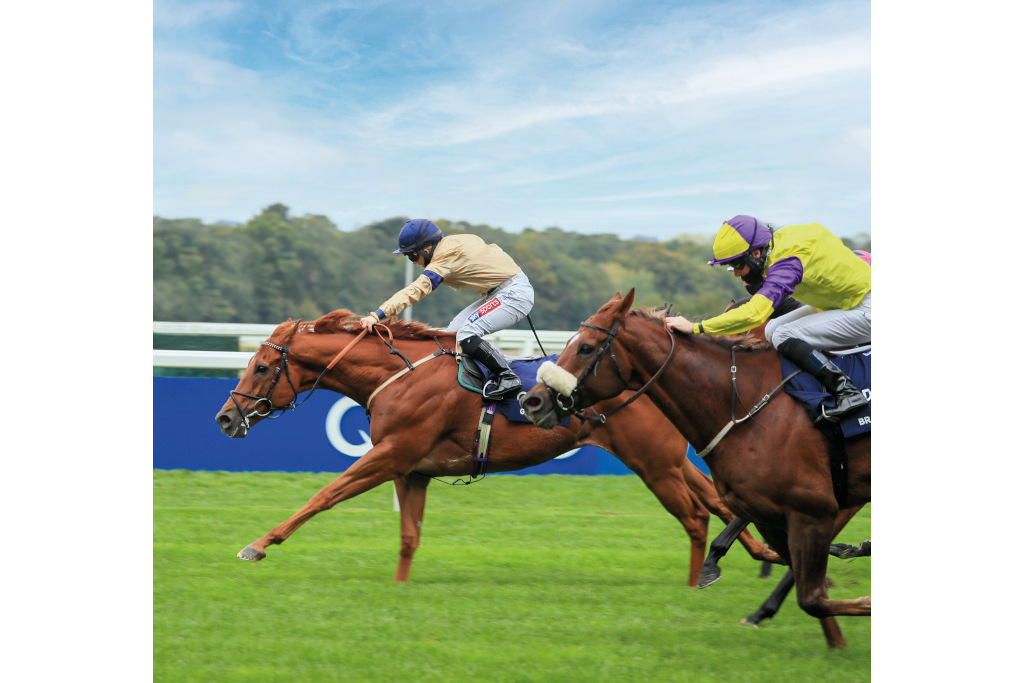 For as long as I can remember, there's been a humorous Snaffles print on my family's sitting room wall. 'A sight to take home and dream about,' it says, depicting two point-to-pointers soaring over a thick birch fence.
'But old Jorrocks would have had it –,' the caption continues, under a smaller sketch of a triumphant female jockey pipping the others at the post, – "They were nasty, jealous, steeple-chasin' little hussies."'
The racing world has changed a lot since Charles 'Snaffles' Johnson Payne sketched out that playful piece in the 1950s. Today, horse racing is one of the few sports on the planet where women and men compete on a level playing field, with the chance to win the same prize money and garner the same accolades.
This year marks half a century since women have been allowed to ride professionally in the UK. But it's only in very recent years that women have come to the forefront of the sport; wins by female jockeys in British racing increased by 76 per cent between 2015 and 2019, according to Great British Racing, and women now make up almost a quarter of all riders across flat and jump racing.
'I'm very lucky that I'm on the crest of a wave because racing had already changed a lot before I even started riding,' says jump jockey Page Fuller. 'But I do appreciate that it's only fairly recent, and before that there probably was some stigma attached to female riders. I'm just grateful that there were people before me who fought these battles, so that I can just go and do something I love as a living.'
Her attitude is shared by record-setting flat jockey Hollie Doyle, who came third in the BBC Sports Personality of the Year Award 2020 and was also named Sunday Times sportswoman of the year. 'It's not a thing now,' she says. 'When you see a girl riding a race, it's normal.'
However, she acknowledges that, like in almost all professions, women have to work harder to be recognised for their achievements. 'I think you have to work hard anyway to be a jockey,' she continues. 'But I always thought I need to work harder to prove myself, that I can be good enough.'
'You have to come in and show that you're tough, and that you're not just going to be walked over,' agrees flat jockey Nicola Currie. But she also admits being a woman might have had its benefits, too.
'I think it helped my career when I was getting going and starting to ride some winners. Although I was riding against boys who were just as good as me, because I was a woman I stood out more. I wasn't just another lad coming up through the ranks,' she says.
It's undoubtedly been a momentous couple of years for women in racing. All the female jockeys I spoke to pointed to Rachael Blackmore winning the Grand National in 2021 as a watershed moment for them in the sport – she would go on to become the first woman to win the Gold Cup at Cheltenham Festival in 2022.
Meanwhile, at the Shergar Cup at Ascot in 2021, the ladies' team, captained by Hayley Turner OBE, held off stiff competition to lift the prize, with Nicola winning two out of the six races and gaining the Silver Saddle award. The team's third member was French jockey and global racing superstar Mickaelle Michel. All this together means the profile of women in racing has never been higher, or more illustrious.
'I wasn't surprised because I think she's just as good, if not better, than all the lads, but I just felt a sense of relief,' Hollie says of Rachael's record-breaking win. 'Because there's so much conversation about whether women are as good as men and all this, but then Rachael Blackmore's just won the Grand National, so there's your answer.'
But it's not all been smooth sailing. Another event that has hung over the racing world recently is the bullying and harassment case brought by jump jockey Bryony Frost against fellow rider Robbie Dunne, which resulted in him being banned from riding for 18 months.
It has cast an unwelcome spotlight on the sport's so-called 'weighing room culture', where jockeys traditionally get changed for their races together. The chair of the Frost-Dunne case's independent panel, Brian Barker, expressed concern about a 'deep-rooted, coercive' culture that is 'not conducive to the good health and development of modern-day race-riding'.
It's an issue that has split the racing world, and while none of the women I speak to want to address the topic directly, all attest to a positive personal experience in the weighing room.
'I've been treated with respect, and I've had an amazing experience in the weighing room,' says Page. 'In life in general everyone's having to readjust how they treat each other. Whatever you do, there are always going to be some people who let the side down and it's just working out how to constructively more forward so that everyone can have a good experience.'
Hollie also speaks openly about the beneficial experience she had in the mixed weighing room. 'I grew up watching my idols, like Ryan Moore and people like that, riding alongside them, working alongside them, being with them in the weighing room. I grew up watching them and what they did and how they carried themselves. Without them, if I'd been completely segregated my whole career, I might have struggled,' she explains.
Nicola acknowledges that it can be difficult, nonetheless. 'There's that stigma that women aren't as strong or tough as men. So you have to prove that and prove yourself in the weighing room,' she explains. But she's optimistic that, for the new generation of female riders coming up, things will probably be better. For a start, in November 2021, British Horse Racing announced plans to improve and modernise weighing room facilities, to meet the needs of jockeys of all ages and genders.
'It's certainly getting a lot easier for girls coming in,' Nicola notes. 'And because there's more of us, they've got the support of the likes of me, Hollie and Hayley [Turner] in the weighing room. We can help them get their stuff ready and tell them about the track. Whereas when we were starting out you just had to hope you knew one of the lads who you could go in and speak to.'
The weighing room culture and the Frost-Dunne case, with their slight whiff of Snaffles and his interloping 'little hussies', are just some of the challenges and changes that horse racing is currently facing. This traditionally close-knit community is slowly having to open itself up to many other new faces and backgrounds.
'People struggle with change,' notes Khadijah Mellah, the UK's first (and only) Muslim jockey, who rose to fame when she won the charitable Magnolia Cup in 2019 at Goodwood Racecourse, after learning to ride at Ebony Horse Club in Brixton. Since then, she's inspired the Riding A Dream Academy, launched by the Racing Foundation to support and train talented riders from under-represented communities.
Interview with Khadijah Mellah, Britain's First Hijab-Wearing Jockey
'I haven't actually experienced anything negative apart from a few hate comments online, but those weren't from the racing community,' she says, when I ask about her experience in the industry so far. 'Racing can be very accepting and welcoming. However, it's obvious when I train that there's a lack of diversity. I stick out like a sore thumb.'
Khadijah is currently completing her degree in Mechanical Engineering, but hopes to return to Charlie Fellowes, the trainer behind Haverland, the horse she rode to victory at the Magnolia Cup, once she graduates.
'I have a long way to go in terms of my own ability,' she acknowledges. 'However, if I could help encourage people from different backgrounds to try out new sports, to try out horse racing, that is already a life goal achieved.'
As well as increasing the diversity of riders, she hopes that racing will open up to a wider audience in coming years. 'I really hope I can sit in a box full of strangers that won't all just be white people. And I hope that going to the races could potentially be a weekend activity, not just for people that live in the country, but also for people that live in cities.'
She continues: 'It'll be more wholesome, and add value to racing, and tap into talent that hasn't been seen before. I think there's a lot to be hopeful for.'
Fifty years since the first professional female jockey crossed the finish line – and even more since Snaffles published that humorous sketch – racing is starting an exciting new chapter, with women firmly front and centre.
'There have been a lot of positive changes in racing recently and sometimes everyone needs to take a step back and just listen to each other,' concludes Page. 'Everyone's just there for the love of the sport.'
READ MORE: The Social Calendar: Dates For Your Diary / What to Wear to Cheltenham Festival / The Cheltenham Festival 2022: A Guide