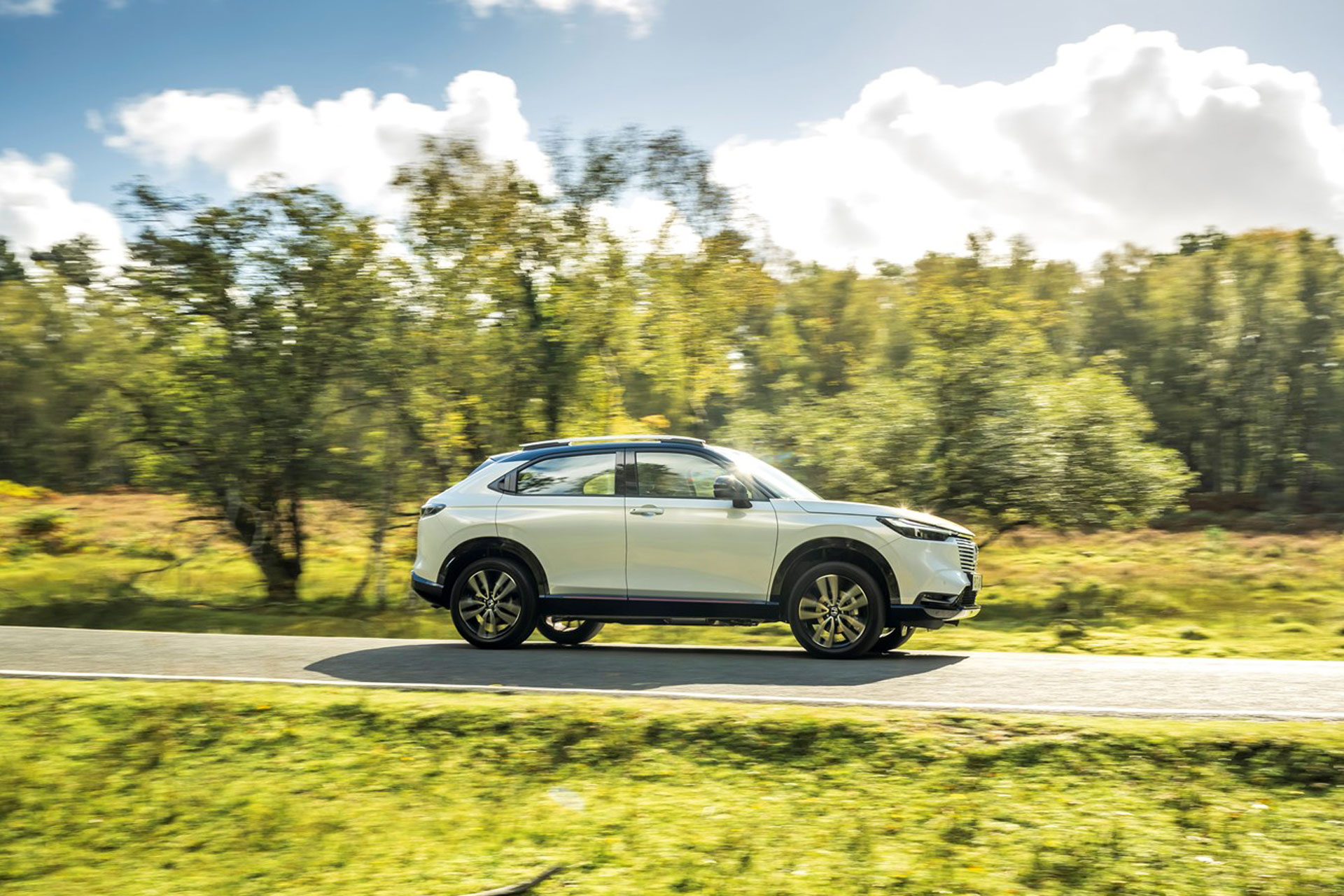 The Green Lane: Honda HR-V
---
'While the Honda is a great family package, there's really not much fun enthusiastic drivers'
Motoring editor Jeremy Taylor and sustainable fashion expert Jessica Saunders drive a hybrid Honda HR-V with a very long name
The Green Lane: Honda HR-V 5D 1.5 i-MMD
JS – The Honda HR-V 5D 1.5 i-MMD Advance Style eCVT – now that is a lot to fit on the boot. You'd better explain.
JT – Most manufacturers offer plug-in electric hybrid power to cut emissions but Honda has done it differently. This model combines a 1.5-litre petrol engine with a battery pack – the engine acts as a generator, charging the two electric motors.
What is i-MMD?
That's what Honda like to call Intelligent Multi-Mode Drive. All it does is switch between the petrol engine, electric and hybrid power. Around town, the HR-V goes to silent battery mode but then 'intelligently' switches to petrol engine when you need a bit more performance.
It was a joy to drive in London but heading home on the M4, the cabin noise was quite intrusive.
The CVT automatic transmission does whine a bit – and if you go for a fast lane overtake it really affects refinement. While the Honda is a great family package, there's really not much fun to be had on the open road for enthusiastic drivers.
It was pretty economical and Honda's are super reliable too. My aunt's Honda Jazz is ancient but it's never let her down
We managed around 47mpg – good for any SUV. On top of that, Honda's reputation for building reliable cars means owners won't suffer massive depreciation when the time comes to sell. In that sense, it is a better buy than rivals like the Renault Captur and SEAT Alteca.
The HR-V isn't bad looking either. The interior feels like it could withstand an assault from the grandchildren and the infotainment system was a cut above – better than some Land Rovers costing considerably more.
This is the third generation HR-V and Honda has been careful to ensure its smallest SUV as much tech on board as possible. The menu page sits on a nine-inch touchscreen display that's intuitive and simple to use. It's easy to connect a phone, the navigation works out a route fast and owners can add extra features via a My Honda+ phone app.
I had a play around with the Magic Seat system, which means the seats backs fold flat and the squab bases can also be pulled up vertically, which actually frees up a lot of extra room for loading bigger items.
The interior is well thought out – just what you'd expect from Honda. The popular Peugeot 2008 actually has more luggage space but I doubt the French car would hold its value as well as the HR-V.
So what are the best alternatives to the HR-V?
It would be difficult to ignore the best-selling Nissan Qashqai and Skoda Karoq – the latter feels premium by comparison. Buyers might also want to test drive the smaller Ford Puma and VW T-Roc. There are so many SUVs out there that the options are endless. Our test car cost over £30,000 – so have a good shop around first.
Why buy the Honda then?
It is pricey compared to some rivals but the HR-V comes with a lot of equipment as standard.  Apart from the safety stuff – blind-spot monitoring, lane-keeping assistance and adaptive cruise control – all versions offer front and rear parking sensors, a reverse camera and keyless entry. Our Advance model adds leather seats, a heated steering wheel and powered tailgate. Pretty impressive.
Jessica Saunders is Director of Programmes at London College of Fashion, studying for a PhD in sustainable e-textile design.
SEE MORE