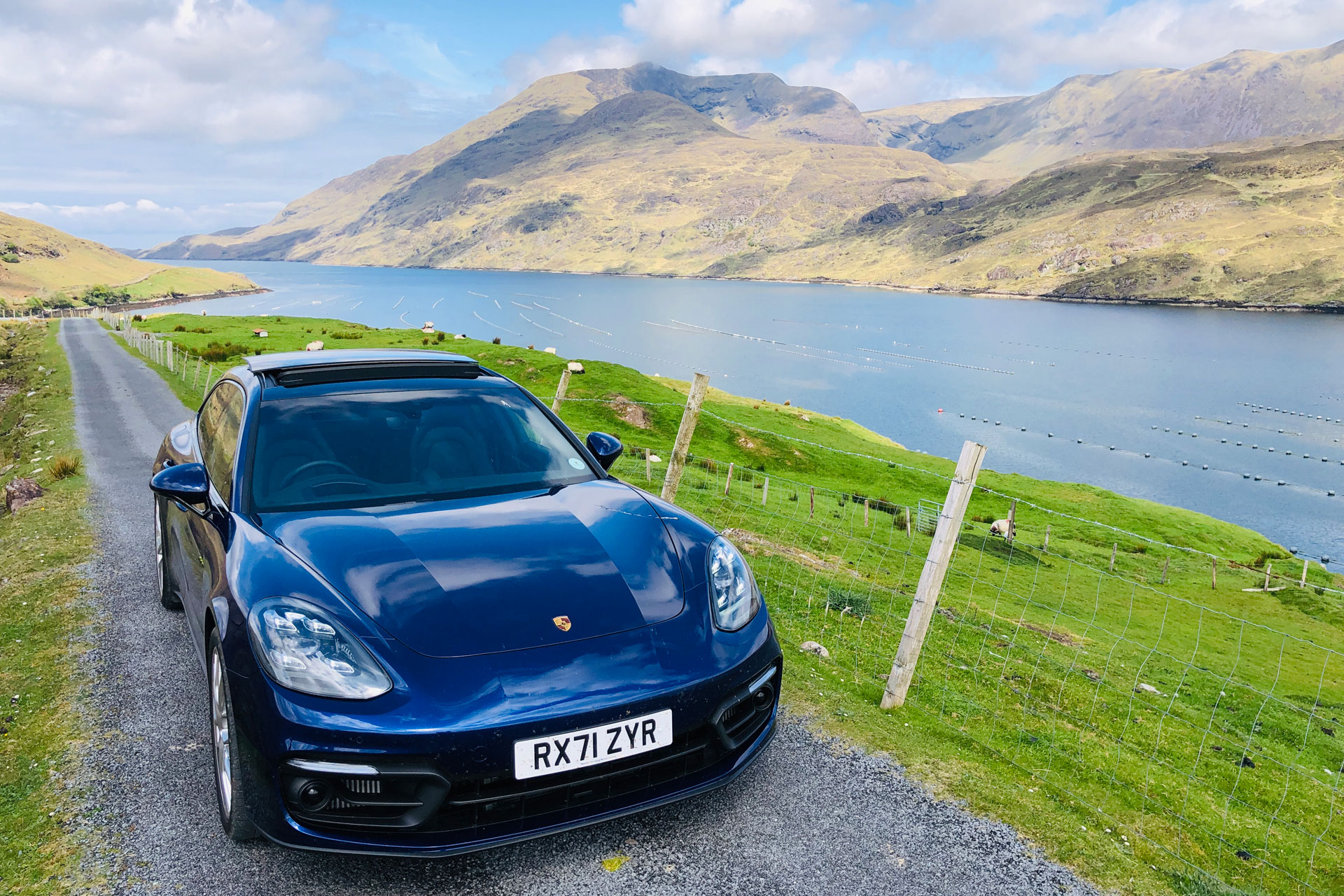 The Green Lane: Porsche Panamera 4 E-Hybrid Sport Turismo
---
'The ugly duckling of the Porsche range has finally become a swan'
Motoring editor Jeremy Taylor and sustainable fashion expert Jessica Saunders drive the 'grown-up' Porsche Panamera 4 E-Hybrid Sport Turismo in Ireland
The Green Lane: Porsche Panamera 4 E-Hybrid Sport Turismo
JS – Is this the longest Porsche ever built? It looks like a 911 sports car at the front and an estate at the rear
JT – That's pretty much nailed it. The Panamera is Porsche's four-seat family car that enjoyed a major facelift in 2020. Our Sport Turismo version is a grand tourer – essentially a very long estate car that is also pretty rapid too.
And it looks tons better than an SUV. Long, sleek, very stylish. I didn't like the original Panamera hatchback but somehow the styling works with a larger boot.
Oddly, it does. The ugly duckling of the Porsche range has finally become a swan. This model is also a plug-in hybrid, so it combines a small battery pack that allows the Turismo to travel up to 34 miles on battery power alone – before the 3.0-litre V6 petrol engine kicks in.
It feels fast – is that the battery pack adding an extra dose of performance?
Yes, although any sudden acceleration and that battery quickly runs down. It's also re-charged while the Porsche is on the move but most owners will use a home charger to top it up in 3.6 hours. Some drivers with a short daily commute might be able to get to work and back on electric power alone but realistically, the E-Hybrid is a tax-efficient way of reducing Benefit in Kind tax.
We didn't manage many electric miles on our epic drive to Galway and back. Is a 34-mile range comparable with other hybrids?
In many cases, yes. However, the hybrid range is creeping up all the time and some BMW's will manage up to 60 miles. I think by this time next year, the Panamera's meagre range might look a bit feeble compared to some German rivals.
It was a great touring car. We covered over 1,000 miles and although the suspension is on the firm side, the Porsche was perfect for high-speed motorway work and the twisting backroads of Connemara, partly thanks to the extra grip of four-wheel drive.
I was impressed that the back seat could cope with two six-foot adults in comfort, plus enough boot space for all our luggage too. The firm suspension is what you would expect from a Porsche – although it can be adjusted further for more enthusiastic driving. That said, we did have one incident with the boot lid that could have been disastrous!
That was when you drove off and the boot lid opened, depositing a bag of passports, jewellery and other items on a quiet backroad?
What was even more remarkable is that I didn't realise! The Sport Turismo has very wide wheels, which produce a lot of noise inside the cabin. Somehow when the boot opened, I didn't hear it. After a slap up lunch, we drove back down the same road and some kind soul had collected everything up and left it by the roadside. Strange the Porsche did produce an audible alert to warn me the boot was open…
I doubt that would happen anywhere else but Ireland. The sat nav system was exceptionally good I thought. It uses a global image of the terrain, rather than just a map.
It also shows a 'perimeter' line that moves with the car, identifying the furthest distance the E-Hybrid will travel on battery power alone. Once the battery is flat that isn't much distance at all but in a city, it might help drivers navigate their way to the next public charger.
Overall, the cabin was a pleasant place to sit. I'd recommend the double sunroof though because the roof is low and it offers a less claustrophobic feel. I was a bit disappointed our car didn't have a heated steering wheel as standard, or an electrically adjustable steering column.
At over £100,000, you might well feel slightly miffed. Everything else felt very well screwed together and the cabin materials were first class. Apart from the much pricier Bentley Continental GT, I can't think of a better cross-country tourer for folk in a hurry.
Jessica Saunders is Director of Programmes at London College of Fashion, studying for a PhD in sustainable e-textile design.
READ MORE GREEN LANE: 
Mercedes-Benz EQS Review / Polestar 1 / The Hispano Suiza Carmen