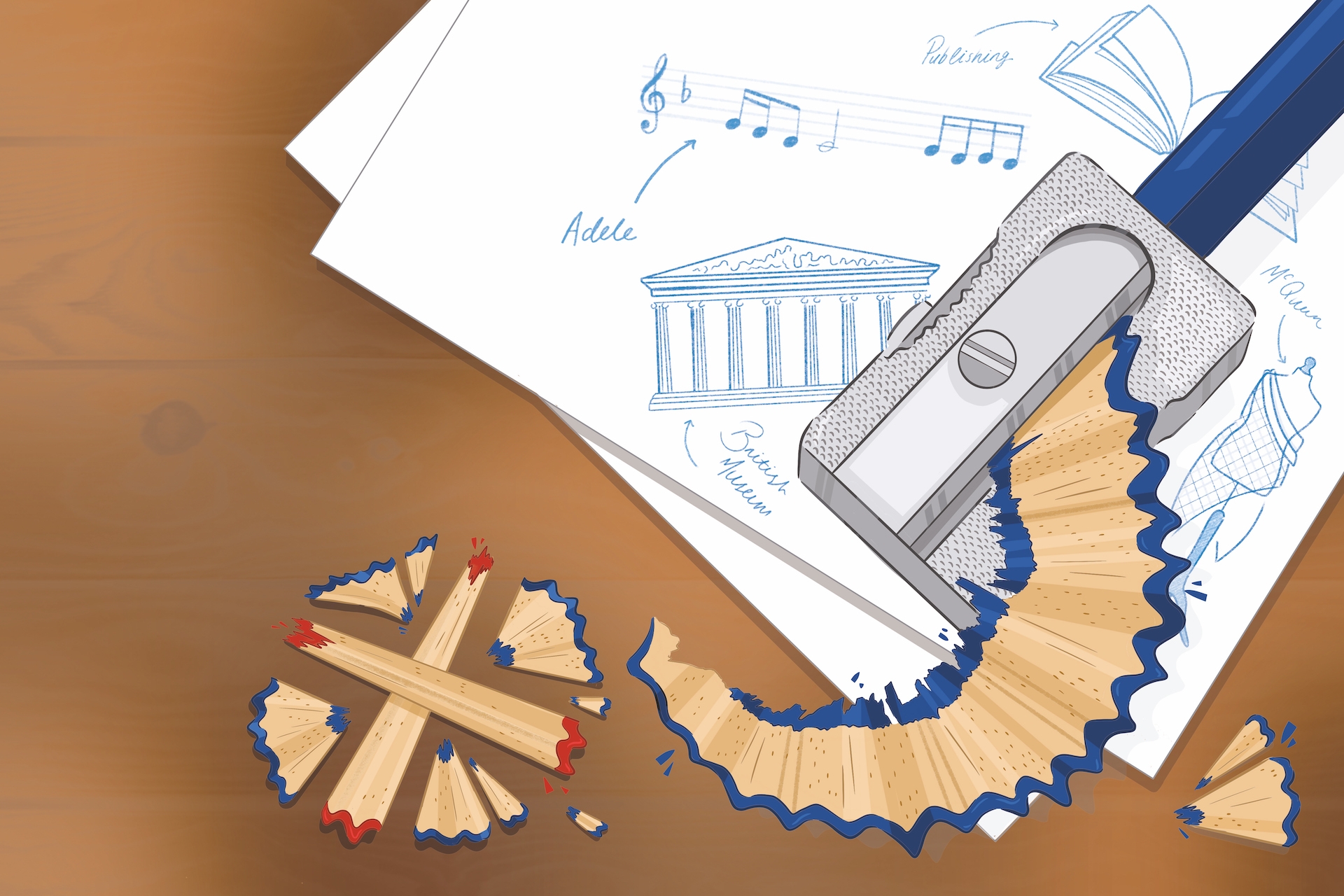 Britain's Got Talent: How Britain Leads in Creativity
---
The UK leads the charge when it comes to the creative industries, says Peter Bazalgette, RCA Pro-Chancellor and former chair of the Arts Council and of ITV. He celebrates Britain's creative innovators in the following essay.
Celebrating Britain's Creative Innovators
According to the Global Innovation Index (yes, there is such a thing), the UK ranks fourth in the world behind just Switzerland, the US and Sweden. And it's reported we're particularly strong in creativity, research, financial services and infrastructure. I want to focus on one of these, our creative industries: our TV shows, popular music, video games, advertising and marketing, architecture and design, fashion, and software. We're open for business and it's our ideas that we like to share with the world – to the tune of more than £50 billion of exports annually.
In 2014 I was lucky enough to accompany the then Prime Minister and Chancellor on a trade trip to China. We were generously hosted by the National Theatre of China in Beijing. And the show they put on for us was strangely familiar, albeit in Mandarin. They'd staged the enormous British hit, War Horse, and we saw brilliantly spirited performances by their actors, dressed of course in the uniform of World War I officers on France's Western Front. Later, at a banquet with Chinese ministers and officials, 500 people watched in awestruck silence as one of the War Horse 'puppets' entered, pounding its proud hooves, moving around the guests.
What's the value of an idea?
Our wonderful children's author Michael Morpurgo originally wrote War Horse as a book, with its captivating, if sometimes brutal, tale of horses in World War I. It was a bestseller. Our National Theatre turned it into a spellbinding piece of theatre. Then Steven Spielberg made it into a Hollywood movie. When a great idea strikes a chord, exploring universal themes, it takes on a life of its own, delivering great cultural value and simultaneously fuelling the growing economic contribution of the creative industries worldwide.
Much of our creative industries' output is rooted in the need for human beings to both tell and be told stories. It's the way we make sense of our lives and hone our empathy muscles. And Brits have a particularly pervasive tradition for this, rooted in the brilliance of Shakespeare, translated into virtually every language in the world. Is it too much of a stretch to see this sensibility in our TV soap operas that sell around the world? Or in the TV dramas our rapidly growing studio production businesses are supplying to international streaming services? I'd argue not. The essence of telling stories is capturing an audience, not just at home. This applies just as much to video games, where we've been the world's third largest producer, with hit franchises like Grand Theft Auto, Tomb Raider, Burnout, LittleBigPlanet, Wipeout and Dirt. And our music exports, where every haunting song touches an emotional as well as a literal chord. In 2021, artists like Adele, Ed Sheeran, Dua Lipa and Dave each notched up more than 100 million global streams. Not to leave out our advertising and marketing industry, whose creative output burnishes the world's brand stories.
Indeed, we think of our creative sector as a collection of sub-sectors: screen, advertising, video games, publishing, music, all of which feature above. But we also promote fashion and fashion design, celebrating the likes of the late Alexander McQueen, Stella McCartney and now Daniel Lee, the new home-grown Chief Creative Officer at Burberry. And increasingly we talk of createch: the magic that happens when great creative design meets tech innovation. Last summer a televised Platinum Jubilee concert outside Buckingham Palace celebrated our Queen (sadly only a few months, as it turned out, before her death). At its culmination, there was a spectacular digital display above the palace. Four hundred drones were deployed in fluid formation, magically conjuring up some inspiring images, ending with the fantastical silhouette of a corgi (Her Majesty's favourite pet). It amazed and delighted everyone watching around the world. The company behind it was SkyMagic, based partly in the UK and Singapore. We'll be investing in createch in years to come for both its cultural and economic value.
The innovation of Britain's creative innovators
I currently chair the Royal College of Art in London, an institution set up in the 19th century to encourage excellent art and design in the support of commerce, and repeatedly voted the number one art and design college in the world. Its international graduate students specialise in fusing creative design with innovative technology. Recent successful spin-outs include a comfortable mouth cover for cattle, which cuts down methane emissions, and a pollution-reducing device attached to tyres that collects the minute particles they throw off. You get the picture. The next decade is set to see an explosion of createch and we welcome ingenious students from everywhere to join our hubs of excellence.
When I write about the UK's 'creative industries', here they have a specific meaning. We were the first country in the world to identify and define such an industrial sector in 1997, measured via nine key sub-sectors: advertising; architecture; crafts; design and designer fashion; screen, radio and photography; software and computer games; publishing; museums, galleries and libraries; music and performing arts. And we added the definition via which we worked this out: 'industries which have their origin in individual creativity, skill and talent, and which have a potential for wealth and job creation through the generation and exploitation of intellectual property.'
This market intervention has borne fruit. And it's backed up by other market interventions in the screen sub-sector. The BBC is perhaps the greatest example, dating back to the 1920s, when radio first took off. As it developed through the 20th century, it incorporated television, too, to become a dynamic partner in our democracy. Because, unusually, it's publicly funded but with the specific journalistic remit to hold the government to account. It's from this philosophy that the BBC World Service sprang. It was via the BBC World Service that Gorbachev, under house arrest during an attempted coup, found out what was really happening in his own country. Still today, Russian citizens can get a different perspective on the Ukraine conflict from the BBC, distributed on platforms like YouTube. The BBC is required to be impartial. There are many arguments here and abroad about how well it manages this. But it does genuinely strive for it.
As seen on screen
Britain has an outsized share of television formats, led by the likes of Who Wants To Be A Millionaire?, Britain's Got Talent and Survivor. Impressively, our formats account for around half the worldwide trade in this intellectual property. One of the main reasons for this, apart from our inventive producers, is that our main broadcasters constantly demand new ideas, as they are required to by their licensing regulator.
Another more recent market intervention has been a system of 'tax credits' for UK-produced TV and film dramas. Along with our strong craft talent base and our happy possession of the English language, this has led to an extraordinary boom in screen production, fed by strong demand from streaming platforms like Netflix, Amazon, Apple and Disney+. In fact, by the end of 2022, we probably had more studio space than Hollywood. We host top movie franchises like Mission Impossible, popular streaming hits such as Game of Thrones, and a plethora of other series and one-offs. We also have a particular speciality: a strange preoccupation with murder, for which Agatha Christie was probably originally to blame. We kill off the population of a medium-sized city every year in our various hit dramas, and a cast of celebrated detectives never fails to find the culprits. One of our best sellers, Midsomer Murders, appears onscreen in some parts of the world simply entitled, English Murder.
We see ourselves as a creative country. And I hope others can acknowledge that the evidence demonstrates this is more than national vanity. More importantly, our creative sector remains very much open for business with the world. We see this as a two-way street, from the valued international students arriving to join our art schools and universities, to the TV formats we're happy to swap with the rest of the world. For instance, the biggest break-out entertainment hit on British screens at the moment happens to be the brilliantly original Masked Singer from South Korea.
We're currently in the early years of an industrial revolution, that of the digital internet age. As AI destroys occupations in many traditional areas, creative sectors will deliver growth in high value jobs – after all, you need people for ideas. So we can enhance our economic health as well as our cultural wealth. We're up for it.
Illustration: Rosie Hunter