What do George Clooney, Nicole Kidman and Daniel Craig have in common, stellar acting careers aside? They are all ambassadors for Omega, which is why I'm at the Berkeley Hotel waiting to meet Eddie Redmayne, the latest name on the watchmaker's formidable roster.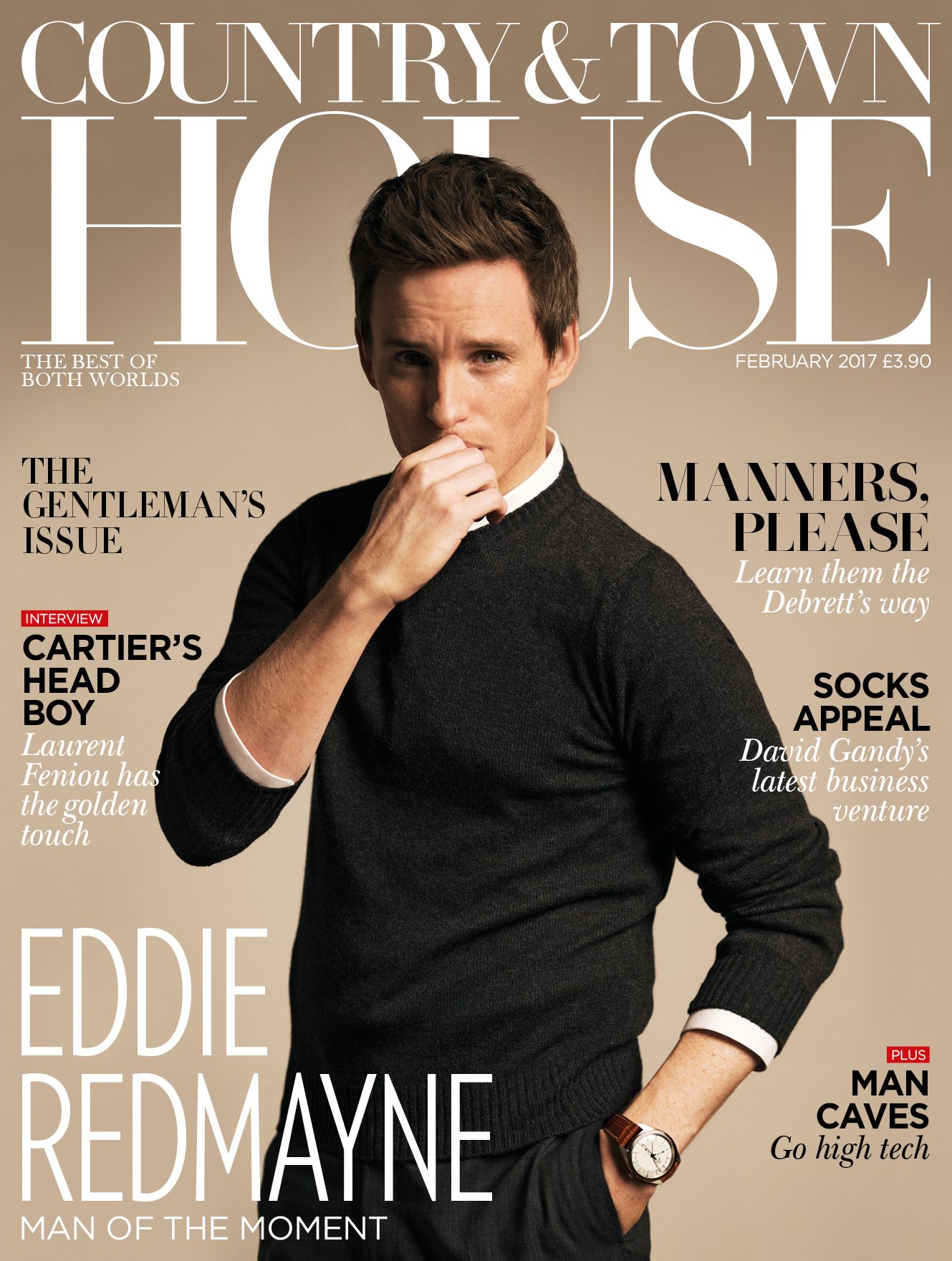 Redmayne's appointment in March 2016 is just part of what could be termed an 'annus mirabilis' for the young British actor (34). On 2 December 2016, he received an OBE from the Queen; in June, his wife Hannah gave birth to their daughter Iris; currently Eddie is promoting his film Fantastic Beasts And Where To Find Them, a spin-off from the Harry Potter stable; and to seal his rapidly growing style credentials he fronted Prada's A/W'17 campaign, after being crowned GQ's Best Dressed Man in Britain in January 2016. Phew.
On success…
'Thank you, thank you,' enthuses Eddie with a grin, when I remark on what a year it has been for him. He's dressed impeccably in Saint Laurent shirt, Prada sweater and Margaret Howell trousers and is so slim that I could probably get my arms around his waist twice and, of course, you can't miss those cut-glass cheekbones that give him his model-ready looks (attributes Burberry must have noticed years back when they cast him in their 2012 campaign alongside Cara Delevingne). Known as a 'really nice guy' in the business (something he says that those who really know him wouldn't say), he has got a jack-in-the-box nervous energy and puppy-like boundless enthusiasm about him that I suspect is needed to inhabit some of the extraordinary roles he's played in the last 13 years, since his graduation, first from Eton and then Cambridge (he gained a 2.1 in History of Art), most exceptionally as physicist Stephen Hawking in The Theory of Everything, which won him an Oscar for Best Actor in 2015.
'You have no expectations as to what it might be,' says Eddie about his OBE. 'We arrived [at Windsor Castle] and we went up the longest, straightest road in the world and there was fog across it. It was beautiful. Inside people were dressed in blue cloaks with scarlet collars, and you got to meet all the soldiers, and the castle looked amazing with all its Christmas decorations. It was all a bit overwhelming.'
On becoming a father…
Not as overwhelming one might imagine as the birth of a child. What has fatherhood meant to the man who, speaking of his marriage in 2014, said it was 'the most wonderful thing I've done'? 'It's such a cliché, but the only negative is the sleep deprivation. One night Iris slept all the way through and we were like, "Our lives have returned!", only we got sucker punched the next night by being woken at all hours. But despite that, you can go into her room mildly furious and then there's this massive grin waiting for you and all is forgiven.'
Eddie wrapped up filming for Fantastic Beasts last March so has been very much around for Iris' first few months, but whereas many new parents might not dare leave the house for a while, he and Hannah were happy to fly out to the Rio Olympics with Iris at just eight weeks old. 'There was a slightly worrying moment when we were on the plane with lots of Olympians and there was the fear that Iris would keep them up and screw up their medal chances, but they seemed to do ok!'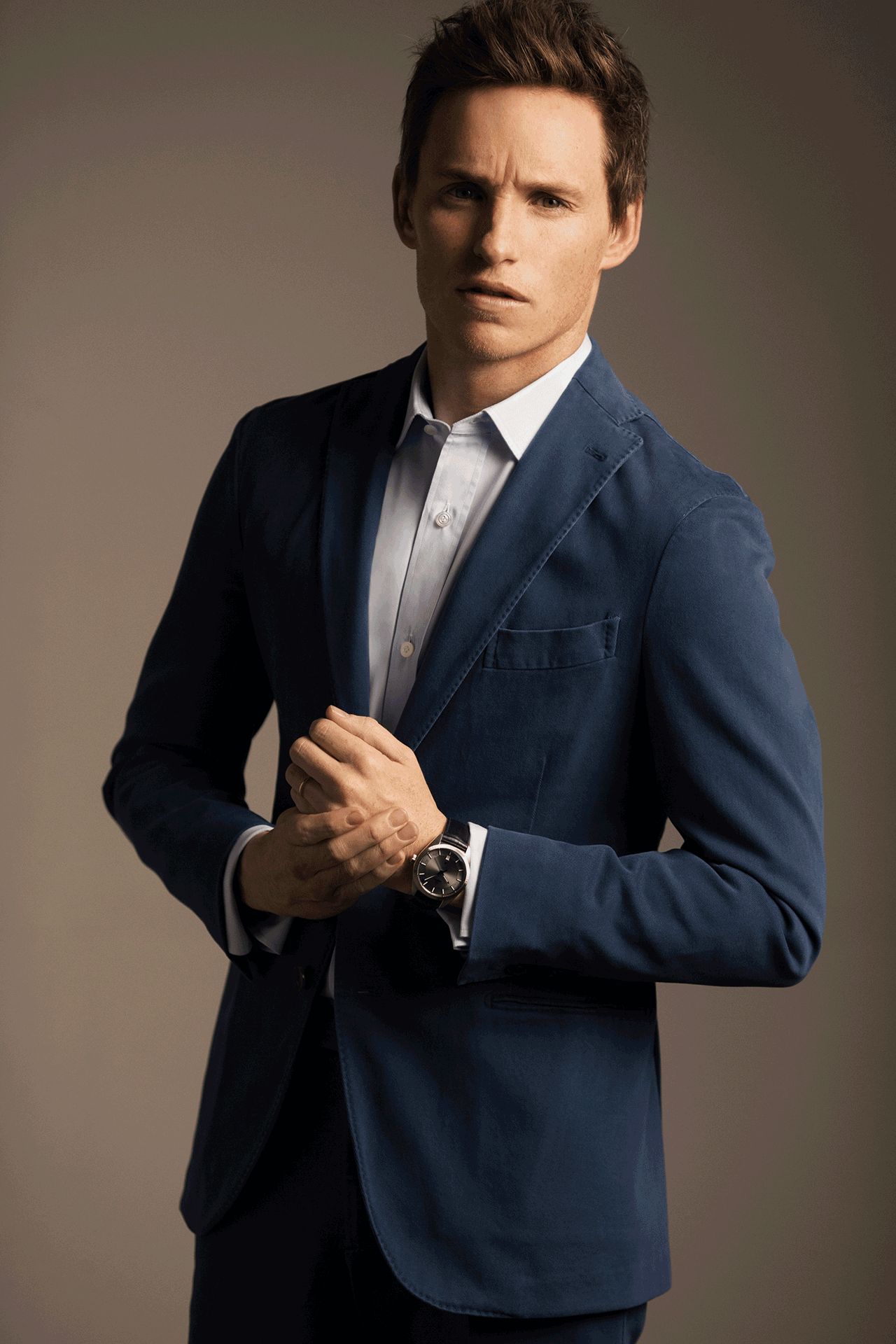 On art & style…
Away from the screen, Eddie is a collector of art 'in the most gentle way'. 'I've got a couple of prints and drawings but nothing of any value. I'm quite badly educated on contemporary art, although we do always go to Frieze Masters, which I really enjoy.' And where did he get his best-dressed-list style from? 'I definitely have not always been – or will always be – a well-dressed person. A lot of it came down to the Burberry campaign I did. I went for a fitting and the clothes were so tightly tailored that I was like "whoa!", but when I saw the photos I realised that the suit looked so much better so that changed my take on tailoring.' He's a fan of Prada, naturally,
but also name checks Gucci, McQueen and Hardy Amies as his go-to designers.
Eddie and Hannah live in Borough, south London, and he likes 'the fact that it's really central but can also be very quiet at weekends'. He loves going to the theatre (the Young Vic being a particular favourite) and museums, but mostly his free time is spent 'keeping his child alive'. The couple also rent a 'battered old farmhouse' in the Midlands, which they're slowly bringing back to life.
Would we ever lose him to Hollywood? 'I didn't love LA at first because if you're used to being someone who walks, you're screwed. But after going for 12 or 13 years I have a great affection for it, although, as an actor, your outlook is coloured by whether you're having success or not because it's such a one-industry place.'
And now to loop back to why I'm here in the first place. I admire the Omega Globemaster Calendar he's wearing. 'It tells me the date which is very useful. I'm a rancidly aggressive timekeeper and my wife is always late, so there's many a gentle family row over timekeeping.' But Eddie has long known the brand since his dad wore an Omega De Ville that he always admired. Then, after hanging out at Omega House during the 2012 London Olympics, a relationship was born. 'When you realise there's a narrative that goes far beyond the object, it's really amazing. I'm seduced by stories.'    
His enthusiasm for the brand and its history is seemingly as great as the other topics we've chatted about in our 20 minutes and perhaps that's Eddie's skill, he's as believable off screen as he is on it.
Eddie Redmayne is an ambassador for OMEGA watches and the face of the OMEGA Constellation Globemaster collection.
MORE INTERVIEWS: David Gandy on socks, social media and Saturday nights / Exclusive Interview: Alex Gregory on life after rowing / Ben Ainslie the Trophy Hunter
---