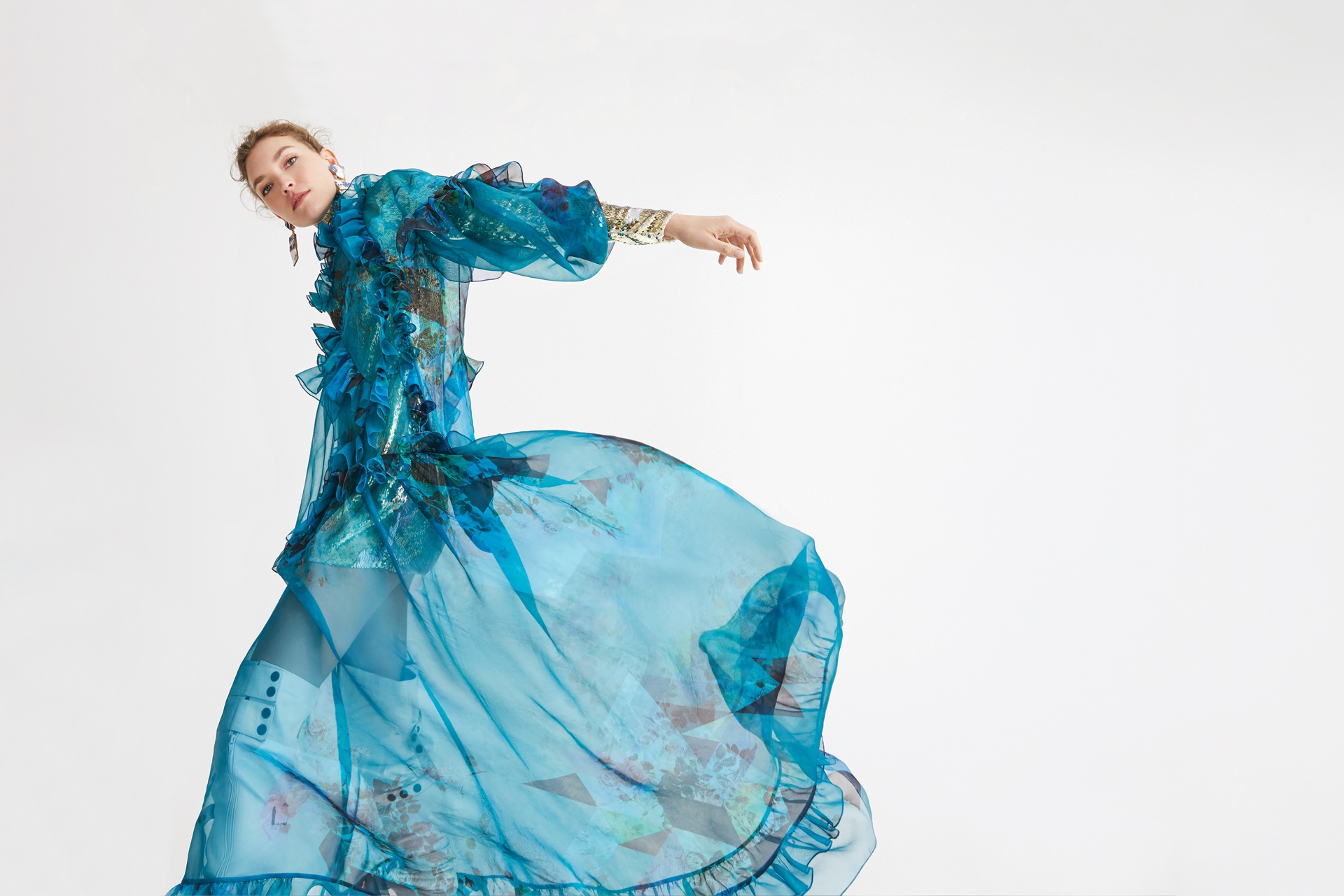 Act Now: Arizona Muse Sets Out Her Sustainable Fashion Agenda
---
Arizona Muse is is the poster girl for sustainable fashion. She issues a clarion call to the industry and consumers alike to put sustainability at the heart of everything they do, before it's too late.
The Waiting Time is Over
As a model for the past 11 years, I have had a front row seat from which to observe the inner workings of the fashion industry. I was a full six years into my career when I realised I didn't know where my clothes were made, who made them or what materials were used in the process. These questions quickly evolved into a craving to understand the impact fashion is having on our planet.
The answers I found (after quite some digging) quickly convinced me that it's a matter of great urgency to act to help the planet in her regeneration. I say 'her' deliberately, because until we start to see our planet as Mother Nature rather than just as a lump of rock, we will never win the race to save her. This conviction catapulted me into making it my life's mission to educate myself – and others – about the most pressing issues of our lifetime: climate change, waste, pollution, deforestation, social justice, regenerative economics and agriculture, water displacement and, above all, nature.
Today, I am acutely aware of the catastrophic impact of the fashion industry. Clothing production has doubled in the last 15 years and continues to grow at a rapid rate. Fast fashion is churned out on a massive scale, introducing customers to cheap, usually synthetic clothing that is dumped after a couple of wears. Textile production is the world's second-most polluting industry, after oil – and every year we throw away hundreds of billions of pounds worth of clothing. It causes damaged river systems, acidic oceans and mountains of textile trash.
Meanwhile, impoverished, vulnerable women are exposed to exploitation and violence, sexual or otherwise, simply by turning up to work at the garment factories that employ them. In recent years, the much-publicised scandals about the atrocious working conditions in many clothing factories have tarnished the fashion industry's reputation almost irreparably.
'Fashion is a powerful force with access to global networks and a key contributor to the economy and employment,' says Ethical Era's Florence Kollie Raja, a global policy expert and sustainability consultant, 'but it is still working with very dated concepts and models from the first Industrial Revolution.'
There are, however, pioneering organisations, such as Fashion Revolution, Remake, the Ellen MacArthur Foundation and the UN Alliance for Sustainable Fashion, finding solutions and raising public awareness about the systemic challenges facing the industry. The more knowledge we have, the more empowered we are to act.
And everyone can act. Whenever I buy something, I try to follow a few simple rules. I buy second-hand as much as possible or, if I can't, I try to be more conscious about what I do buy. That means buying less and better, from brands which operate with the Earth in mind. Whether I'm buying food, skincare or clothes, I always read the label so that I know what I am putting in or on my body and can assess the impact of those products. And where appropriate, I communicate with the brands I buy from and let them know how they can do more.
We can – and should – all try to do our bit, but individual action alone is not the solution. Brands need to be on board. Economic hardship from recent lockdowns has put pressure on them to recoup large losses and the talk is that fashion's sustainability initiatives could end up on the backburner. But consumer power is a potent weapon. According to a recent McKinsey report, engagement in sustainability has deepened during the pandemic. The use of sustainable materials is a key purchasing factor for 67 per cent of consumers and 63 per cent consider a brand's promotion of sustainability in the same way. Consumers must go on demanding that brands act responsibly.
Already, designers such as Stella McCartney, Amy Powney of Mother of Pearl, Bamford, Phoebe English, Alice Temperley and Patrick McDowell are leading the way when it comes to sustainable practices, with other major fashion brands following. Burberry and Erdem, among others, are working with the aftercare industry to build sustainable clothing care into their design processes. Blanc Living, the London-based eco-friendly dry cleaner, advises brands on the fabrics and dyes they are using in their garments and what ecological impact these may have once it has been discarded.
Erdem is about to complete a company-wide sustainability review looking at every aspect of the business, and has already been working to reduce waste, upcycling past seasons' fabrics to create a ready-to- wear capsule for The Outnet and introducing more bespoke pieces. Meanwhile, Burberry has launched a five-year plan ensuring the sustainable production of cashmere in Afghanistan, with a programme of education and training for the goatherds on the ground, which
will result in better welfare for the animals, higher quality cashmere and therefore better prices for the material. It's a win-win.
Closer to home, Alice Temperley has moved her business back to Somerset, where she grew up. The area has a history rich in textile production, and Alice will be helping to support these age-old skills and crafts, since she intends to work on a 'locally sustainable' level. Locals are thrilled to have some vibrancy and interest back in an area that currently has few job opportunities.
Brands looking to do more should start their quest at The Sustainable Angle, a not-for-profit organisation that initiates and supports projects with a focus on sustainability in fashion and textiles. Its annual Future Fabrics Expo sources and curates materials with a lower environmental footprint.
The idea of just creating less stuff is already beginning to take shape too. On 21 May 2020, The Council of Fashion Designers of America (CFDA) and the British Fashion Council (BFC) released a joint message calling for a slowing down of the system. They backed the idea of just two main collections a year, to do away with much of the mass consumption and waste caused by fashion weeks. Their message followed an open letter, championed by Dries Van Noten's Forum, which called for the selling seasons to be realigned. Van Noten's initiative has recently joined forces with Rewiring Fashion, set up by a group of independent designers – their similar visions working more powerfully together.
A farmer once said to me, 'Humans do their best work when they are in a hurry'. That helped me to forgive the inaction of the world, which had been making me angry for quite some time. Up until that point I had been asking, 'How could we have waited this long?' Now the waiting is being replaced with action and momentum, thanks to inspiring leaders and global movements such as Greta Thunberg's Fridays for Future, Jane Fonda's Fire Drill Fridays and Extinction Rebellion.
Imagine walking into a shop and knowing that whatever you needed to buy had a positive impact on the Earth. How good would that feel? Sustainability should not be an add-on but a given every time. There should always be transparency about where each garment was made and the people who made it. This way brands would no longer have to hide the embarrassingly cruel life-cycle of their garments. We could remove the 'sustainable' and just call it 'fashion'.
Change starts with an almost childlike inquisitiveness about the world. We must keep asking 'why?' about everything we buy until we get to the truth. The fashion industry will have to change if we insist on questioning them. The future relies on what you choose to do next.
Arizona Muse is a model, sustainability consultant and environmental activist
READ MORE
The Great British Brands Awards / Bid to Win This Bespoke Preen Dress From The Great British Brands 21 Cover