With wedding season underway, Catherine Walker & Co are once again hitting the right seasonal style notes. The British fashion house is currently claiming column inches for flawlessly dressing mother-of-the-bride Carole Middleton at daughter Pippa Middleton's wedding this weekend.
Speaking to Country & Town House, Catherine Walker & Co Head of Design Said Cyrus talks us through the recipe for seasonal sartorial success. He also runs us through the latest collection celebrating 40 years of the fashion house and designing for royalty.

Said Cyrus, Catherine Walker & Co
Tell us about your latest collection
The Spring Summer 2017 collection reinterprets some of our most iconic designs over the past 40 years. We have reworked early 80's little tweed jackets, 90's bead-encrusted bodices over flowing silk, passementerie, exquisite crêpe de chine prints and, of course, the company's signature coatdress.
Our Ferrara dress, for example, is a contemporary take on the iconic, aristocratic beadwork for which the House has made its name – the bodice is scattered with country garden roses in crystal beads and pearls over an asymmetric silk skirt in mink and taupe.


As the only couturier to have dressed both Princess Diana and the Duchess of Cambridge, what makes Catherine Walker & Co a perfect fit for the royal family?
Catherine Walker & Co's tailoring for women makes strong use of techniques that are usually found only in men's tailoring. This is most evident in the sharp, almost military shoulder falling to a softer feminine silhouette – and this is flattering both in person and in pictures.
Our embroidery focusses on English symbolism, and crucially it is carried out by our own craftspeople in Chelsea.  We believe that combination capture something quintessentially English.
My wife and I spent a great deal of time researching what Princess Diana wore for official visits, even visiting countries in advance to make sure we had it right. We worked hard to ensure that our designs bridged her ambassadorial role for her own country but also paid respect to each destination.
It is important to remember that these designs were not chosen as most people would choose clothes in everyday life. They were work clothes to do a complicated job as an ambassador for the UK. We saw our role as giving her the tools to do that job.

Do you have any insight on their approaches to fashion and style?
Diana's fashion choices helped her convey important diplomatic messages.
She was such a great style ambassador for the UK and had an instinctive sense of occasion.  She will always be remembered for her humanitarian work. In the end, she used her dresses to save lives.
Read our interview with Princess Diana's Stylist Anna Harvey
How has your process changed over the last 40 years?
Very little has changed since my wife Catherine and I began our company in 1977.  Many times over the years we could have followed the easy commercial route, but the last thing we wanted was a money-making machine with no soul.
The beating heart of the company is 30 handpicked craftspeople – some of these gifted heroes have been with me for over 25 years.  From the early days of our company we have resolutely remained the same size so that we can continue to give the love and intimacy to our clients that gives us and them so much pleasure.
Until recently, our made-to-measure designs were only available by private consultation in the Chelsea atelier. However, in response to the growing practice of buying online, we launched an inventive new service called Catherine Walker e-couture which now means that garments can be ordered from anywhere in the world, provided clients follow prescribed steps, and secure the services of an approved local tailor or dress-maker to ensure the precision fit for which the House is renowned. This service has now been supplied throughout the USA, the Middle East, central Asia, and even the UK.
Any favourite people you've worked with?
From women in the public eye, to notable figures in the industry; brides and their mothers to those seeking the highest quality tailoring and exquisite evening wear – all of our clients are wonderful.

And anyone in particular you've been proud to see wearing your designs?
It's always such an honour to see our garments worn by clients – whether it's in the public eye or not.  When Catherine Walker & Co is featured in the world's media then, of course it's a source of great pride to both myself as Head of Design, and the entire team that make my ideas a reality.
What makes a British style icon?
I don't think I can claim to have an answer to that elusive concept, but I believe it's something to do with that union between the wearer and the design, in which the wearer is the star not the clothes.
Anyone you'd currently like to dress?
We have about 400 wonderful clients who keep our workrooms very very busy.  Of course we would never turn anyone away, but I have to be careful what I wish for!
Could you share your top tips on dressing for special occasions?
For summer daytime events such as a race meeting or wedding then hats and fascinators are of course appropriate – the one watch point is to ensure that the hat does not make such a statement that is overwhelms the entire look (unless that's what you want to do!).
For evening, if the design is doing its job then you shouldn't need too much more – complementary jewellery and a simple clutch should be enough; as before the wearer should be the star not the dress or the jewellery.
Find the perfect hat for any seasonal occasion with our hats guide
Anything else you'd like to tell us?
In this 40th anniversary year we have many exciting plans afoot. We have just collaborated with the Italian jeweller Gismondi1754 and co-created a symbolic limited edition ruby and diamond "Butterfly" necklace with a philanthropic cause. Priced at £2,500, 20% of each sale will be donated to Breast Cancer Haven. Catherine Walker & Co was a founder sponsor of the charity following my wife's illness in 1995.  I chose the butterfly because its elegance, grace and fragility reminds me of my late wife.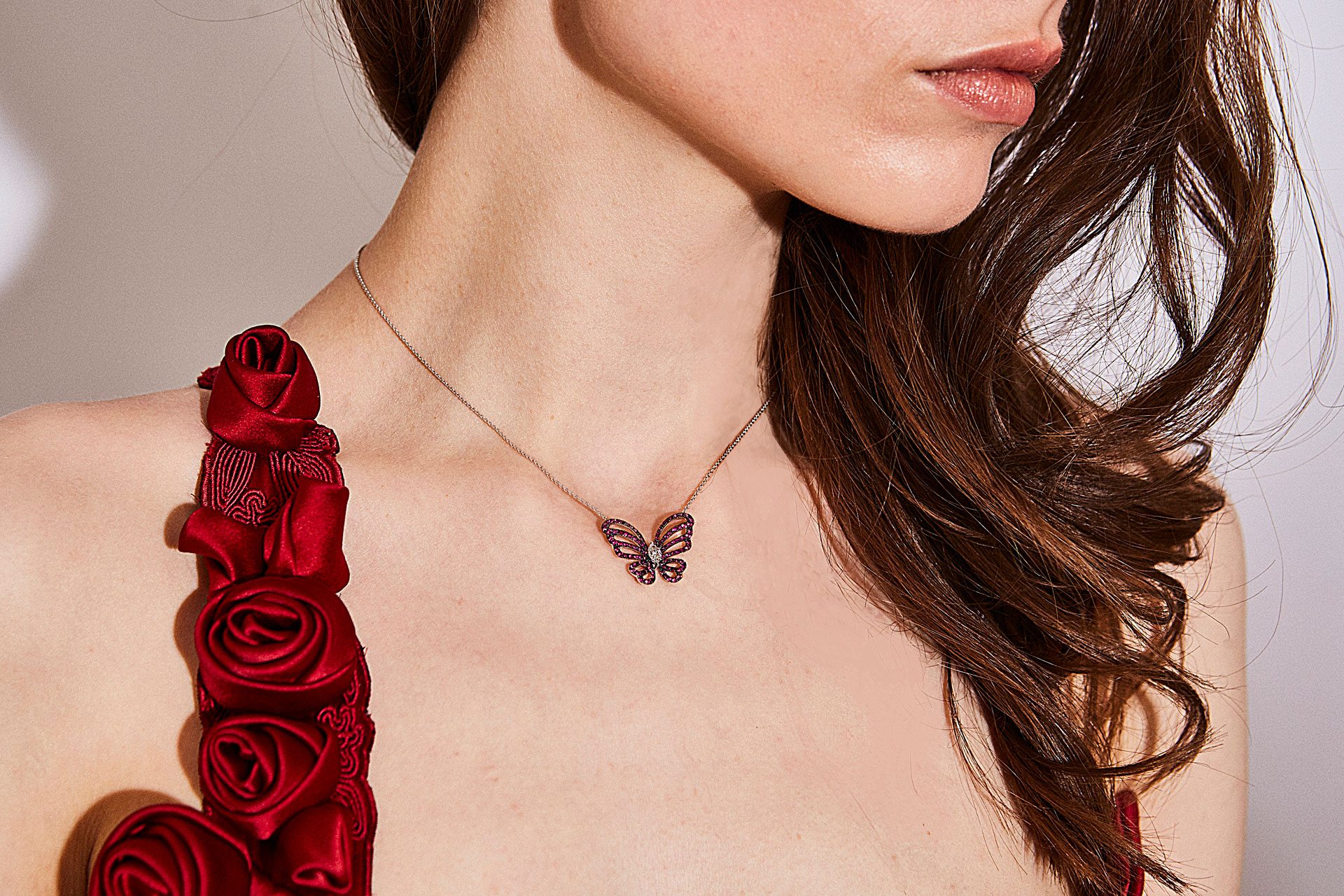 We are also holding a private event over three days in October at Spencer House. During the later years of Princess Diana's life she borrowed many of her most important dresses from us, and it is so appropriate that we display them at her ancestral home.
Catherine Walker & Co is holding a special pop-up couture display for RHS Chelsea Flower Show on Thursday in the Kings Road.
Also on this week: Read our review of the Chelsea Flower Show
---