From having Kate Middleton as a customer, to current maternity trends and how to dress through your pregnancy, we interview Cecile Reinaud, founder of Séraphine.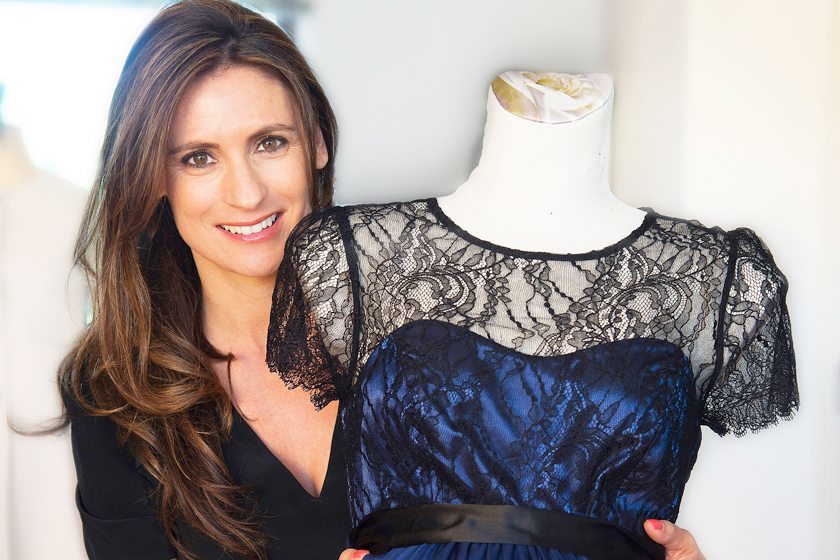 Cecile Reinaud is the Frenchwoman at the helm of one of the biggest British maternity labels, Séraphine. The brand has gone from strength to strength in recent years, not least because of 'the Kate effect'; the Duchess of Cambridge wore the brand four times during her second pregnancy and twice just after the birth of Prince George.
She even chose a wrap dress from the label for her first official family portrait after Prince George's birth. The dress sold out in under two hours, and rocketed the brand into the awareness of pregnant women the world over.
"The dress was on the front page of every newspaper around the world, so as a designer that is something you dream of but never imagine that it can actually happen," Cecile tells us. "I had to pinch myself to realise I was living this moment."
Other celebrity fans include Kate Winslet, Mila Kunis, Sienna Miller, Angelina Jolie and Princess Madelaine of Sweden.
In July this year, Séraphine was awarded a Queen's Award for Enterprise in International Trade, and now ships to 30 countries worldwide.
Find out how Celile came up with Séraphine, and what we should expect from her next, in our interview below.
Country & Town House: Why did you decide to launch a maternity label?
Cecile Reinaud: I've always had a passion for entrepreneurship, and fashion is in my blood – my grandparents supplied fabrics to the best Parisian fashion houses like Chanel and Lanvin. But I never thought of combining the two until I hit upon the idea for Seraphine while working as an ad exec at J Walter Thompson. At that time in my life, I was just entering into my thirties, everyone I knew – friends, family and colleagues – suddenly seemed to be pregnant.
I was surrounded by talk of pregnancy and babies, but the one topic that kept coming up again and again was the lack of stylish maternity clothes – and especially how hard it was to find anything nice to wear to work.
I spotted a gap in the market, did some research and ran with it. Séraphine was born and I've never looked back!
C&TH: What are the challenges associated with designing a maternity line?
CR: The main thing when designing maternity clothes is to think about how the clothes can adapt to your changing body shape and look as nice with a three-month bump as with a nine month one… We use premium fabrics with plenty of stretch and clever tailoring techniques like ruching, wraps and empire waistlines to ensure a flexible fit. Comfort is key, so soft fabrics are always a priority, and easy-care and washability is priority number two, as we know you are going to wear these clothes day-in and day-out for nine months. I like to design clothes that are versatile, the perfect dress that can take you to the office and straight onto an evening out is key for your maternity wardrobe.
C&TH: What do you think women want most when choosing clothes during their pregnancy?
CR: Well aside from the obvious – a comfortable fit with room to grow – a woman shopping for maternity clothes isn't much different from a woman shopping for regular clothes. In fact, more often than not, she'll be looking for maternity clothes that help her stick to her regular style.
When you're pregnant, your body goes through amazing changes in a relatively short space of time, and it can sometimes feel like you're not totally in control of it. I know from my own experience as well as from talking to other mums over the years, what a great confidence boost it can be to feel stylish in your clothes. At Séraphine our motto is "design clothes you would want to wear even if you were not pregnant!"
C&TH: What was your first thought when you saw the Duchess of Cambridge wearing one of your pieces?
CR: I will never forget that moment! She wore our signature dress – the Fuchsia Knot Front Maternity Dress for the first official pictures with Prince George, and I felt hugely proud that she chose my brand for this special occasion. The dress was on the front page of every newspaper around the world, so as a designer that is something you dream of but never imagine that it can actually happen. I had to pinch myself to realise I was living this moment. Above all it was amazingly gratifying for my whole team, who work relentlessly at making Séraphine the best maternity wear brand and we had this explosion of joy in the office when we heard the news.
C&TH: Who would you love to dress?
CR: At Séraphine we have a reputation for dressing all the most stylish bumps, and we've had some very exciting clients over the years. Just last week actress Olivia Wilde wore one of our maternity maxi dresses – she's a known fan of the brand and we dressed her during her first pregnancy too. From top models like Doutzen Kroes and Karolina Kurkova to rock stars like Gwen Stefani and Shakira, Hollywood A-listers including Jessica Alba, Kate Winslet and Anne Hathaway to name but a few, and royalty like The Duchess of Cambridge and all three Princesses of Sweden.
Right now I would love to dress Natalie Portman who recently announced her pregnancy, I certainly hope we will see her in Seraphine soon.
C&TH: What's this season's hero piece?
CR: This season I'm really excited about our new 3 in 1 Maternity Parka. It's a fantastic coat with a luxurious faux-fur lining. It looks really stylish on, but the best part is that you can wear it with a front baby carrier or sling! It comes with this genius kangaroo panel (also fur-lined to keep your baby cosy), which zips easily on at the front when you need it and off again when you don't. We call it 3 in 1 because you can wear it through pregnancy, afterwards with the baby carrier, and even after that when your little one has out-grown it. This coat really is a star piece.
C&TH: What can we expect from you next?
CR: I launched our baby wear range, The Diana Collection earlier this year, which offers beautiful baby dresses, coats, cardigans, blankets and more in adorable pastel shades. The collection is made in the softest woollen blends and natural cotton, and is inspired by quite traditional baby wear styles, which I paired down to suit a more modern aesthetic. It makes a real feature of the iconic Diana pastel tartan, and going into the New Year I have some exciting plans to expand the collection. I created the range in collaboration with The Diana Award, the charity set up in memory of The Princess of Wales, and 12% of the price of each piece sold goes directly to the charity. So far I am proud to say we've raised over £15,000, and I am passionate about continuing to give back and developing this wonderful partnership.
And of course I also have some big plans for Séraphine. After the success of our two New York stores, I'm planning to open a new flagship store in LA.
…So watch this space!
---