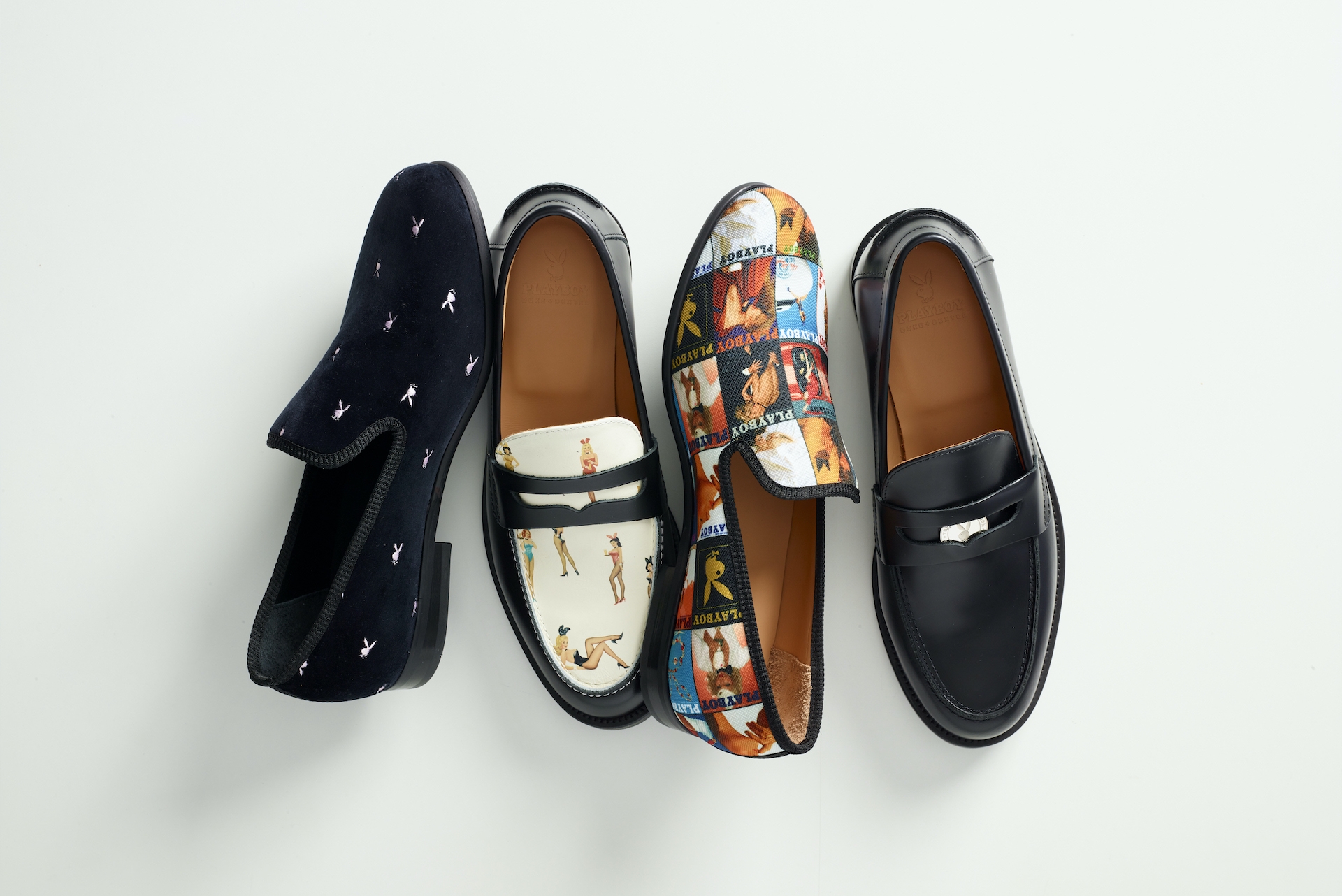 Duke + Dexter's New Playboy Collaboration Is Deliciously Retro
---
The British shoemaker harks back to the magazine's golden era
Duke + Dexter has teamed up with Playboy for a collaboration oozing with old-school glamour and fun.
Duke + Dexter x Playboy
Duke + Dexter is the British shoemaker known for doing things a little differently. For subverting expectations and taking the road untrodden. So, it's no surprise, then, that its biggest and most ambitious collaboration to date is with Playboy – a magazine that is as controversial as it is iconic.
The eight-piece collection, which launched today (26 May) harks back to Playboy's most golden era: the 1960s. It was the decade when Hugh Hefner partied with Marilyn Monroe, the Playboy Club in London's Mayfair was the place to see and be seen, and when the magazine ran interviews with the likes of Allen Ginsburg, Ayn Rand, Bob Dylan, Fidel Castro… the list goes on.
The kitsch glamour of Playboy in the 1960s has been brought to life by Duke + Dexter's new limited-edition collection with the brand, which features velvet slippers embroidered with bunnies, and loafers with illustrated pin-ups or branded silver coins.
Plus there's also accessories like branded card wallets and a tongue-in-cheek red silk dressing gown, à la Hugh Hefner, made in conjunction with up-and-coming British tailor Joseph Darcy. As usual, the collection is all crafted in England from sustainably sourced materials, and designed to go the distance.
It's all showcased in a slick new campaign starring Luka Sabbatt, the American model and cultural influencer, which was shot on 35mm film at LA's historic La Dolce Vita restaurant (favourite of Frank Sinatra, who would come with Sammy Davis Jr., as well as Gregory Peck and Anthony Quinn) by Menelik Puryear and styled by fashion heavy-weight George Cortina.
Duke + Dexter has timed the collection to launch at perhaps the most perfect time, as the world starts to open up again post-pandemic, and we're all craving a bit of old-school glamour, fun and freedom to play. And now we have the shoes to do just that.
The Duke + Dexter x Playboy collection is out now, dukeanddexter.com; allsole.com
Listen to Archie Hewlett, founder of Duke + Dexter, on the Great British Brands podcast