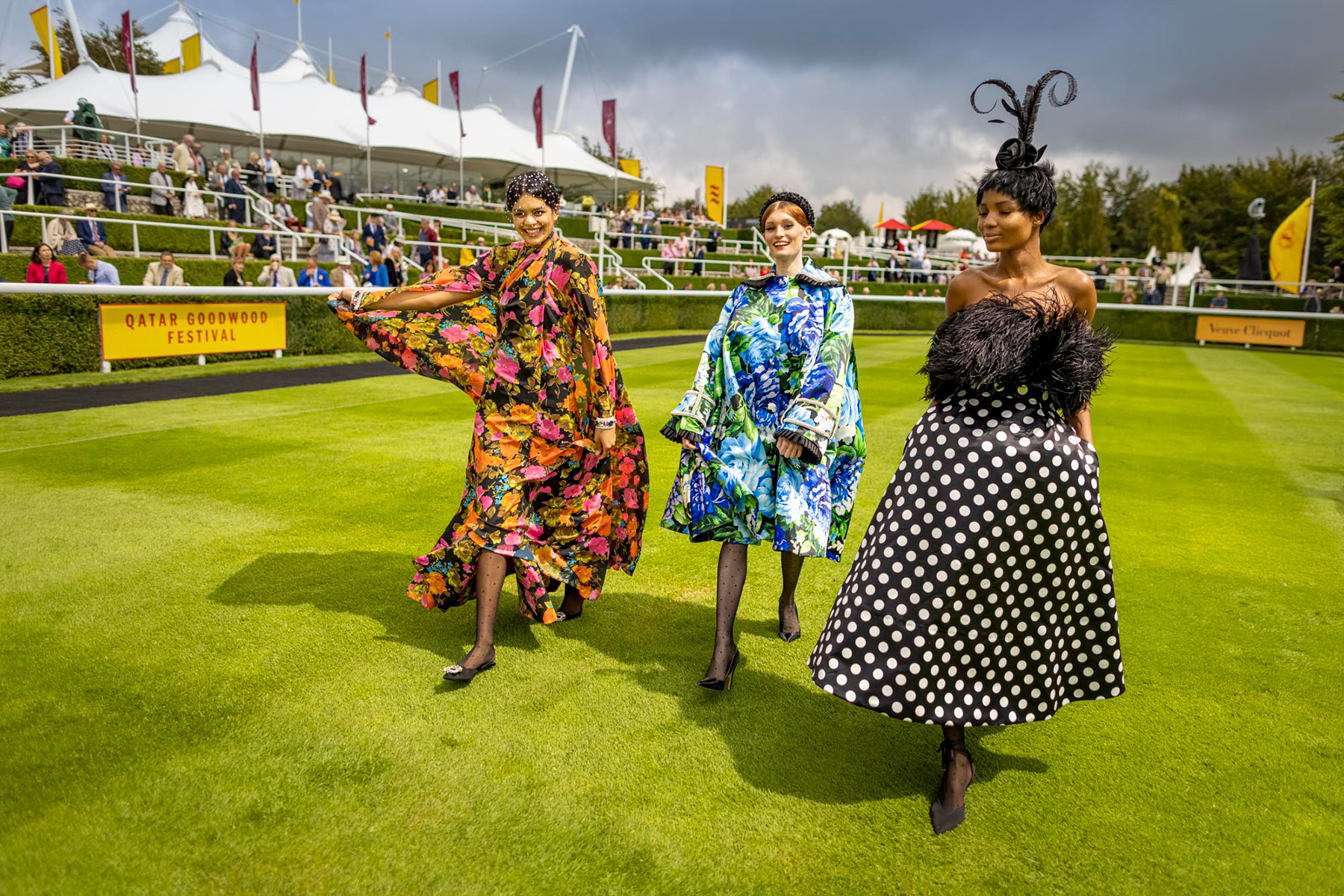 Goodwood Festival Has A New Fashion Award For Young British Designers
Glorious Goodwood is back – and more fashionable than ever...
Young British designer Richard Quinn kicked off Goodwood in style.
Goodwood Festival Has A New Fashion Award For Young British Designers
Goodwood – home of fast horses, faster cars, and fifties fashion –  launched the Goodwood Talent in Fashion Award this week, with the help of inaugural winner Richard Quinn. The prize will nurture rising British designers, giving one the chance to create three glorious looks inspired by glorious Goodwood each year. If their creations are half as exciting as Quinn's – which were unveiled in a head-turning photo finish on the Goodwood racetrack – then we have a lot to be excited about.
Held on the Duke of Richmond's 12,000 acre sporting estate, Goodwood races are second only to Royal Ascot when it comes to flamboyant fashion. The Qatar Goodwood Festival – which is traditionally held in the last week of July and will run for the rest of this week – is the estates' first restriction free event this summer.
"Goodwood has always been known for its 'England in the Summer' fashion focus, ever since King Edward VII and Lillie Langtry frequented the event," said the current Duke of Richmond, who's family have owned the estate since 1697. "It is only fitting that Richard Quinn, with his talent for creating original, show-stopping design, should launch this new award, which will support young British talent whilst helping us build a unique fashion collection of one-off pieces here at Goodwood."
Created in partnership with the British Fashion Council, the prize will be awarded each year to a young British designer showing creativity and flair. A panel of judges including Chief Executive of the BFC Caroline Rush, Harpers Bazar Editor Lydia Slater, and the Duke of Richmond, will select a winner who will then design and display three one-off Goodwood inspired looks.
As the inaugural winner, Richard Quinn had big shoes to fill. Thankfully, the London born designer is no stranger to first-time prizes; in 2018 he was honoured by the Queen herself with Her first ever emerging fashion designer award.
Known for his flamboyant use of print and extravagant style, Quinn was an obvious choice for judges who wanted to stay true to Goodwood's aesthetic. His three designs are a tour-de-force of vintage shapes and bold colours, which momentarily turned the Goodwood racetrack into a high fashion runway. After the festival, they will be moved to Goodwood House and kept there as part of the Goodwood Collection.
To find out more, head to goodwood.com. You can see more designs by Richard Quinn at richardquinn.com
Featured image ©Chris Ison
DISCOVER MORE
The Best of British Style – Fashion, Beauty, Brands & More