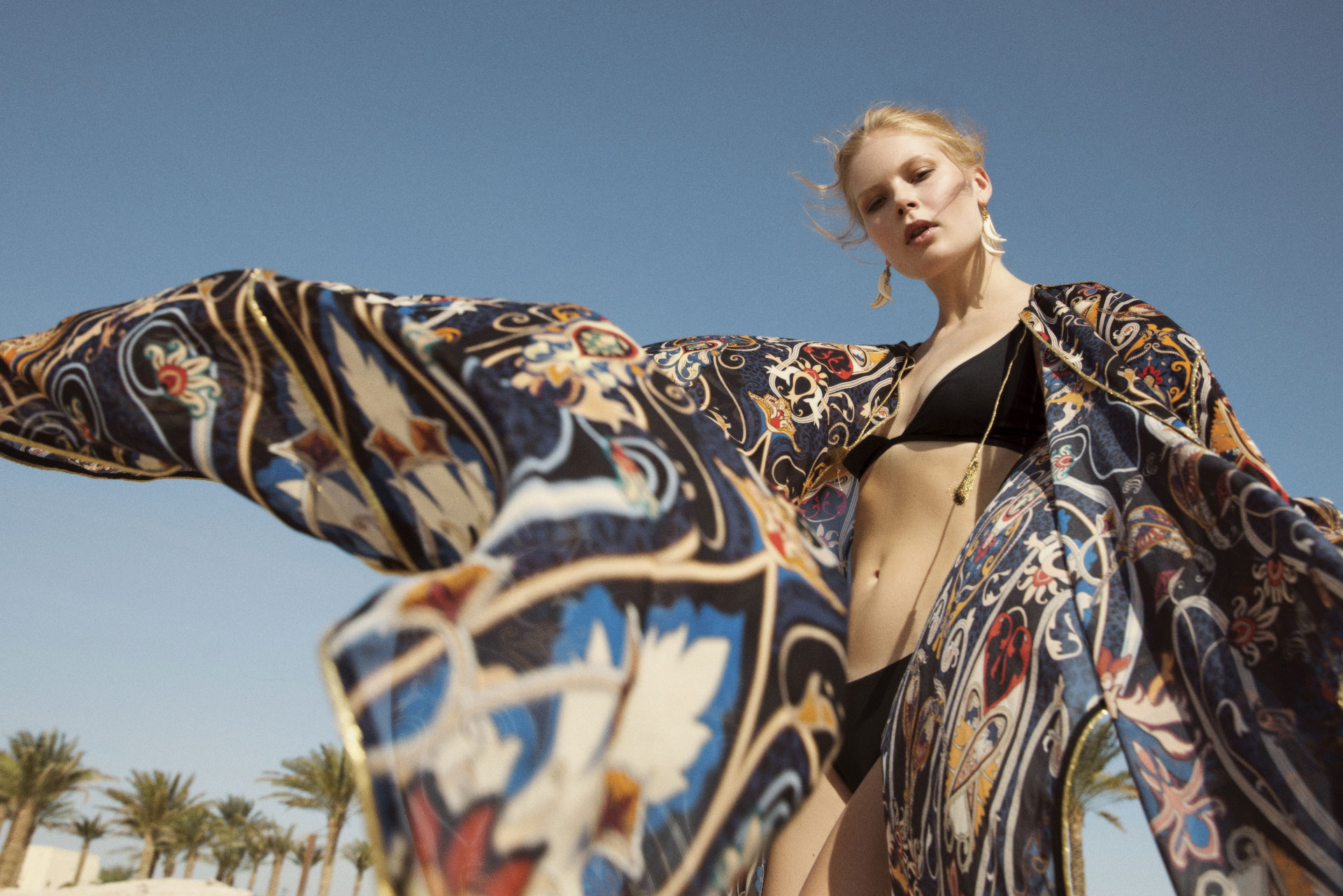 The Great Escape: Holiday Swimwear For Your Staycation
---
Beautiful swimwear styles you can wear at home or away
Whether you've booked a staycation or you're jetting off somewhere further afield, be inspired by the holiday swimwear and beachwear shoot from our July/August issue.
Holiday swimwear that will brighten any British summer – come rain or shine
Before lockdown hit our Fashion Director, Nicole Smallwood, jetted off to the awe-inspiring deserts of Abu Dhabi to capture the swimwear and beachwear shoot for our high summer 2020 issue.
Nicole was inspired by the vibrant history and heritage of the region, plus the vivid hues that come from the desert's endless horizons, deep blue skies and unforgettable sunsets. The result is a rich, sun-baked editorial that practically radiates summer heat off the page (and screen).
Statement earrings and necklaces make a confident counterpart to bold hues and snakeskin prints on swimwear, while floating kaftans and lightweight coats are the cover-ups to reach for when the sun hits its zenith.
The team stayed at Al Wathba Desert Resort & Spa, an oasis of calm that's only a 40-minute drive from Abu Dhabi's airport. The resort itself resembles an historic desert village with its flowering courtyards and meandering walkways, which is all soundtracked by the soothing natural falaj (a tradition water channel for irrigation) that runs its way through the property. Al Wathba sprawls over five acres of tranquil desert, comprising Arabian-style rooms and split-level villas with private pools. Each bedroom has its own views over the dunes and of the breath-taking desert sunsets.
From this base Nicole and the team headed out into the desert to shoot the season's best holiday swimwear and beachwear from brands like Stella McCartney, Eres, Roland Mouret, Longchamp and Dundas, and accessories from Sam Ubhi, Pebble London and Acne.
Hopefully, it's all the inspiration you need to ensure – wherever you holiday this summer – you make it one to remember.
Fashion director Nicole Smallwood
Photographer Daniel Graham Hack
Hair and make-up Lucy Gibson at Frank Agency using Clinique and Tigi
Model Sofie Theobald at The Hive