Interview: Yasmin Le Bon on her new Winser London collection (and how her daughters steal her clothes)
We talk to the model turned designer about her new line for Winser London, and how nothing in her wardrobe is safe…
This post may contain affiliate links. Learn more
Yasmin Le Bon has brought a touch of her signature effortless elegance to Winser London with her first design collaboration.
We spoke to the model-turned-designer about the launch of her first collection for the brand she's been modelling for since its launch in 2013.
As well as giving us all the details on the line ("for me, the things that are going to be important are the details and how long something lasts, how it makes you feel when you put it on, straight away,") she also opened up about her daughters' habit of raiding her wardrobe.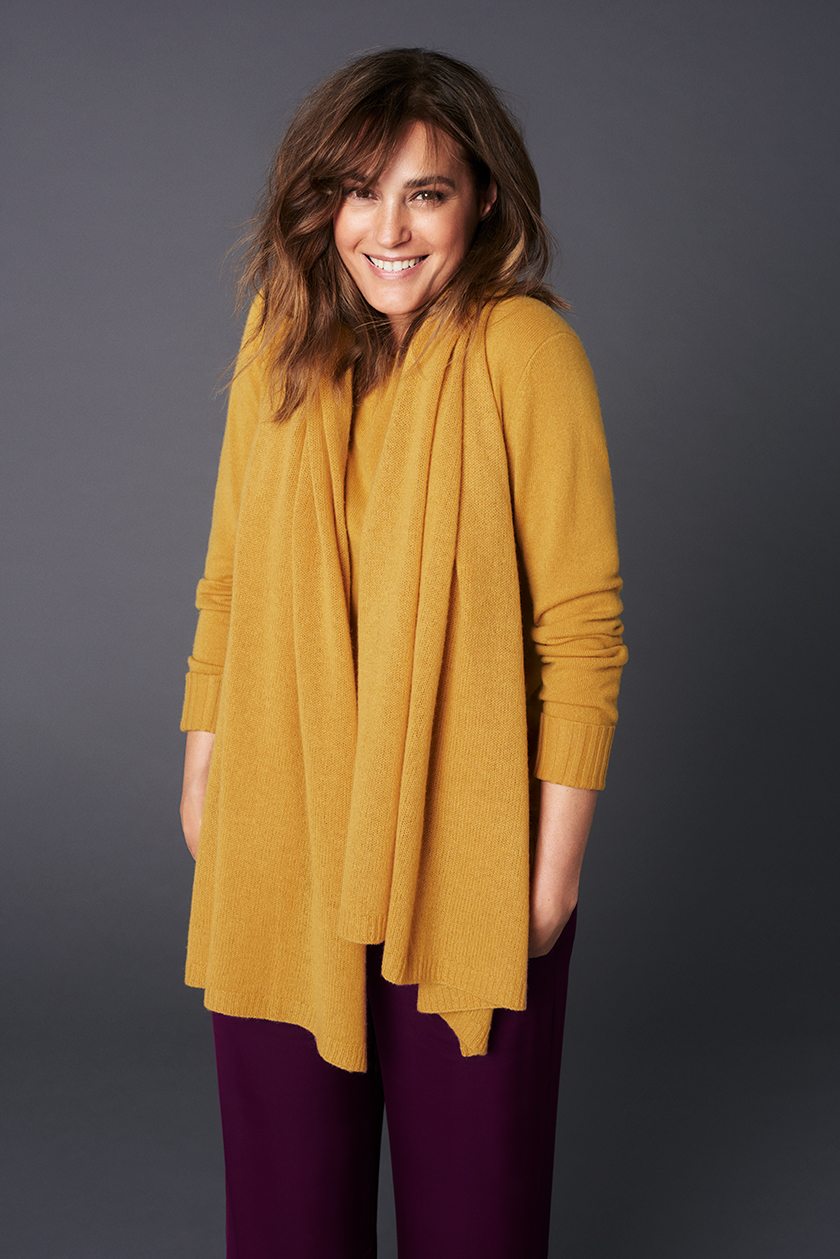 "My wardrobe does get raided, and it's about time they invested in their own clothes!" Yasmin told us of her daughters Amber, Tallulah and Saffron.
Her hero piece from the line is a pair of English Herringbone Tweed Trousers, £250, ("I just know I'm going to be wearing those pants forever. Forever. Forever.").
Read our full interview below where Yasmin talks us through the collection (and its unlikely inspiration), relives some of her favourite fashion moments, and describes the thrill of seeing someone wearing one of her pieces.
Yasmin Le Bon's first collection for Winser London is online now at www.winserlondon.com.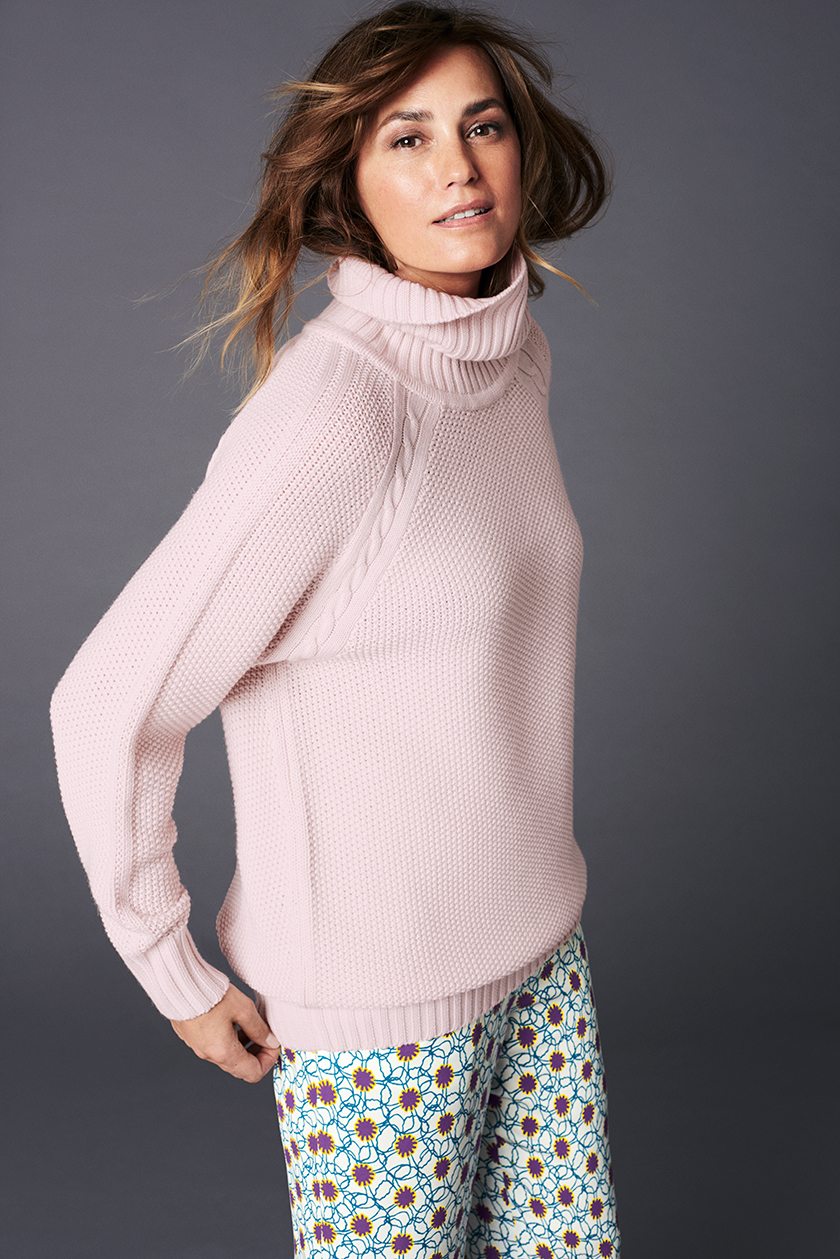 Country & Town House: You've been the face of Winser London since its launch – what is it you love about the brand, and working with Kim Winser, OBE?
Yasmin Le Bon: There's something about that gap in the market, that affordability, of luxury at affordable prices that I've been harping on about it myself for so long. So then to actually meet Kim, who had the guts to start doing it was great.
"Wearability is not a dirty word"
I love fashion and I love the authenticity but wearability is not a dirty word, it's really and truly what we all want – to be able to find things that are really wearable and that make you feel good with great fabrics.
We had such a great time when we were shooting and she's a fabulous woman. We just got on, we clicked straight away. So I actually feel incredibly lucky that a few years down the line she asked me if I'd consider doing something.
C&TH: And when she did ask you, was it an easy decision to say yes? Did you have any kind of reservations?
YLB: Well, it's never an easy decision to say yes, actually. Um, for lots of reasons you never know – we've got on so well that is this going to be the end of a nice relationship? You know, it's quite hard, collaborating is not the easiest thing in the world and, although I feel that I am a team player, I've learnt in the past that I'm maybe not as much of a team player as I thought I was!
I think that's part of why I did want to say yes as well, because they're such a small, but such a lovely team. I did want to develop that idea of being a team player, compromising – you need to compromise. Learning from other people who have got a wealth of experience, know when somebody's got something really important to give to you. And the lessons come from all over the place – not necessarily fashion, just life in general.
C&TH: And how much of your experience of modelling over the years did you bring to the design?
"I love clothes, colour, fashion, I love design in general."
YLB: Well, it's always there. It's something you can't get away from. I love clothes, colour, fashion, I love design in general. But I've been wearing everything and all sorts for so long that I don't even realise what I'm tapping into half the time.
But once you start doing things, you start looking at the detail. I think for me, the things that are going to be important are the detail and how long something lasts, how it makes you feel when you put it on, straight away. I think that's something that everybody has.
C&TH: What were your inspirations for the pieces in this collection?
YLB: Well I never really know! I have to admit that my main inspiration, really, was from classic cars. I've been a car nut my whole life. Also quite obsessed with the beginning of motor racing and how many strong, courageous women were racing these cars right at the beginning. It was a male dominated sport at all. And there's something about that kind of, that adventurous spirit that I just, I'm fascinated by. And I wanted to see whether, whether we could make the, I suppose, the values evolve into something somehow new. Make them relevant now. How would they work? How would that racing suit be?
C&TH: Is that how you would picture someone wearing this collection? On a weekend getaway in a beautiful car?
YLB: Absolutely. I mean, yes, but actually what I really want to see them doing is, you know, trotting down Oxford street with great big trainers on or something.
What I really want to see is how other people wear it. I know that I wouldn't wear it, necessarily, all together. I may, but I may just cherry-pick little bits of it. I think the thing that I was really drawn to was that they are fantastic as separates. That was, you know, learning to design separates and thinking about people using them in different ways, rather than the entire look is something that I'm interested in. That was the challenge.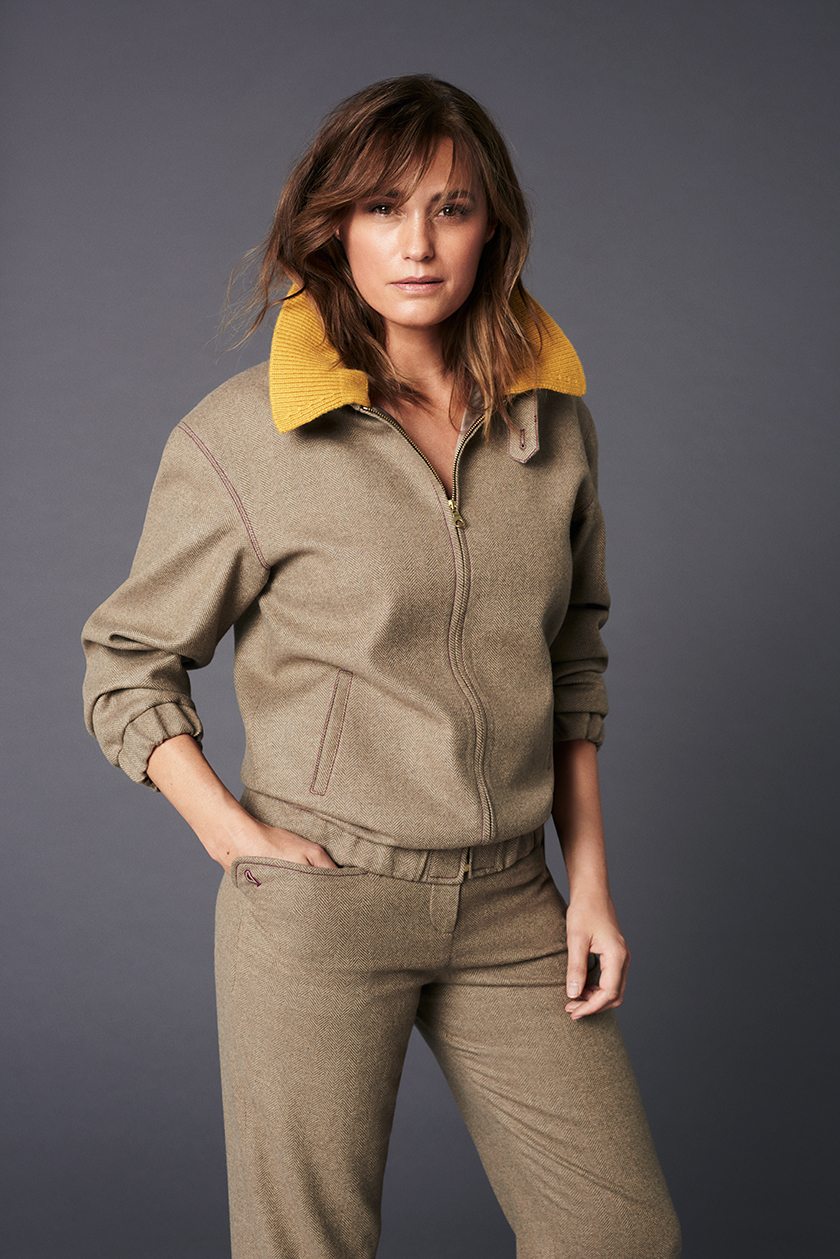 C&TH: And can you picture your daughters wearing any of the pieces? And how often do they come home and raid your wardrobe?
YLB: Well I can definitely see them wearing the pieces. In fact, I know they will be. We're going to have to work out who gets what, and in who's wardrobe does it stay?! I mean, my wardrobe does get raided, and it's about time they invested in their own clothes.
C&TH: Over the years you've had the opportunity to work with some amazing people, and obviously wear some amazing clothes. Is there a particular outfit that stands out in your mind as a favourite, or anything that you've held on to?
YLB: Gosh, no, I mean I've been doing this such a long time, I can barely remember what I did yesterday! You know, I've been lucky to wear some incredible things, and I have to say there have been some couture pieces over the years that were exceptionally beautiful at a time when couture was very 'old lady'.
I can remember wearing some beautiful Yves Saint Laurent chiffon that as just exquisite. Now we maybe wouldn't think it was necessarily couture because I think the development of technology, of fabrics, and of what we can do that's mass-produced is so incredible that we're quite spoilt. But back then, a lot of stuff I was wearing made me feel, you know, like an old lady. So there were stand-out things.
But I'm always looking for new outfits. I'm a great shopper. I'm exactly the kind of person that fashion brands want.
C&TH: Do you have any plans for a spring collection with Winser? Will you keep modelling for them, as well?
YLB: Well I have no idea, that's entirely up to them! You know, we're hoping to do Spring/Summer and hey, I might not even be modelling it. That would be a nice change. It would be nice to see somebody else modelling it.
C&TH: I know you've done one collaboration with before, with a high street brand, how does it feel when you see someone wearing something that you've come up with? Is that a completely different experience for you?
YLB: Oh, it's incredible. You almost can't prepare yourself for it. I mean, you hope for it and I completely just put it out of my mind. Because I didn't feel that was why I was doing it.
"It's a proud moment"
But when I saw people walking down the street, and particularly when I saw any of my long dresses, at events, that made me really, really happy. Really happy. It's, I suppose, yeh, it's a proud moment when you think 'Oh my god, I got it right!'. Not just for me, but actually there's at least one other person who is wearing it!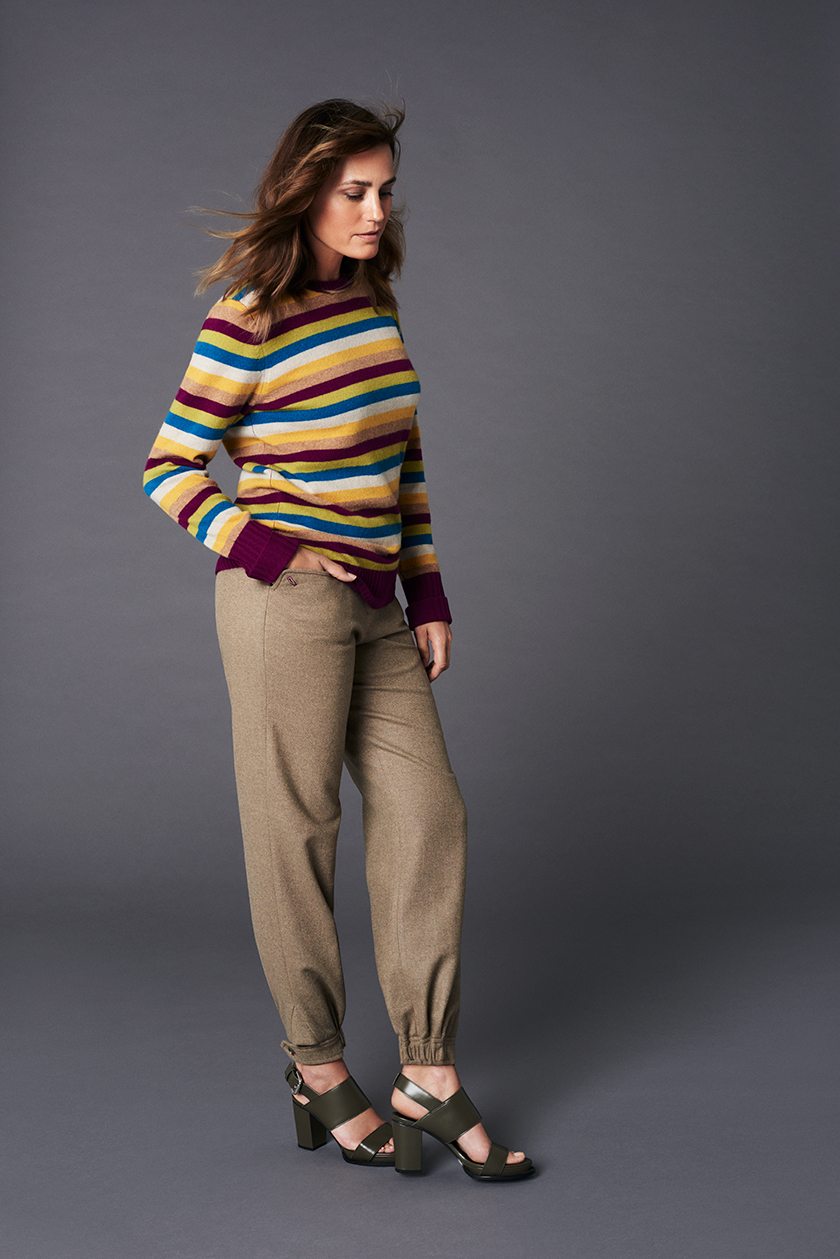 C&TH: Is there a stand out piece that you think you'll be wearing for many seasons to come?
YLB: I'm kind of obsessed with the herring bone tweed. I just know I'm going to be wearing those pants forever. Forever. Forever. In fact, they need to order more, for me! Because I will wear them out, I will just wear them out. And I've learnt to do that actually. If you really, really love something and you know you're going to wear it to death, make sure you buy two.
C&TH: Yes. I've learnt that over the years because it's heart-breaking when you wear something out, isn't it?
YLB: Yep. Really heart-breaking. Do it with shoes as well!
---