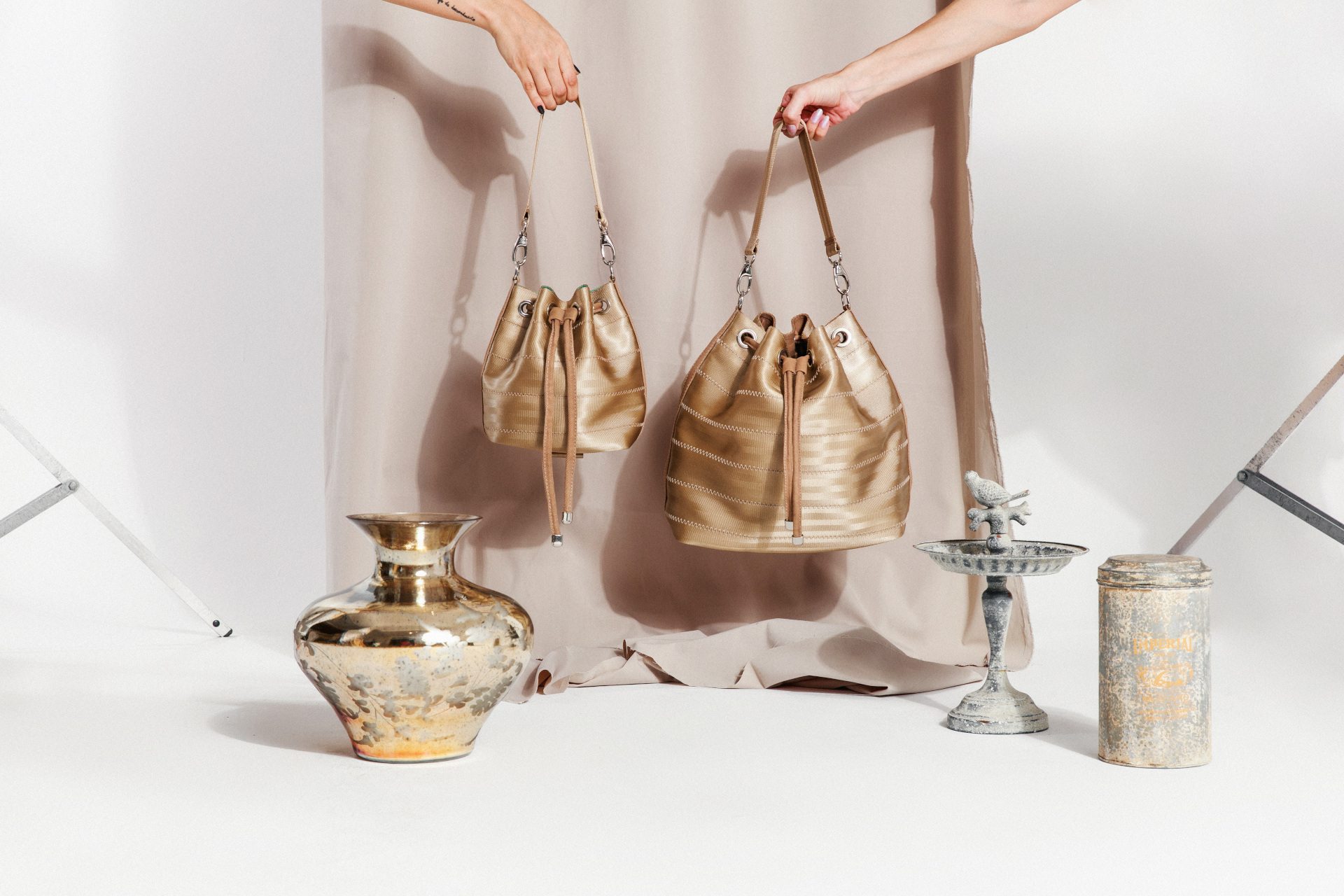 Fasten Your Seatbelts: Meet the Founders of Sustainable Handbag Brand BELO
---
Buckle up. These are the bags of the future.
Innovation is at the heart of success when it comes to fashion. While few and far between, these creators shine out like the brightest gems when given the spotlight. One such game-changer is BELO, the luxury label using its circular model to eliminate waste, grow communities and create beautiful bags. Interested? Get to the know the two women behind it all, Charlotte Bingham-Wallis and Maria Costa, as they share BELO's journey from small start-up to being stocked in Selfridges' flagship London store.
Q&A with Charlotte Bingham-Wallis and Maria Costa of BELO
What is BELO and why was it created?
BELO is a British-Brazilian accessories brand born to galvanise positive change not only in the community we work in, but also within the fashion industry. Our mission is to make beautiful products and accessories that address waste, sustainable community development and conscious fashion without compromising on style.
Each bag comes with a label stating precisely who made the bag, the benefits it brings them, what materials were saved from landfill and a photo of the maker. In addition to this a percentage of all profits are donated to Casa de Maria, a partner charity in Belo Horizonte, to provide food and care to its most vulnerable people.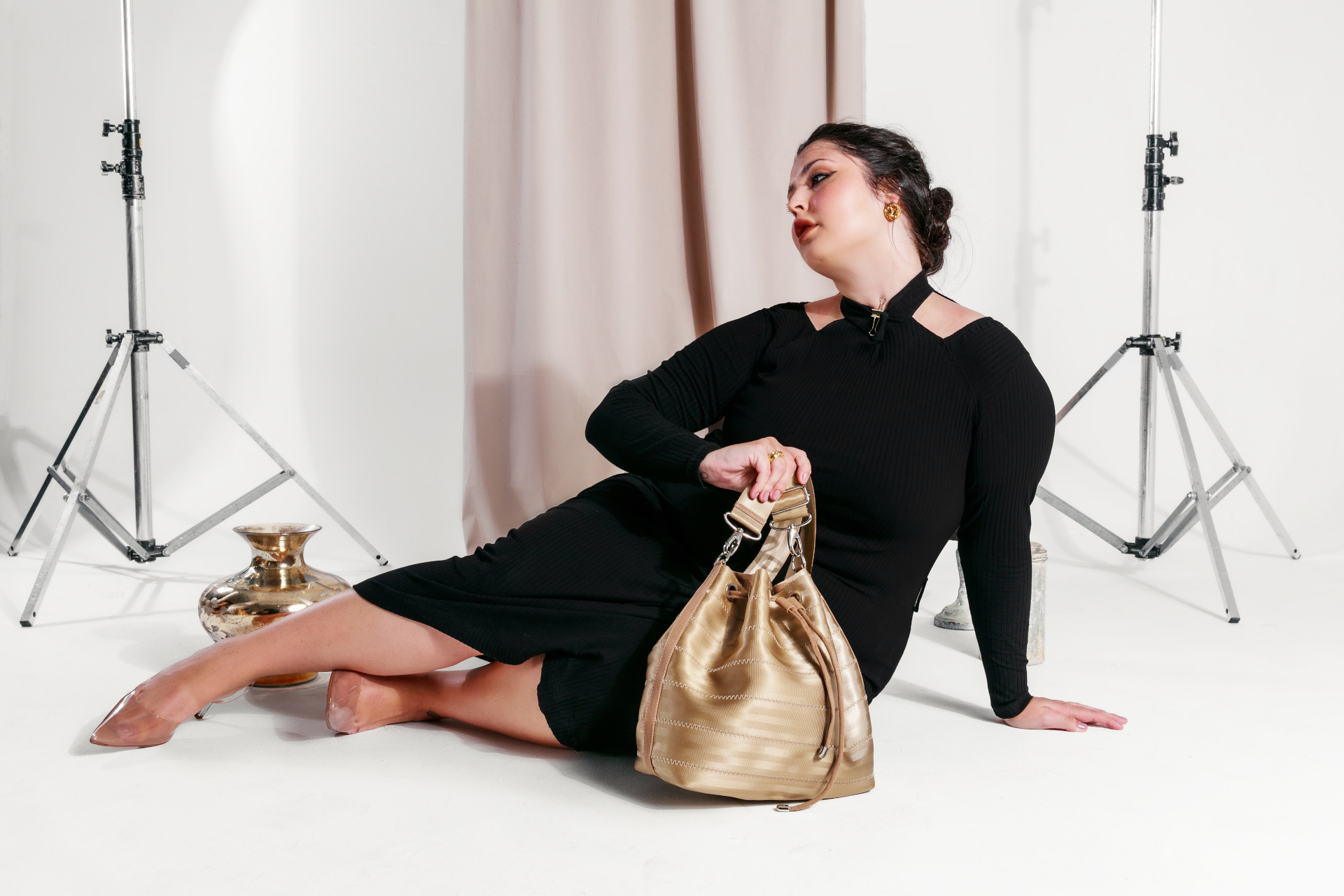 Describe BELO in three words.
Kindness. Community. Craftmanship.
How do you source the materials to create your bags?
Brazilian law dictates that drivers renew their seat belts every ten years and BELO has innovatively turned this waste into a win for both planet and people. We upcycle not only seat belts but also plastic bottles and fabric offcuts. Maria is based in Brazil and has developed a close relationship with both local car mechanics and waste collectors to source our materials, and in return she provides the mechanics' children with English lessons so they have better opportunities in life.
Where are your bags made? And who makes them?
We take pride in the supply chain we have created in Belo Horizonte, Brazil – Maria's hometown. We went from working with three to 30 artisans from an impoverished community called Cafezal, which inhabits 50,000 people. Our circular model means we give back to where we take, so our partner charity, Casa de Maria is located in the community of our artisans.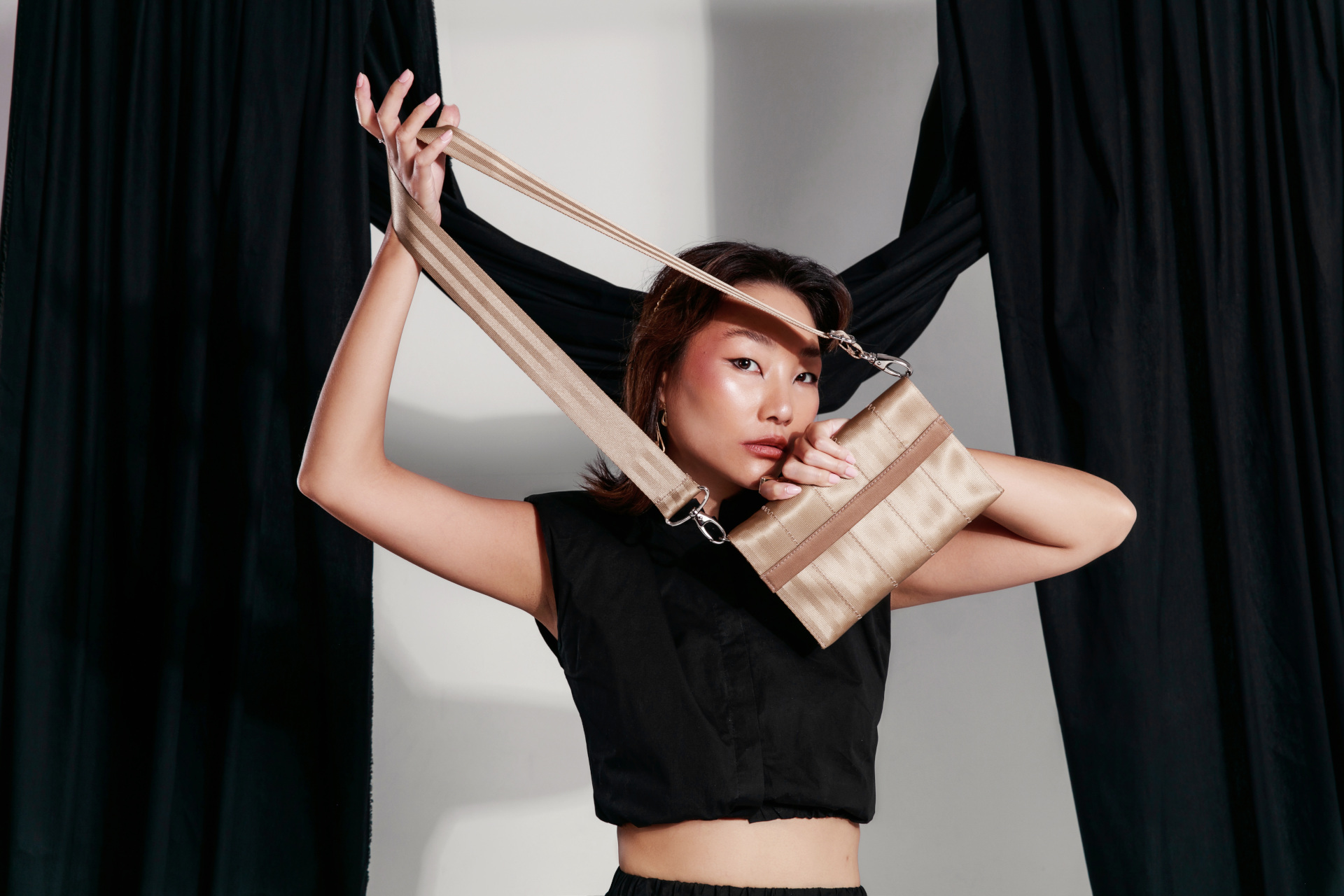 Can you tell us a bit about Casa de Maria and Não era Amor?
At BELO, we created a circular model that goes beyond materials. We reinvest into the community of our artisans by donating a portion of profits from every purchase to our partner charity Casa de Maria. The charity helps feed over 700 people a day and provides a safe space to wash, educate (for adults to learn how to read and write for better job opportunities) and provide haircuts to ensure that everyone who uses their service looks their best for potential job interviews.
We have also worked with Não era Amor, a charity that trains voluntary psychologists to provide support to women who have or are in abusive relationships.
What is your favourite BELO product – and why we can feel good about buying it?
Our Ju Bucket Bag that has just launched in Selfridges is our favourite product. This one bag is a maverick that transforms easily from handbag to crossbody to backpack with ease. Easily worn day or night, its iridescent shine is always a crowd pleaser. This bag will not only make you look good, but it will also make you feel good inside. Every Ju Bucket is made from recycled materials such as seatbelts, plastic bottles and fabric offcuts, sourced from the community where the bags are made. Each one creates a positive impact – not only does it help us employ our incredible artisans, paying them the dignity of a living wage, but when a Ju Bucket is purchased, we donate meals to the homeless and those in need via Casa de Maria.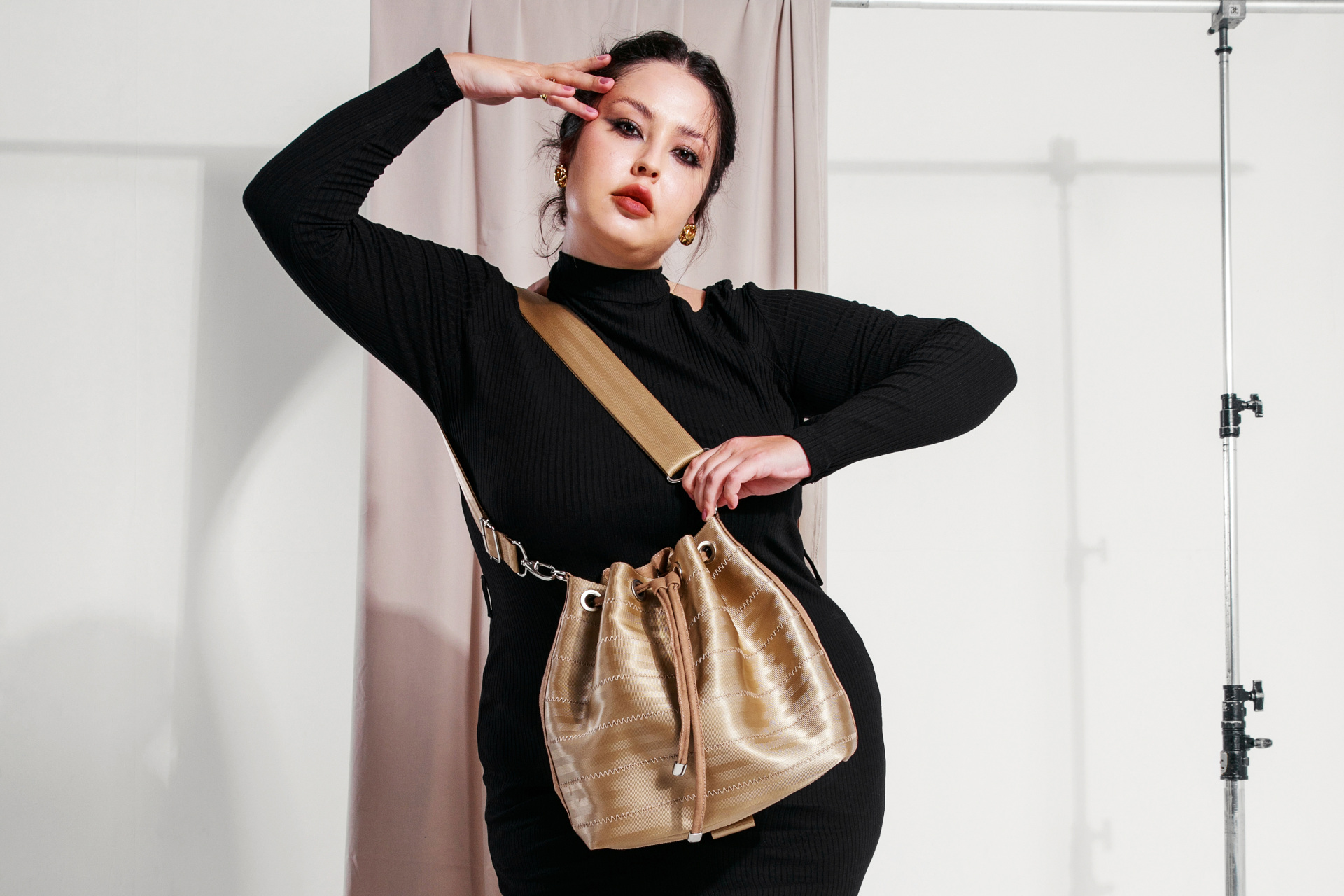 Which business practices are you most proud of?
We are very proud of our circular business model. Circular economy is based on a closed-loop system that aims to extinguish waste to reuse what is already in the system. Usually, there is a focus only on raw materials and the end product, but for us, being circular also includes the people who are producing the products. That is why we apply the same circular process to the people that we work with and rather than just take the labour, we reinvest back into their communities, so they have the opportunity to rise as the company thrives.
What kinds of challenges have you encountered as a business?
There are always many challenges when you are innovating change. Gaining the trust of our community has been a huge challenge, especially when working with unusual materials. We have taken time to listen to our community's needs rather than dictate them, building mutual respect. This has been so important as sometimes money isn't the only currency that people want to trade with. Although we do pay for 80 per cent of the materials we source, some mechanics exchange waste seatbelts for English lessons for their children. It is imperative that we understand the needs of the community we work with to ensure that they are receiving what they value most.
Other challenges have been working with our artisans to convince them that refurbished seat belts are great materials to use. At first, they thought we were ludicrous, but now they are in love with the products that they make, especially as they can see how with every stitch they help make a positive impact in their own community.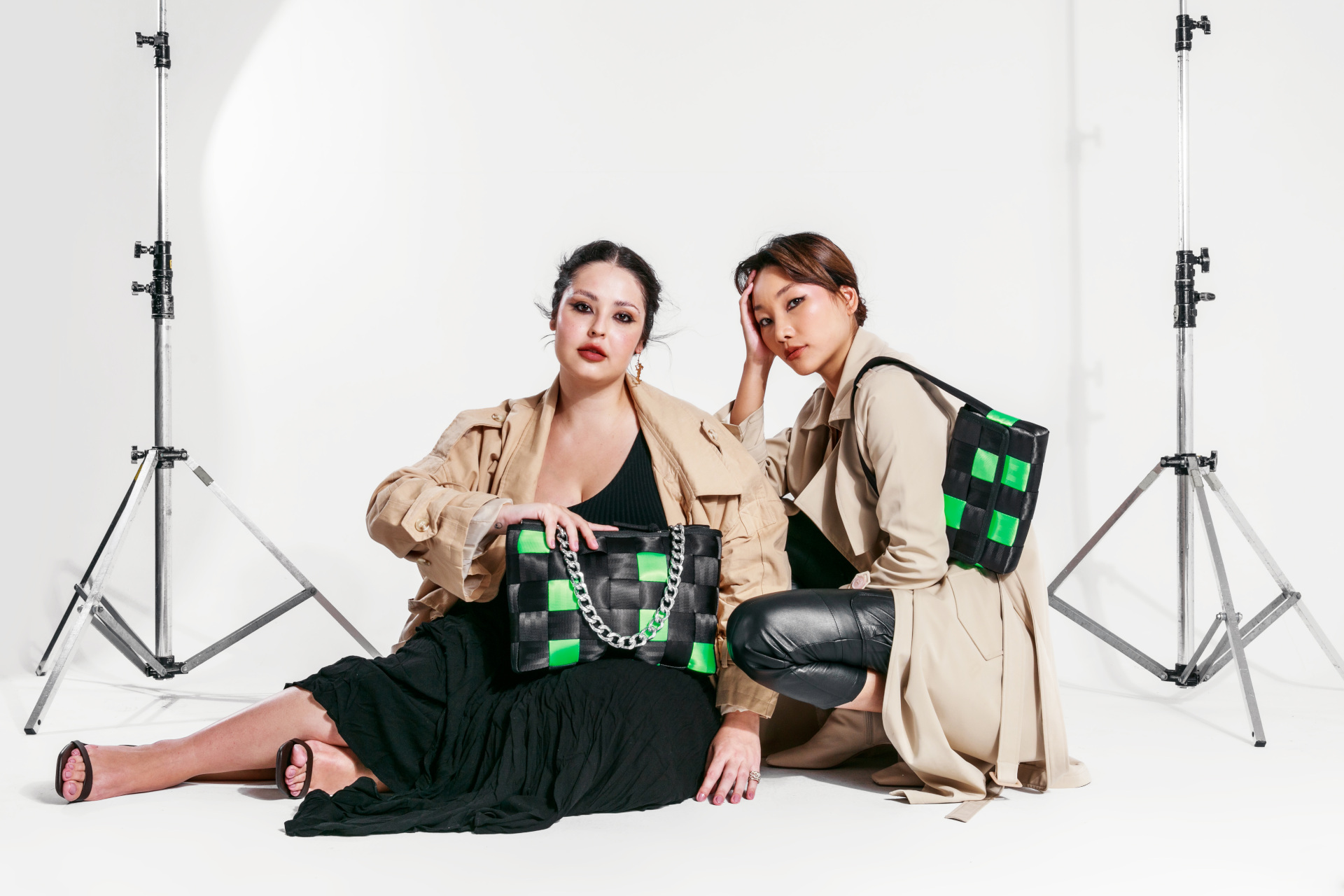 What makes you feel positive about the future?
The impact we have been able to create as a new and small brand shows that every small action soon adds up to a big positive impact. And this is what makes us feel truly positive about a better future. Our impact to date includes:
Creating jobs for the 30 artisans who make BELO bags
Donating 7032 meals (in counting)
Training nine psychologists
And saving the following from landfill:
6451 seat belts
6316 plastic Bottles
818kg fabric off-cuts
We are so proud of what we have been able to achieve so far, and how we have proved that materials that would be thrown away can be transformed into something truly special. Nothing has given us the seal of approval more than landing in Selfridges. They are leaders in innovative, design-led and conscious fashion, and launching there has been the ultimate recognition. Being on this centre stage has given us the opportunity to show the world that fashion can be beautiful and can be made in a truly conscious way. That we don't have to compromise on style or our ethics to wear something that truly makes us feel good, inside and out.
What should we be doing to help the climate change fight?
Buying less and buying wisely is something that can have a massive impact. We all have the power to make small changes, which when multiplied by many others leads to a larger impact. I think the most important thing we can do is purchase clothing and accessories that we love and make us feel good. That way you will want to wear your items repeatedly and you are less likely to fall out of love with your items or want to throw them away. A great way to help with this is by either buying a product that can be worn multiple ways or investing in a stylist that can creatively show you how to rework your current wardrobe.
DISCOVER
Find out more about BELO at belobags.com. You can shop BELO on their website or at Selfridge's Oxford Street store.
Images courtesy of BELO
READ MORE
Luxury Sustainable Sunglasses to Shop Now / The Best Luxury Resale Sites and Rental Services