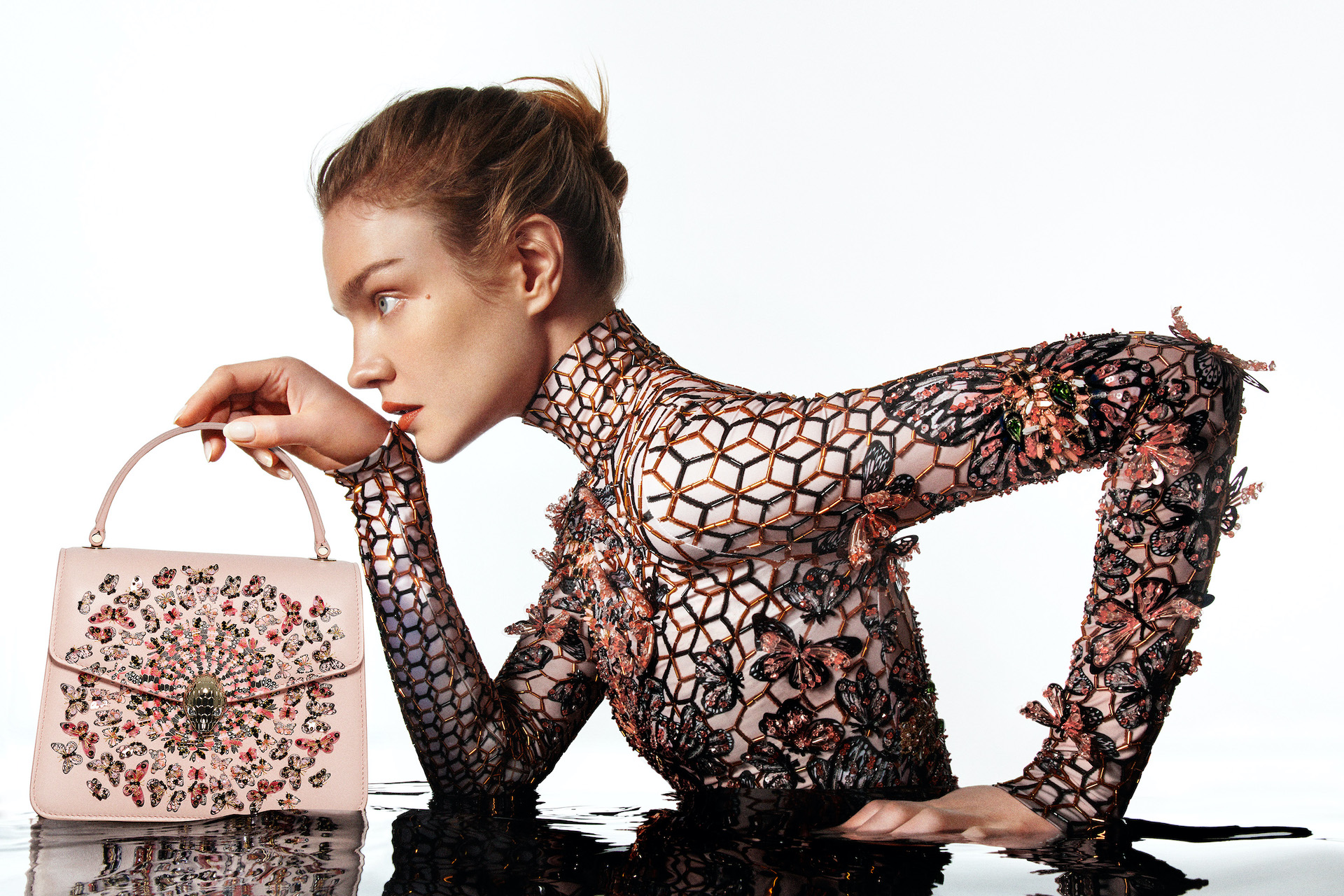 Mary Katrantzou and Bvlgari Herald a Bright and Beautiful New World
---
Mary Katrantzou brings her unique vision to Bvlgari with new collaboration 'Serpenti Through the Eyes of Mary Katrantzou'
London-based Greek fashion designer Mary Katrantzou has partnered with the legacy Roman house Bvlgari on a capsule collection of bags, 'Serpenti Through the Eyes of Mary Katrantzou', modelled by Natalia Vodianova. 
Behind the Seams of Mary Katrantzou's new collaboration with Bvlgari
Right now we're cocooned in our separate homes, holding our breath and collectively waiting for the moment we can unfurl our new wings and fly away into a bright and beautiful new world.
Heralding the arrival of this anticipated new era is Mary Katrantzou's just-unveiled collaboration with Bvlgari, Serpenti Through the Eyes of Mary Katrantzou. It's the latest instalment of the house's Serpenti partnerships, which has previously seen the brand work with names like Nicholas Kirkwood and Ambush.
Katrantzou is no stranger to collaborations, having worked with Topshop, Current/Elliott, Adidas, and Lesage in the past. The partnership with Bvlgari was born at her spring/summer 2020 show, which was held at the Temple of Poseidon on the southern tip of mainland Greece. Bvlgari lent her beautiful jewellery to show alongside her designs. 'There was a mutual appreciation at that show,' explains Katrantzou from her home in Athens, where she's lived during the pandemic. 'And then we wanted to continue exploring this collaboration in the world of accessories. So it felt like a natural next step.'
It's an inspired partnership: beloved for her exuberant prints, Mary Katrantzou is also known for her brocade, beading, lace, and embroidery techniques, which give her collections rich depth and phenomenal visual impact. She brings this covetable aesthetic to Serpenti Through the Eyes of Mary Katrantzou, introducing three new styles for the brand: the Serpenti Metamorphosis bag, the Serpenti Metamorphosis Handle bag and the Serpenti Metamorphosis minaudière.
Encouraged by Bvlgari to freely interpret its famous Serpenti motif, Katrantzou saw the snake as a symbol of femininity, transformation and rebirth, something that dates back to Ancient Roman and Greek mythology. The shedding of its skin allows for growth and metamorphosis, which the designer also linked to the fascinating transformational nature of butterflies, her own symbol.
The collection is modelled by Natalia Vodianova, who Katrantzou and Bvlgari felt embodies the ideas of metamorphosis and transformation. When she's not modelling, she is an entrepreneur and a philanthropist for her charity the Naked Heart Foundation, which seeks to build an inclusive society that is open to people with disabilities and special needs.
'For me, the most important part of my work is the narrative and the storytelling. And Serpenti is such a strong icon for Bvlgari, as well as holding such powerful symbolic meaning for everyone in a different way, which allowed me to really dive deep into the codes of Bvlgari,' says Katrantzou. 'And, to me, the most significant meaning behind Serpenti was that of transformation, rebirth, and metamorphosis, because it feels so relevant to where we are in the world right now.'
The resulting collection is a conversation between clever design and exquisite craftsmanship. The Serpenti Metamorphosis bag, with its intricate embroidered motif of a coiled snake and butterflies, takes more than 40 hours of work for artisans in the Montex Atelier in Paris and the Bvlgari manufacture in Florence.
'It really became a blank canvas for us to be able to showcase the entire narrative of metamorphosis,' explains Katrantzou. 'But also the way it's precision engineered around the snake head clasp and the work that Montex has done on the embroidery – it's so delicate and so precious – I feel you are holding a piece of couture in the world of accessories.'
The Serpenti Metamorphosis Handle bag, meanwhile, blends an ultra-soft quilted nappa leather body with Bvlgari's iconic serpent as a detachable top handle. 'The stitching on the leather, which creates the curve of the bag itself, mimics the body of the snake,' explains Katrantzou. It can also be transformed into a cross-body bag simply by removing the handle and adding a chain.
The final bag, the minaudière, was inspired by Bvlgari's signature Serpenti Harlequin watch from the 1960s. It captures the hypnotic power of snakes, with sensual hexagonal scales and piercing eyes, and makes the perfect party piece.
Serpenti Through the Eyes of Mary Katrantzou is really the antithesis of fast fashion; timeless designs intended to be worn and loved forever and crafted with amazing skill and attention to detail. 'You want any bag that has such a strong narrative to be a future heirloom,' says Katrantzou of her designs. 'You want to feel that these bags are timeless, that they will be passed on for generations to come. So that's how we designed them, as real forever pieces.'
Sustainability and timelessness are things that Katrantzou has been thinking a lot about in recent years. Her last show, at the Temple of Poseidon in October 2019, was couture in feel, a direction that she and her brand is moving towards.
'The benefit of being an independent designer is you can control your narrative, and the pace in which you show,' she says. 'To me, fashion is going through a rebirth. The future that is being shaped right now will have a slower pace, a focus on creativity, a focus on craft, and on authenticity of design. And good design requires time to be cultivated. The couture show in Greece and what we're planning for the future is really about designing responsibly. Couture is the only means of expression in fashion where there is with zero waste, because you're designing with a specific woman in mind.'
Although Serpenti Through the Eyes of Mary Katrantzou is timeless in feel – and you'll certainly want to carry these bags forever – the designs are also perfect for right now: for when we get to shed the pain and frustration of the past year and step out into the light in our new forms.
Where will Katrantzou wear hers? 'When the lockdown is lifted in Athens and in London, I plan to take my Serpenti bags everywhere.' Like us, she no doubt means everywhere but her own home.
Serpenti Through the Eyes of Mary Katrantzou is available to pre-order from 20 March and in stores from April. bulgari.com