Designer Mary Katrantzou, who has just launched a collection to be worn by the sea, is valuing her time at home but can't wait to get back to the Greek islands
My Style: Mary Katrantzou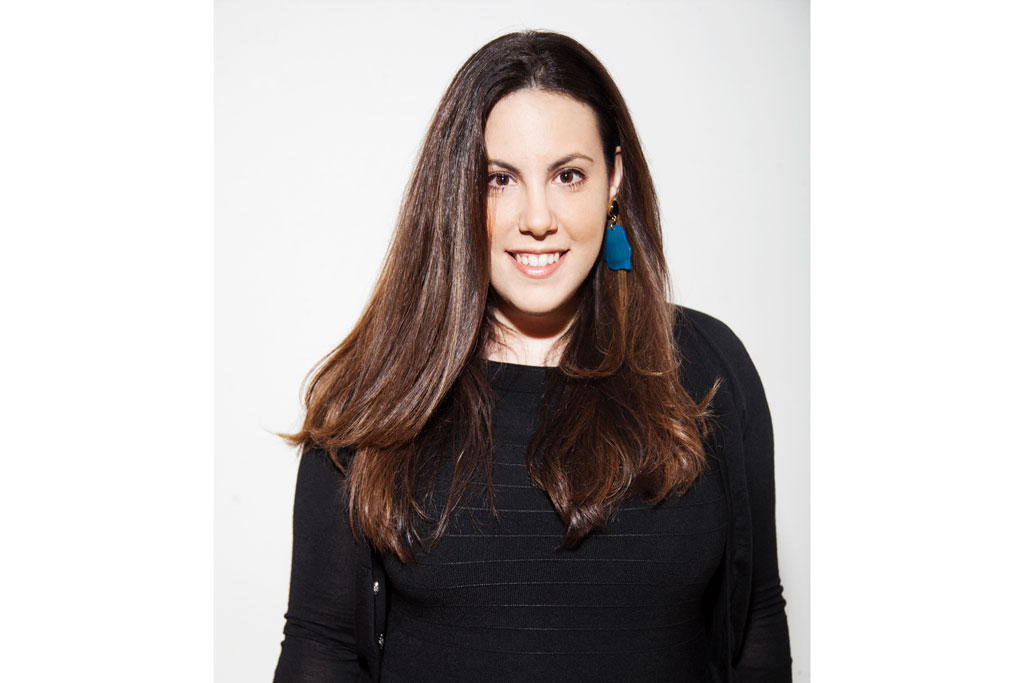 What was your inspiration or theme behind your current Mary-Mare collection?
It was a few years ago when the initial idea came for Mary-Mare, while I was on vacation with a friend of mine, Nasiba, who kept telling me that I should design a collection that can be worn 'by the sea' using signature prints from archive seasons. This felt like a natural extension for the brand and after developing this concept with the team in our studio, Mary-Mare was born. We took inspiration from postage stamps and seashells both objects you collect which was also the theme of our 10th anniversary collection; items that remind us of holidays past but also each Mary-Mare piece is part of a new discovery.
What are your favourite pieces from the collection?
The Portofino carte postale dress is probably my favourite piece. Travelling is the one time I introduce colour into my wardrobe. I like to be inspired by the places I travel to, so when I visit Portofino it will be in its namesake dress.
What can we expect to see from you for A/W '20?
At the moment, we're taking each day as it comes. We changed our show strategy in 2019, before all this unfolded, to be more reflective of how we wanted to design in the future. Our last show was in Sounio last October, held at the The Temple of Poseidon – a venue that was a dream of mine to show at for many years. When we were granted permission to show there, I cried with joy but also felt pressure to deliver a collection for the occasion. I wanted to do the venue justice but also ensure the collection itself had a purpose.
We partnered with the Association of Friends of Children with Cancer (ELPIDA), to raise funds and awareness in support of their cause globally and that shifted my perspective about the power of creativity to do practical good. Moving forward, this is how we plan to show, only when there is purpose behind a collection and when we feel creatively there is something to say. Mary-Mare was designed as an antidote to the constant drops and is an all-year-round collection that won't go into markdown that allows us to design pieces that we love and we have just started designing our second collection for it.
Do you have a muse? 
The Mary-Mare collection was inspired by the amazing women who have worn Mary Katrantzou over the years. When designing each look, I had in mind a friend who I imagined in the piece in Mykonos, the Cote d'Azur or Positano.
Whose style do you really admire?
Diana Vreeland and Babe Paley both had incredible style.
As you're working from home, what is your daily uniform?
I always wear a uniform of black when designing but I've switched my Prada trainers for our Mary-Mare x Superga collaboration, while at home. They give me joy and make me feel it's spring.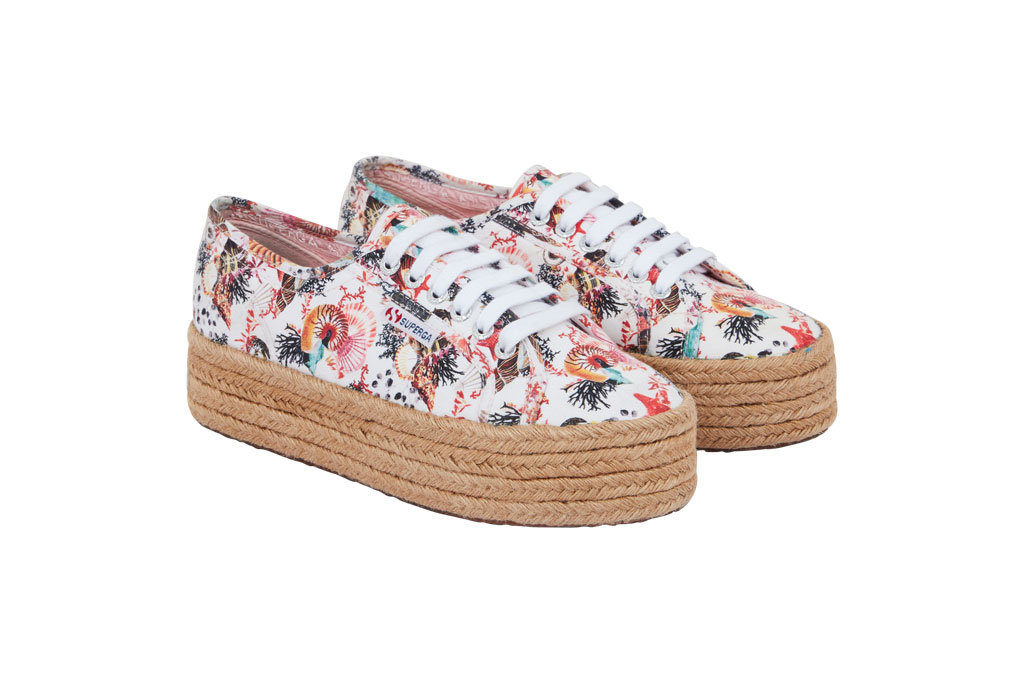 Do you have any words of wisdom for working from home? 
Working from home gives us the most amazing opportunity to spend extended time with our families, taking lunch or going for walks together, when normally we would not be able too. Once it's safe to return to the studio, I'll look back on this time and remember those memories of togetherness, not the challenges of working from home. I've tried to remain positive through this and I feel being positive and using creativity as a wellness tool has been getting me through this, while discovering a whole new way of working. 
What outfit is making you feel your best self at the moment?
Comfort makes me feel ready for my day, so I've kept things simple. I've adjusted my working hours, clocking off from work at nightfall rather than working into the small hours. Having less meetings and less travel has given me more desk hours during the day and the opportunity to discover cooking in the evenings, watch a good movie or do a puzzles with my partner. I'm grateful at this time to get to read and be creative, as a leisure activity. 
What are you wearing for any Zoom/Skype meetings? 
Even if you're working from home, it's important to make an effort. I've always had a uniform of black in my classic black Alaia dress, so this time is no different. I've enjoyed giving my skin some time away from make-up and focusIng on keeping my skin healthy and hydrated. I take all my Zoom calls from our conservatory/new office which is always hit by the sun so I'm constantly applying SPF. Taking the time to care of ourselves is the best mood lifter and I feel everyone is looking more relaxed which is refreshing.  
Power dressing: what outfit makes you feel like you can conquer the world? 
The final look from my S/S '20 collection would be the perfect dress to conquer the world in. A hemisphere empire-line crinoline ball gown in tulle and silk chiffon, entirely covered in silk petals featuring a juxtaposition of a map made out of reimagined countries and continents in rosemary, lemon, apricot and celeste blue. 
Has being at home made you think about the way you buy or consume products?
It's made me think more about what creates a desire to buy something, especially during these times. For me, it's about being selective and only buying into pieces that are timeless that has been made by a brand whose values I feel connected to. I've been supporting my friends who have independent brands because I know how difficult this period is for anyone running an independent business. I've also ordered one of our rugs from our Rug Company collaboration because we just moved into our new home in February and this time has been about settling in.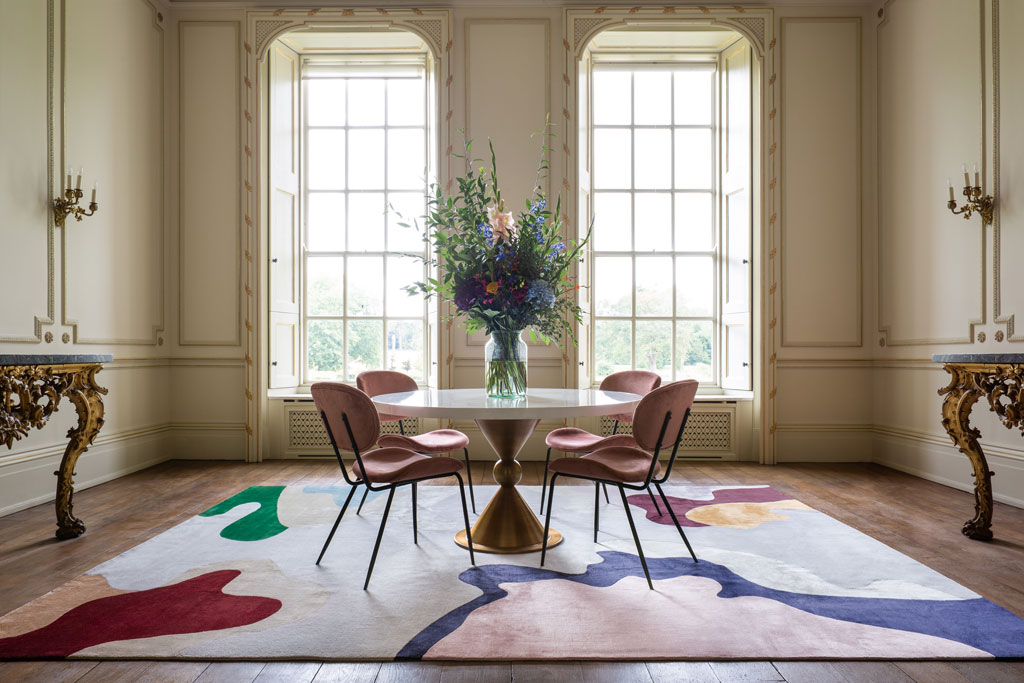 Three items that would really pick you up if they were delivered to your door?
Our monthly delivery from "

Fine Foods

" is a highlight – we're trying to exclusively order online at this time.

Postcards from friends who I cannot see and miss so much. 

Our Mary-Mare puzzle 
What are you wearing for your daily exercise? 
I've been taking a break either at lunch or the end of the working day to take a walk around my new neighbourhood, as we had just moved home in early February. I've been wearing my Superga plimsolls for this daily outing. 
What are your tips for getting motivated? 
I'm traditionally a night owl, but having less social commitments has really changed my schedule. Now I rise early and feel great about how much I have accomplished before midday.  
What are you most enjoying about WFH?
Spending time with my partner, we can often be like passing ships at home, so I'm grateful to be spending quality time together.
When you are able to go on your next holiday where will you go?
Greece, I'll never tire of the islands and I'm looking forward to seeing my family in Athens. 
Three items you never go on holiday without? 
A Mary-Mare kaftan, sunscreen and sunglasses. 
What will you be wearing for the party when we're all allowed outside again?
My biggest smile and a haircut!
MORE MY STYLE:
Alice Temperley / David Koma / Tamara Ralph / Gherardo Felloni
---