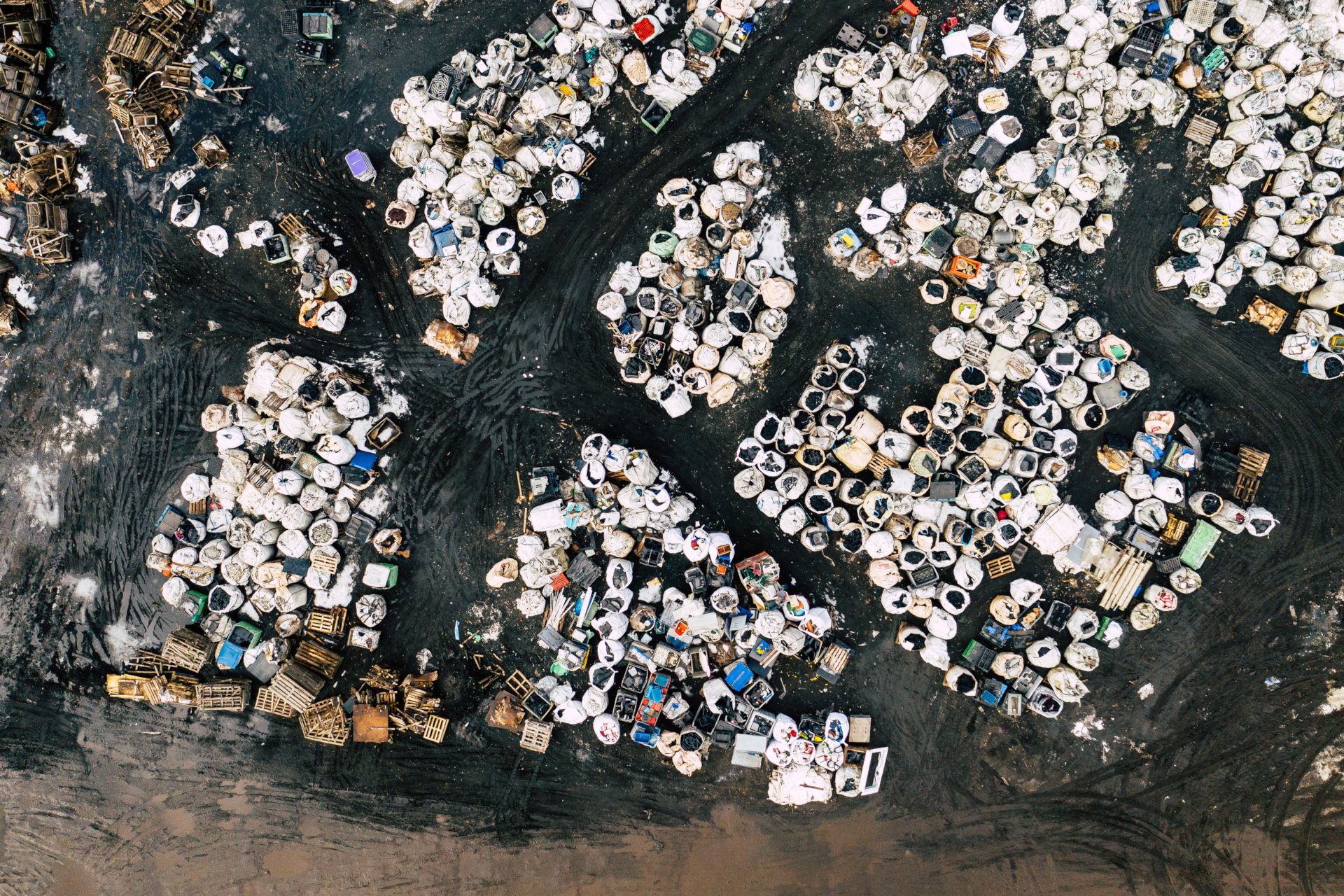 Are Take-Back Fashion Schemes Too Good To Be True?
A new report from the Changing Markets Foundation says they are
Whether or not you've taken clothes in yourself, chances are you would have noticed that some stores have been offering take-back services over the last few years. The idea is simple enough: take in your old clothes and let the brand take care of recycling everything. But the reality, as found by the Changing Markets Foundation, is not as nice as we were led to believe.
The Country & Town House Responsible Buyers' Guide
Are Take-Back Fashion Schemes Too Good To Be True?
What Is A Take-Back Scheme?
As mentioned, take-back schemes are a system where shoppers can take their unwanted clothing back to the brand or manufacturer, with the goal of reducing the amount of clothing that goes straight to landfill. 'Take-back schemes are presented as a convenient option for consumers to return their unwanted clothes directly to fast-fashion brands and retailers, who promise to give them a second life, either by donating to those in need or recycling into new clothing,' explains the Changing Markets Foundation in its 'Take-Back Trickery' study. 'For example, C&A promises to "give your clothes a second life", H&M says "Let's close the loop" and The North Face "Let's complete the circle".'
However, it's recently come to light that many of these schemes aren't actually doing what they promised.
Where Are Our Clothes Actually Going?
A investigation was conducted by the Changing Markets Foundation between August 2022 and July 2023, in which the foundation would trace clothing items submitted to various take-back schemes to see what happens after shoppers drop them off at stores.
Using discreet airtag trackers concealed within each clothing item, the foundation tracked 21 items (all of good condition and sourced from secondhand clothing shops) taken in to 10 stores – H&M, Zara, C&A, Primark, Nike, Boohoo, New Look, The North Face, Uniqlo and M&S – across France, Belgium, Germany and the UK. The results? Not what shoppers expected.
Changing Markets Foundation categorised the journey of these 21 items into four categories:
Resold within Europe
Downcycled or destroyed
Lost in limbo
Shipped to Africa
1. Resold Within Europe
It was found that five pieces of clothing from the tracked group ended up in a secondhand shop or with a customer on the same continent – and only one was actually resold in the same country it was handed in (this was a shirt returned to Zara's Oxford Street flagship, which later ended up in a British Red Cross store in Winsford where it was resold).
Notably, a checked blazer was submitted to Boohoo's REGAIN take-back scheme in the UK, where it underwent a five-month journey through six countries before reaching its final destination in Belarus. It travelled over 2,000km during this time.
Two items were sent to Ukraine for resale, which had its own pros and cons. While there was a good possibility these items would find a second home, there was also concern around there being too much waste accumulating as a product of war.
2. Downcycled Or Destroyed
The second category encompassed destroyed and downcycled (clothing material turned into other products of lower quality, like stuffing) garments. Seven pieces of clothing fell into this category, despite the items being in good condition.
Germany came out as a common final destination for these garments, with three items (dropped off in two different countries) undergoing processing at the SOEX facility in Botter-feld-Wolfen, Germany before being downcycled or destroyed. One of these clothing items was a new pair of trousers from Zara with the clothing tag still attached, which were taken in to a C&A collection in Paris and later destroyed (likely shredded, according to the report) within a month of drop-off at SOEX. A H&M jumper dropped off in a collection bin in Berlin faced a similar fate, passing through the same SOEX facility before the tracker stopped working at Koutecky Ltd in Duchcov, Czech Republic – a company operating landfills, waste disposal and downcycling of textiles waste.
C&A and H&M both claim that the majority of clothing submitted to their take-back schemes are reused, and that those that can't be are downcycled to make insulation materials.
3. Lost In Limbo
Eight items in total either never left the drop-off point or got stuck in the global used clothing system. The foundation approached many drop-off services in the UK, including George at Asda and New Look, but were unable to take in their clothing items.
Asda, which has a page on its website dedicated to George for Good drop-off scheme, had no drop-off boxes in the stores visited in November 2022. Similarly, New Look's ReFashion-operated scheme never sent donation bags when requested.
Other trackers never left the drop-off point, with items still held in stores including (including a North Face jacket in London and a Zara coat in Berlin), and more ended up in intermediary warehouses where they remained 'in limbo' for many months. Items in this group included a pair of Zara pyjamas which sat in a warehouse just outside Paris for six months.
4. Shipped To Africa
The rest of the group, four items in total, were eventually shipped to countries in Africa. All of these trackers ended up in some kind of second-hand market, but the Changing Markets Foundation indicates that none of these items were resold within the span of the investigation. Research reveals that around 20 to 50 percent of used clothing that ends up at these markets becomes waste – and local landfills are left to deal with the high quantities of textile waste.
Mali
A skirt and top left with H&M's Oxford Street flagship went through a series of sorting points before being shipped from Southampton port to the United Arab Emirates, where it landed in the SOEX Processing Middle East warehouse in Hamriyah Free Trade Zone. The trackers went dark for five months before appearing again in Bamako, Mali, in western Africa. From here, one of the items was pushed through unidentifiable warehouses and depots before moving to a vacant lot on the outskirts of the where it's suggested they were dumped or discarded. The other ended up in the Marché de Médine (where it has remained for over three months), a sprawling market with a history of waste disposal issues. These trackers are estimated to have travelled 25,000km each.
Mali, like many other countries in the Global South, faces the consequences of an informal waste management system. Overflowing landfills and dumpsites are common sights due to the volume of waste and lack of proper infrastructure, particularly evident in Bamako's Commune II quarter. Efforts have been made to address this issue, such as opening new landfills and a waste-to-energy plant in the capital city, but these measures fall short of the circularity ideals promoted by fashion brands.
UN Comtrade data revealed that Mali imported 29,351 tonnes of used clothing in 2019, with 2,915 tonnes coming from the UAE. The UAE serves as a major sorting hub for the used clothing trade in Africa, benefiting from free trade zones and lower labour costs. This situation complicates the trade data, making it difficult to ascertain the true origin countries of the donated clothing.
Mauritania
A blue hoodie dropped off at a C&A shop in Brussels ended up Nourakchott, Mauritania. Travelling via Resales – which is part of TEXAID, a group that ships textiles outside the EU – the hoodie tracker went dark before popping up again in Mauritania, likely having been shipped by sea. It then moved through textile warehouses and secondhand shops in the city's Marché Cinquième district before going offline at a market dealing in electronics (it's suggested the tracker was found, removed and resold).
Mauritania received 8,114 tonnes of used clothing in 2019. The sixth biggest exporter to the country Belgium, which contributed 458 tonnes of clothing, and the second biggest was Germany, which exported 1,106 tonnes.
Democratic Republic Of The Congo
Another item dropped off in Belgium (deposited at H&M Ixelles) also made its way through the SOEX plant in Bitterfeld-Wolfen in Germany, before being sent to Bremenhaven seaport where it disappear for four months – popping up again in Kinshasa, Democratic Republic of the Congo (DRC). It later ended up in a street market near r the Marché Gambela in central Kinshasa, one of the largest second-hand markets in the city. Satellite photography of the street market suggests that secondhand clothing here is sold for rags and fuel.
Reports from 2021 indicate that this market was surrounded by 'mountains of waste', which included used clothing, having arrived in bales referred to locally as 'balons'. The Changing Markets Foundation indicate in their report that no clothing recycling is happening in the country and that there are no waste management options for clothes at the end of their lifecycle.
The Final Verdict
The Changing Markets Foundation ultimately found that: 'Take-back schemes, often touted by brands as a tool of circularity, can create an illusion that the fashion industry is dealing with its massive waste problem. However, despite grand promises of reuse and recycling plastered on brands' collection boxes, they are failing to uphold their commitments. Within our research, 60% of clothing items lingered in warehouses, were downcycled or destroyed, while others were shipped to the Global South, adding to the burden on countries ill-equipped to deal with this pollution and waste crisis. With Europeans discarding 11kg of clothing per person every year, if the fate of our tracked garments is reflective of the wider market for used and donated clothing, it represents a very significant problem indeed.'
Items with tags on were shredded and set ablaze as fuel, good-as-news pieces were downcycled within a week of drop-off and others spent five months being shipped halfway across the world before being dumped in an empty lot in Africa. While some items were rehomed – some even within the same country as drop-off – the percentage was still small, indicating that brands aren't putting enough into end-of-life management systems.
The foundation concluded that take-back schemes were simply another greenwashing tool that enabled brands to present a front of circularity while avoiding meaningful systemic changes ('like abandoning the wasteful fast fashion model or investing in innovative fibre-to-fibre recycling technologies,' suggests the report). In other words, these schemes gives brands a false sense of environmental responsibility.
More Info
You can read the full report around the study carried out by the Changing Markets Foundation here.
Featured image: Getty Images