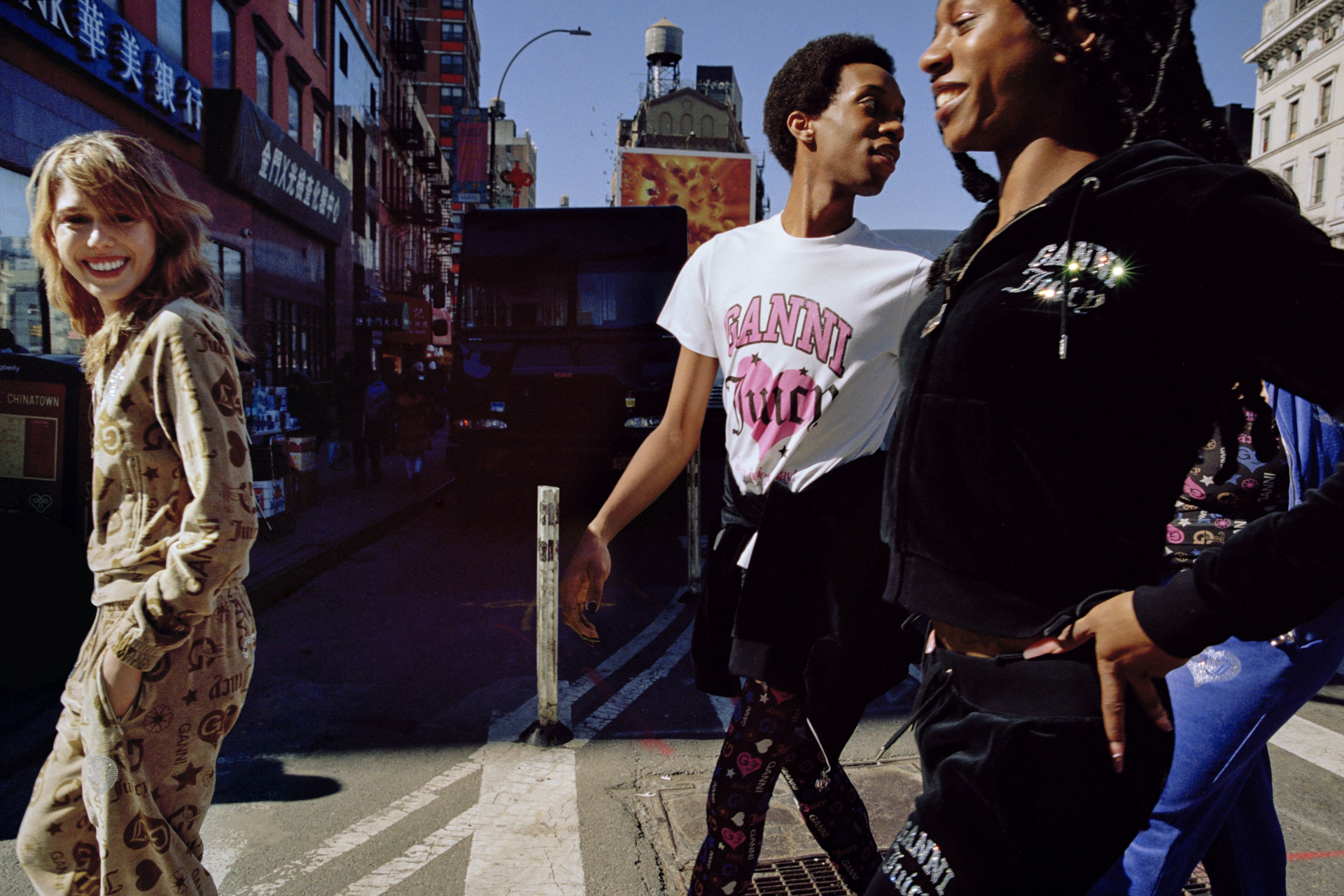 The Y2K Renaissance: GANNI Teams Up with Juicy Couture for New Collection
Green and Juicy
If you have your finger on the pulse, you'll be well aware that the early 2000s fashion is experiencing a revival – from low-waist jeans and teeny tiny sunglasses to hot pink and co-ord sets. Joining the trend is GANNI, which has just launched a new collection with the ever-iconic Juicy Couture.
GANNI Teams Up with Juicy Couture for New Collection
Danish luxury brand GANNI has announced a new collaboration with noughties icon Juicy Couture, set to launch on 30 March 2022 in stores and online.
The collection, which is made up of 13 individual pieces, will include 'the most responsibly produced version to date' of Juicy Couture's velour tracksuit, made popular by the likes of Paris Hilton, Jennifer Lopez and Britney Spears. This fresh take, inspired by GANNI's own journey towards employing more sustainable business practices, is made using a mix of certified organic and pre-consumer recycled cotton as well as recycled Polyester.
Alongside the velour tracksuit, which will be available in a brown logo print as well as blue and black, the collection will consist of t-shirts, caps, dresses, tops and leggings in certified organic and recycled materials. All decorated in the GANNI and Juicy Couture logos, of course.
GANNI is making waves in the fashion industry with its commitment to becoming a more responsible business, having launched its Responsibility Game Plan in 2020. Packed with 44 goals to reach by 2023, spanning people, planet and prosperity, GANNI is sharing all of its progress with the public. With its newest collection, 92 per cent of production volume comes from responsible styles, meaning at least half of the composition is certified recycled, lower-impact or organic.
Speaking on the new collection, GANNI's Creative Director, Ditte Reffstrupp, commented: 'There are few fashion pieces in the world that are as easily recognised as Juicy Couture's velour tracksuit – it's truly a piece of pop culture history and I am super excited for GANNI's take on it. Being able to work with them on making the most responsible version yet was a great extra layer to the collaboration. For the collection, we wanted to keep the essential 2000s mood and LA vibe while bringing some of GANNI's contemporary Scandi feel to it and I can't wait for our community to create some new iconic moments in it!'
'A collaboration with GANNI was a natural fit for Juicy Couture,' added Taryn Washenik, Senior Vice President of Fashion and Active at Authentic Brands Group (ABG), owner of the Juicy Couture brand. 'It was incredibly special to marry GANNI's effortlessly cool Scandinavian DNA with Juicy's LA vibe and off-duty celebrity heritage. Ultimately, we set out to inspire authenticity and self-expression with this collection and we are thrilled to see it come to life.'
SHOP
The GANNI x Juicy Couture collection drops on March 30 2022 via ganni.com and juicycouture.com
Campaign shot by Emmie America featuring Parker Kit Hill, Lucy Rae McFadin, Ebon Nights and Sam Welsch.
DISCOVER MORE
ANINE BING Opens Second London Store in Chelsea